Try this and you'll never leave another rib cage in the field! Simmering them slow in a flavor- ful boil will get them fall off the bone tender without drying them out! Use this same meth- od for boars, bulls, gators, etc! And fair warning- these beans and sprouts are addictive!!!
Whiskey Glazed Venison Ribs
1 rack venison ribs
12oz lager beer
2T + 3T Low Down & Dirty
2T honey
Tt hot sauce
Water to cover
Orange Charred Brussel Sprouts 10ea brussels sprouts, cut in half
1c orange juice
Tt sea salt
Campfire Beans
16oz white beans, pre cooked 3ea strips bacon, chopped Half a sweet onion, minced 2T light brown sugar
1.5T molasses
1.5T Low Down & Dirty
4oz whiskey
2oz honey
6oz Memphis BBQ Sauce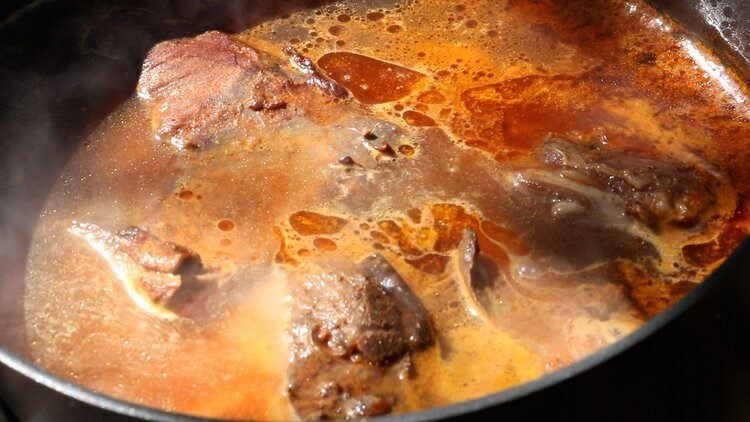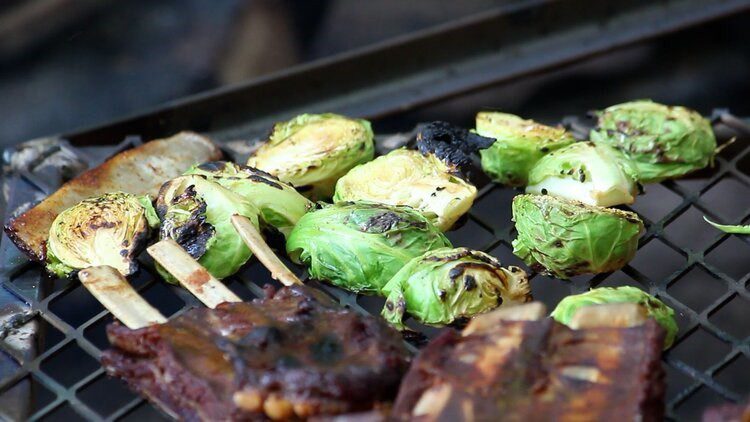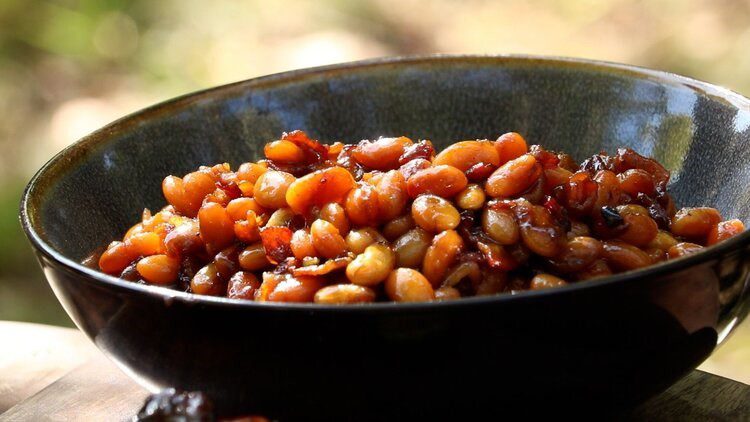 Method
Mix the sprouts, orange juice and salt in a bowl and set aside to marinate for about an hour.
Bring water for the ribs to a simmer, add the beer, 2T Low Down & Dirty, honey and hot sauce. Simmer 5 minutes then add ribs and simmer for about one hour or until the meat has shrunk way up the bones and they begin to pull apart tender.
Start to render the bacon in a heavy bottom pan over medium heat, when it's well browned add the onion and saute til caramelized. Add the beans and seasonings, reduce heat and simmer for about 45 minutes.
Remove ribs from the boil, season well with Low Down & Dirty then place over the fire in a medium heat zone to brown up both sides and get some good smoke flavor on them.
Discard the rib boil, place the pot back over the fire in the hottest spot. Add the whiskey and burn off the alcohol and allow it to reduce to a syrup then add the honey and Stone House Memphis BBQ Sauce and remove to medium heat area and simmer gently 15 minutes.
Drain off the orange juice from the sprouts, place sprouts over the fire and cook both sides till crispy and delicious, about 10 minutes.
Brush the glaze liberally on the ribs and allow the heat to caramelize it and make it extra sticky.
Bring it all together on a big platter to share then dig in!!