Here's How to Make Specialty Pantry Ingredients from Game Meats
My autumn calendar is filled with hunting plans. There are preparations to make, hunts to execute, and then the follow-up fun of the butchering and processing game.
I have the luxury of a flexible calendar that lets me plan hunts by week. This fall, my weeks look like this: bear hunt week, Whitetail hunts (two separate weeks early season and late season), a week of migratory bird and upland hunting, a week of moose hunting and potentially an elk hunting week if we can squeeze it in. Alberta is a wondrous place to live, and the range of hunting opportunities is wonderful. I want to make the very most of the animals we take.
Drive Value: Do Your Own Processing
The guiding principle in our house is value. We strive to drive the maximum value from animals taken. The first steps to maximizing value happen in the field. Animals are quickly skinned, cooled, and broken down for transport. We make the most of the harvested animal so as little as possible is wasted in the field We work at using ribs, heart, liver and kidneys. (This is another story altogether.) Once home, the focus switches to driving the highest value from processing the meats we have harvested. In addition to fresh cuts, we cure some choice cuts, make unique sausage and we apply special treatments to choose ingredients to be used in celebratory recipes. For example, we package some plain ground meat, but my preference value-wise is to make a variety of sausage. Freshly grilled leg steaks are glorious, but what about Tasso ham? These items are potentially more "valuable." Some of the value of game carefully prepared comes from being used as an ingredient to enhance some special dish.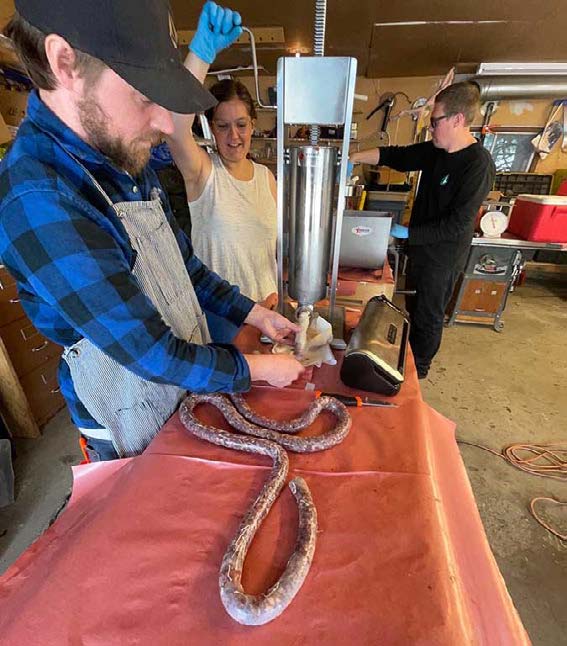 Enhancing Ingredients
Three ingredients I like to have on hand to enhance my frozen kitchen pantry are Tasso ham, chorizo and smoked shanks (think ham hocks but made with a variety of big game). Spicy handmade chorizo and andouille sausages are used in jambalaya, paella, and as toppings for homemade pizzas. Peppery Tasso ham is added to some of these dishes and also is used in game cassoulet. Goose gizzards are prepared sous vide with piquant spices, then packaged and frozen, to be used in dirty rice and other celebratory meals.
Chorizo
Chorizo makes great stuffed sausage, but my goal is having luxury taco and tostadas ingredients and meat to use as a spicy addition to paella and jambalaya. Some of our chorizo is packaged raw without being stuffed in casings. Some of it is pre-cooked and packaged, ready to reheat on short notice. We mix coarse ground black bear or venison shoulders (mixed 2-to-1 with pork belly and shoulder trim). The mixture is seasoned with five different dried chili peppers: poblano, ancho, cascabel, brown chipotle, Morita chipotle, and guajillo, and all are finely ground. We add diced shallots, smashed garlic, finely diced onions, 1.5 percent salt by weight and a good sprinkle of black pepper. We also package some raw for later use on pizza. We also cook some on high heat in a cast-iron frying pan until it's well browned (this turned out to be 180°F, well beyond the USDA recommended 160°F to be safe and eliminate signs of trichinosis).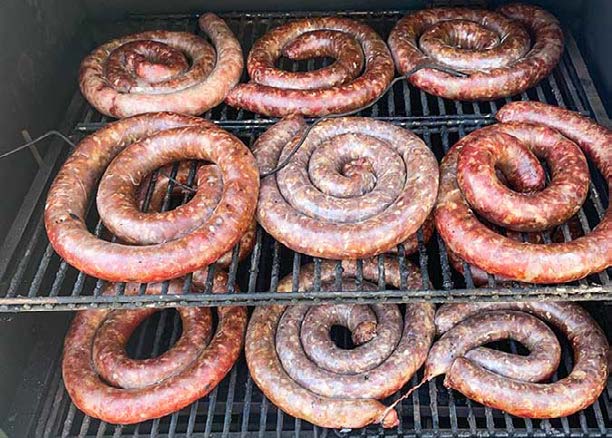 Tasso Ham
We adapted the Tasso Ham recipe from Michael Ruhlman's book Charcuterie recipe to cure game. Tasso is a quick-cured salt-box method for ham. Ruhlman gives a clear and precise ratio and measurements for salt, sugar and cure.
You simply dredge "ham steaks" in the cure mix, shake off the excess and refrigerate, which takes less than four hours. Then rinse the cured bear, deer, moose or elk steaks in cool running water. Dry them, then dredge in a spicy Cajun mix of cayenne and white pepper, allspice, and other good things. After resting in the fridge overnight, hot smoke to 165°F. Remove from the heat, chill, vacuum pack, and freeze.
Our family uses Tasso as a most excellent addition to shrimp jambalaya, gumbo and any other slow-cooked dish that would benefit from a bit of lean, spicy ham- flavored protein. Opportunities will show themselves. Added to mac and cheese? What about a lazy Saturday omelet? Diced fine in bean soup (or any soup for that matter)? Why not? These kinds of treatments to your game drive more value, flavor and options to cook and showcase your game meats.
Smoked Shanks
Ruhlman and his chef-partner Brian Polcyn have a recipe in Charcuterie for Canadian bacon cured in a wet brine. We adjusted this a bit and mixed up the brine, let it chill in our spare fridge overnight, and cut black bear hind and foreshanks into fist-size balls of meat and bone. We added carrots, onions, celery and celery root to the brine and then added some fresh sage, thyme, and parsley.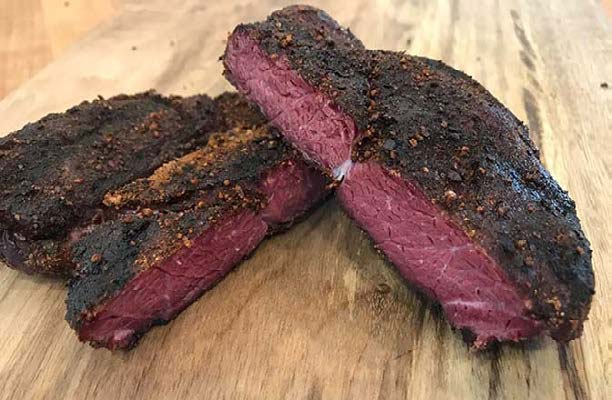 Every day, we stirred the brine and turned the shanks over. On the seventh day, we rinsed them in cool running water, dried them well with paper towels, and put them in the fridge overnight on a rack to dry and develop a pellicle––that sticky outer coating that helps the meat absorb smoke. We smoked the shanks at 225°F for five hours and pulled them from the smoke at 180°F when they were a red mahogany color to cool and vacuum pack. These are destined to enhance molasses baked beans and navy bean and onion soup for the winter. This is another great way to introduce non-hunters to the wonderful world of wild foods without having a slab of game on their plate. (Sneaky.)
Paella in a Cast Iron Oven
Meals are a big deal when we camp as a family, three generations deep stacked in comfortable chairs around the fire enjoying a meal. Of course, we do wieners and beans, hamburgers, and mac and cheese, but my kids grew up with fancier camping foods. Over time it became a bit of a contest: better and easier won the day. One winner for us is Spanish paella. This is a one Dutch Oven to-table meal deal. The same pot to cook in and serve out of; and just one to clean.
If we were on the coast of Spain rounding dinner time, we would find paella made with shrimp and shellfish. Further inland we would find chicken, maybe rabbit, and butter beans as the main ingredients. In both, we would find sliced chorizo, spicy and dry. It's peasant food made from simple local ingredients. Feel free to make substitutions and additions to please your crowd's palette. (I like to add octopus just for the reaction.)
It is a bit of a joke for our family-camping long weekend in September: I cook paella. Here is the recipe, and this is a perfect place to use both chorizo and Tasso ham.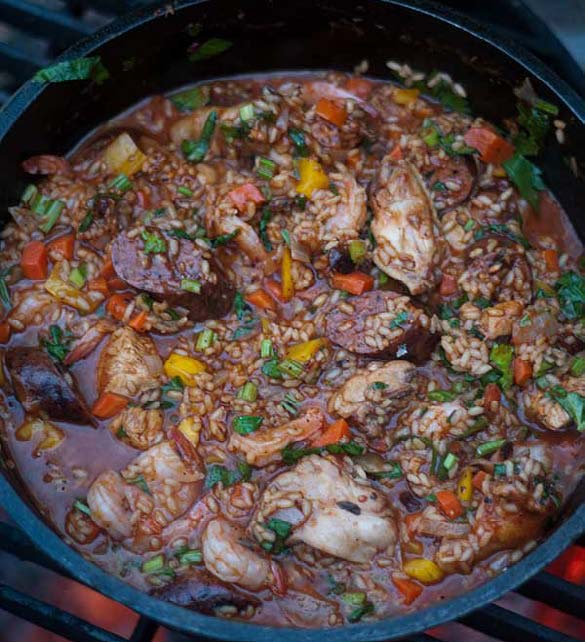 SPANISH PAELLA FOR SIX – CAMPING STYLE
Tools and equipment
A cast iron 6-quart Dutch Use the kind that has three legs so you can put coal on top and underneath, or one that you can hang on a tripod over the fire. (Follow the manufacturer's directions.)
Start that fire now that you have all these ingredients ready to roll.
A big wooden spoon to stir the whole
And a pair of burn-proof gloves, tongs, and a tool to lift and move the heavy Dutch oven
Time
Preparation of ingredients: 20 (Much of this can be done from home and packaged for the weekend.)
Getting the coals right: 10-60 minutes (60 for campfire coals, 10 for briquettes)
Cooking time: 60 (Time for a shared Sangria.)
Ingredients
Olive oil, two tablespoons
One medium onion peeled and diced fine
Four sticks of celery, cut diagonally about pinky- finger-wide
One green bell pepper that is seeded, de-ribbed and cut into
One red bell pepper that is seeded, de-ribbed and cut into chunks
350 grams (12 ounces) chorizo sausage, sliced pinky- wide thick
150 grams (6 ounces) Tasso ham, medium diced
6 Boneless chicken thighs, cut in four pieces each
454 grams (1 pound) of peeled and deveined shrimp
Mussels (as many as you like and can fit onto the casserole)
Clams, a handful
2 cups of Spanish or medium-grain white rice
4 cups of hot chicken stock
Saffron
Salt and pepper to taste
Directions
Heat the Dutch oven over a solid bed of coals.
Add olive oil, onions and celery.
Add chorizo, Tasso ham and chicken, and cook until the chicken is lightly browned, and the onions are trsnalucent.
Add the rice and coat ingredients completely with oil
When the rice is coated in oil and is starting to get opaque, bring chicken stock to a boil and add Add a couple of big pinches rubbed out to near powder in your palm, then stir into the stock. Add the stock to the paella, cover and simmer for 20 minutes.
Add peppers, shrimp, clams, and mussels and let them simmer until the shells open up (if they are fresh––if frozen, simmer until heated through)
When the shrimp are pink and white all the way through, dinner is ready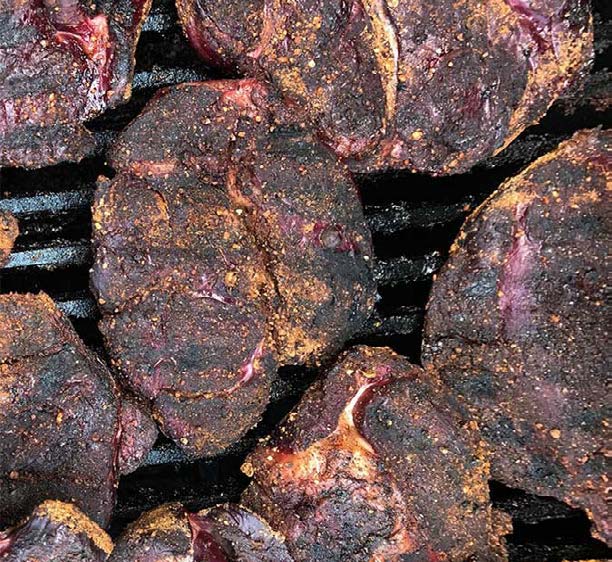 Pleasure and satisfaction are two words to describe the feeling of using game meat to extend and flavor meals just like this. Guests can't believe that chorizo and Tasso ham are bear meat. These pantry ingredients help maximize the value of game harvested, highlight the prominent place wild foods hold on our menus, and help spread the word that game meat is delicious and valuable.
Note: Timothy Fowler has cooked outdoors since his older sister taught him how to make an oven from a tin can.