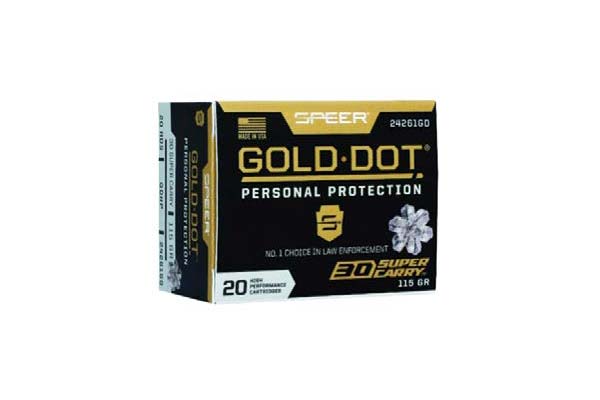 Speer Ammunition Adds New 30 Super Carry to Its Gold Dot Product Line
Speer Ammunition announces the addition of the new 30 Super Carry cartridge to its Gold Dot Personal Protection product family. Hailed as one of the biggest handgun cartridge introductions in decades, the new Gold Dot
30 Super Carry from Speer continues to bolster the ammunition options for this new platform. Check with your local ammo store for availability.
The Gold Dot 30 Super Carry has the power of a 9mm Luger with more magazine capacity. The combination of performance and smaller-diameter sized .313-inch diameter projectile allow the Federal Ammunition engineered cartridge to deliver 9mm Luger muzzle velocity, with terminal performance that far exceeds that of 380 Auto.
With the continued growth and popularity of concealed carry firearms, the 30 Super Carry comes into the market as an ideal choice for everyday carry.
The cartridge greatly outperforms the 380 Auto while offering the same muzzle energy as the 9mm Luger, but with more magazine capacity. With this newly designed cartridge, users don't have to choose a smaller firearm with reduced bullet performance or a larger firearm with more magazine capacity. The 30 Super Carry combines the best of performance and size. Get it here.