This year's archery trade association show did not disappoint. It seems like there is never enough time to see all the new products and talk to all the vendors. From bows to broadheads, cameras to camo, below is a recap of some of the most noteworthy items seen from this year's run-through.
Crossbows
Barnett has been a leader in the crossbow world for a while now and that's for good reason; they always deliver state of the art quality products. For 2023 they are releasing the Hyper Raptor for $599. This crossbow is packed full of features. Let's start with the fact that when cocked, it's a little over 7 inches axle to axle. With it being so compact it will be great for the stand or the blind. It comes with an illuminated 4×36 halo scope which helps eliminate cable crossing, leading to a more accurate shot. It shoots their HyperFlite bolts at 410 FPS but will also shoot their head-hunter bolts as well.
Compounds Bows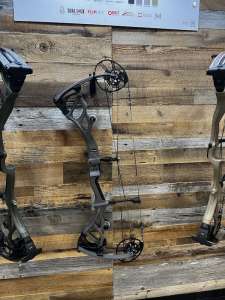 There were a lot of compound bows released at theshow but the one that stood out most to me was the Bowtech Carbon One. This bow is a step above the competition. Weighing in at only 4 and a half pounds and a 30-inch axle to axle length, it comes in at 50,60, and 70 lb draw weights and shoots around 335 FPS.      Not only does this bow look awesome you will fall in love after shooting it. It is the smoothest drawing and shooting bow I have shot to date and its slick shot matches its smooth and sleek design.
Trail Cameras
When it comes to trail cameras, I admit I have a slight addiction. There were 2 trail cameras that really stood out to me. The Moultrie Edge Pro and the Stealth Cam Deceptor. Let's start with the Moultrie edge. This is a step off from the edge they released last year. It has all the same features as the edge and more. My favorite feature is the false trigger detection. This is where the cameras built in technology allows you to scan the picture and only send you your target species. It also allows you to pick your detection zones so you can pick the exact zones your camera takes pictures. This camera also has live aim technology allowing you to see exactly how your camera is set up when placing it giving you perfect camera placement over time.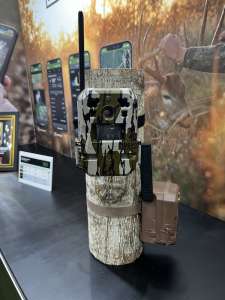 The Stealth Cam Deceptor camera is packed full of tons of cool new features. The first is the auto connect feature. This camera comes with both AT&T and Verizon sim cards. This allows it to automatically connect to the best signal in the area. It also offers 40 MP picture quality and less than half second trigger speed. My favorite feature is the new on demand picture feature. This allows you to take on demand pictures and videos in almost real time through the stealth cam app. You will be able to see what's going on in front of your camera whenever you want to. Stealth cam also offers a long-range antenna. It comes with a 6 foot cord allowing you to get better signal with its larger antenna. This allows you to place your camera in areas you couldn't before.
Camo
Nexus Outdoors offered lots of new products from its Scentlok and Blocker Outdoors lines. My favorite new piece of clothing is their finisher suit from blocker outdoors. This was designed for with the turkey hunter in mind. It comes in the mossy oak bottomland camo pattern that fits perfectly for hunting turkey in the woods. It comes with built in tick guards around the hands and feet.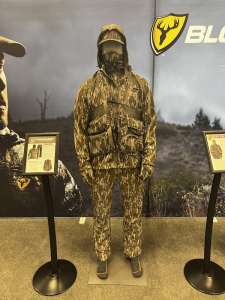 It has the perfect amount of insulation for those cool mornings but has zippered vents in the pants for when it heats up. They offer everything for the suit including turkey vest, gloves, Richardson baseball hat, hooded sweatshirt, and facemask.  This suit is not yet available but look for it in the near future.
Saddles/Stands
My favorite product released was the Trophyline Onyx Saddle platform. Weighing in at only 4.5 pounds and plenty of room for your feet. This has to be the most comfortable saddle platform on the market. This is all thanks to its angled perimeter around the platform. This allows you to stand on the edge of the platform without pressure points from the corner of your platform. It also has gripping ridges built into the platform to allow for solid contact no matter what angle. They eliminated some of the hardware from past platforms by making a single cast post. This makes it not only stronger but also quieter. It is still rock solid like I have come to expect from Trophyline. It can fit trees up to 22 inches in diameter and has a max weight limit of 300 pounds. Whether you're just getting into the saddle game or you're a veteran, you need to add this to your arsenal.
Lastly some other notable products that stood out to me. Helix broadheads released their new FJ4 broadhead, this was built off of their original fixed blade broad head. It offers a single bevel broadhead with 2 bleeder blades. This allows for a 2 inch cutting diameter leading to larger blood trails and shorter tracking jobs. Hodac Outdoors released the licking branch, licking tree, and rope scrape system. This allows you to put your mock scrapes exactly where you want them. Illusion Hunting Systems released there all in one food plot system.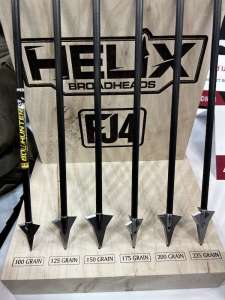 This system is a quarter acre food plot all in one box. It has instructions whether you are using a steel rake or drill. It comes with all the fertilizers needed for the perfect food plot all season long. I plan to use all these products this upcoming season. Be sure to look for them in my upcoming articles.