Code Blue® is proud to release two new long-lasting attractant products focused on improving active scrapes and providing prolonged scent in any weather condition.
The already popular Rack Rub™ pre-orbital gel is now available in the new Rope-A-Dope™ bundle, which includes a tough, weather-resistant rope. The combo helps to improve any scrape or licking branch site all season long.
Feeling HOT, HOT, HOT?! Meet the mess-free Screamin' Heat™ Stick. Designed for use when does are in heat, the enhanced estrous formula is a breeze to apply in the field. The proof is in the process with Code Blue, with each stick produced using our elite From One Deer to One Bottle® system.
Developed through extensive scientific research and collected with meticulous accuracy, Screamin' Heat is pure estrous specially enhanced with all-natural female secretions, making it ULTRA hot. Now in stick form, the scent is easier and more convenient to use than ever and can withstand even the harshest of temperatures.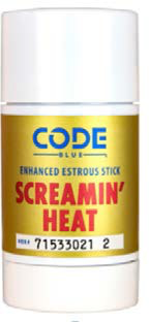 Wax stick formula designed for a no-mess application
Remove cap and rub scent on brush, tree limbs, or bark to create a scent trail to and around your stand location
Screw-on cap locks in freshness
Use mid to late season
Put that trophy buck down for the count! Bucks will deposit scent from their glands on low-hanging limbs by vigorously licking and rubbing to mark their territory with an unmistakable aroma. The Rope-A-Dope combo helps amplify the action!
Rack Rub is the ultimate forehead gland and preor- bital scent for stimulating rub activity. The special gel formulation is durable and provides smooth, even cov- erage on the included rope to help bring bucks into view.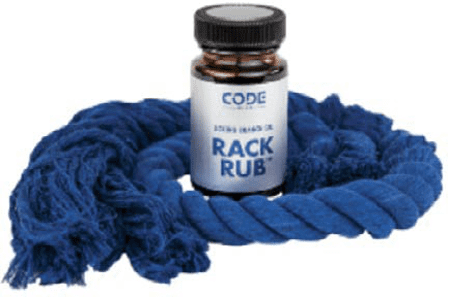 Weather-resistant cotton synthetic blend rope – 3 ft. x 1 in.
2 bottle of Rack Rub gel
Attach rope to a licking branch over an existing or mock scrape using included zip tie, then generously brush Rack Rub onto the rope
Use all season