When it comes to compound bows, I have been using the same Mathews Halon 32 since 2017. For me, like for most guys I know, once you fall in love with a bow, it's hard to make a change.
In 2017, I set this bow up with a four-pin site, some basic off-the-shelf arrows and a pack of Rage two-blade broad heads. The rest was history. I love that bow. It was accurate, it harvested many animals and it held up well. But with all the advancements in bow technology, I knew there were lighter and faster shooting bows on the market. So, I decided that 2022 was going to be my last season hunting with my Mathews. Fast forward to the present day and I am slowly dialing in my new Elite Omnia.
Let me take you along the journey I've had setting up my new bow with some of best products on the market.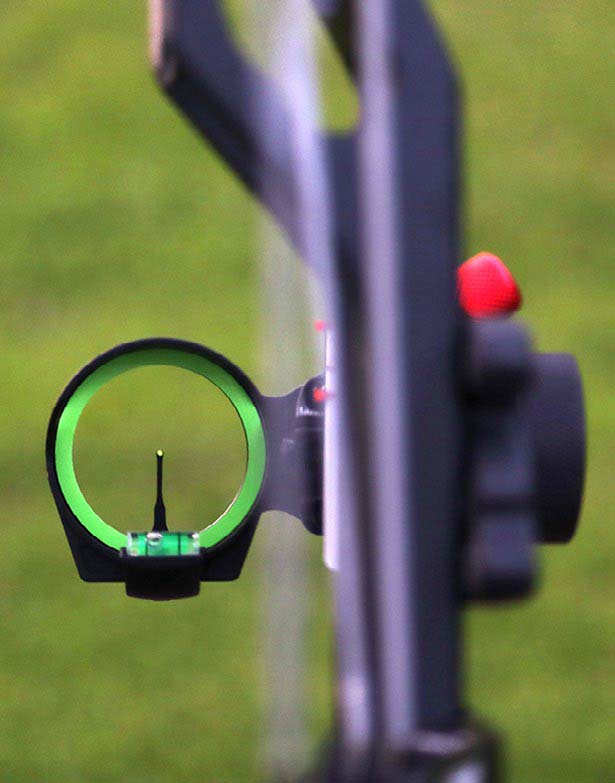 The Bow and String
Selecting the bow I wanted to shoot this season was a tough decision. There are so many great options, but the Elite Omnia stood out as the best choice for me. This bow has it all.
Let's start with the weight: it is super-light, coming in just under 4½ pounds. That is important for the long hikes into public land or for holding at full draw on my target buck.
Next, the bow is fully customizable without the use of a bow press. You can even adjust the draw length in ¼-inch increments. It is shooting right at 347 feet per second, so it's not the fastest bow, but it is fast enough for anything I will be shooting.
This bow was super smooth to draw back and deadly quiet when shooting. What sealed the deal for me was the way it felt in my hands; it just felt right. So, if you are in the market for a new bow, I would highly suggest you give Elite a shot. I don't think you will regret it.
Once the bow was in my hands, the first stop was to see Brian at Brave Nation Archery. He has set up new bows and has built custom bow strings for several years. He was an obvious choice to get me set up and dialed in. All Elites come with Winners Choice String, and we decided this was a great string to keep on the bow for now.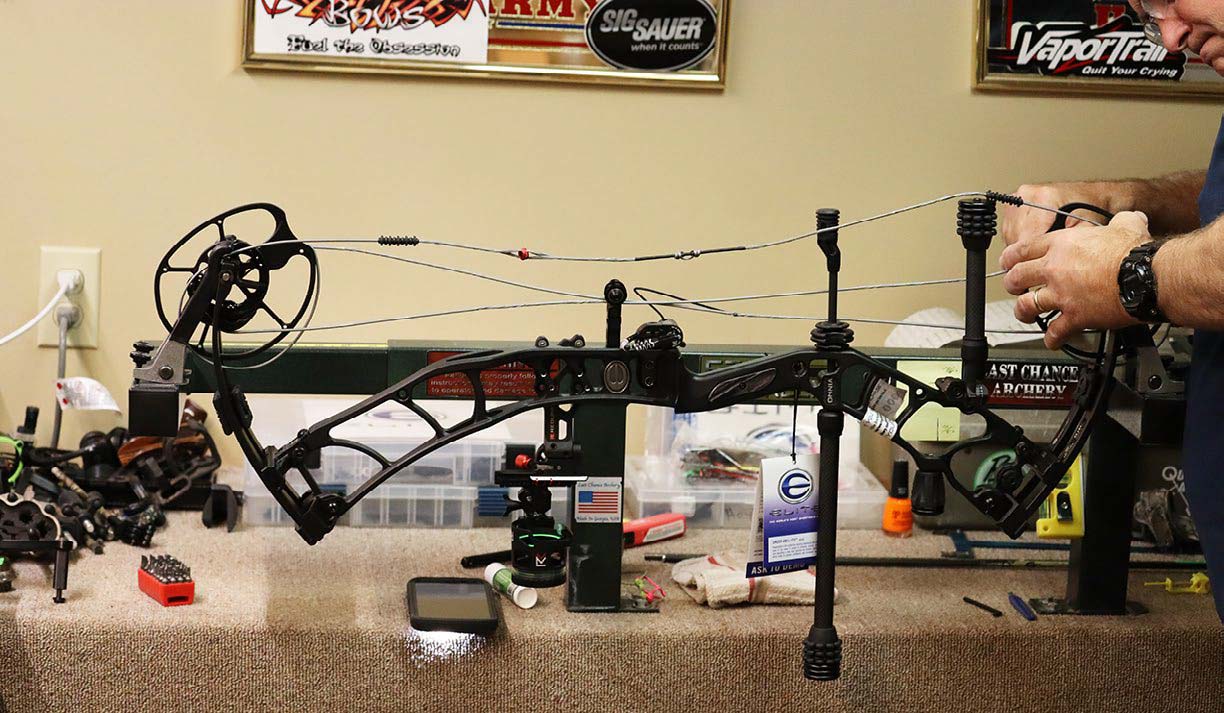 Sight, Rest, Quiver
When it comes to bow sights, there are several different types. There are single-pin and multi-pin, multi-pin sliders, and even self-ranging digital sights. Since I started bowhunting I have only ever shot a fixed, four-pin sight.
While setting up my new bow, I thought this was the perfect time to try something new. I reached out to the guys at Redline Bowhunting to talk about all things bow sights. I couldn't decide over the phone what route I wanted to go, so I decided to get two different sights. I got the carbon single-pin RL-1 and the RL-2 three-pin slider.
Coming from a fixed four-pin sight, there is a bit of a learning curve, especially with the single pin. I have become accustomed to selecting the right pin on the target and taking the shot. This is where the three-pin slider has an advantage. I set my top two pins to 20 and 30 yards and my bottom at 40. The bottom pin then can slide up and down for farther distances.
I really liked this sight until I put on the single pin. If you have never shot a single pin, I highly suggest trying one. With only one pin in the sight housing, there is only one thing to focus on. It allows you the capability to shoot several different distances with a clear sight picture. With a little practice, you can set your pin at 25 yards and know where to hold a little high or a little low for 20 and 30 yards. My biggest fear with a single pin was having a deer come into range and not have time to adjust my sight. After three days of shooting, that is no longer an issue.
As far as arrow rest goes, I have always used a QAD drop-away rest. I decided to stick with what I know. QAD even makes a custom Elite archery drop away, the QAD HDX rest. I have found this arrow rest to outperform most others and it has the ability to set your arrow once in your stand. That prevents it from moving around. They are also super-fast at dropping away.
As far as quivers go, I like them light and simple. I went with the Redline Bowhunting RL-1 3 arrow quiver. It is perfect for both saddle and treestand hunting. I'm not a fan of keeping my quiver on my bow, and this fits perfectly in my Trophyline CAYS pack without taking up a lot of space.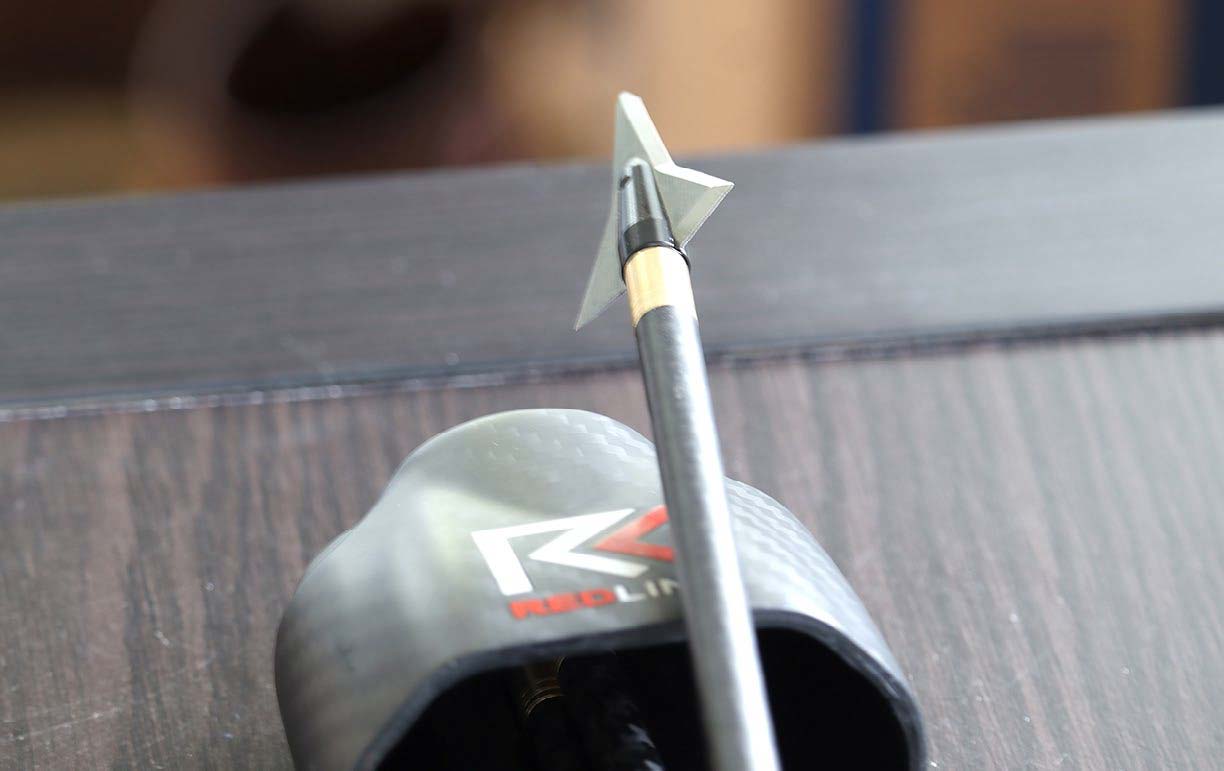 The Arrow Build
At this year's ATA show, I spent a lot of time looking at arrows to figure out exactly what I wanted in my arrow build. The shaft I went with was the Carbon Express Maxima Red. This company offers a strong shaft that is balanced amazingly well.
I went with a Carbon Express 100-grain brass insert for a little more FOC-added weight. I wanted my arrow build to be on the heavier side, but also not too heavy. Once I added my broadhead, it was weighing in at 509 grains shooting at 285 feet per second.
To me, the arrow is heavy enough to get the job done but to keep up my arrow speed as well. I am going to be shooting Helix broadheads this year. That is a fixed-blade broadhead with a single bevel. I am switching to a fixed blade to change things up. I'm sure I'll still have a Rage Hypodermic in my quiver as well.
The last thing on my arrow set up is my Nockturnal lighted knocks. If you're not shooting a lighted nock, I highly recommend one. They can save you several hours of looking for an arrow after the shot.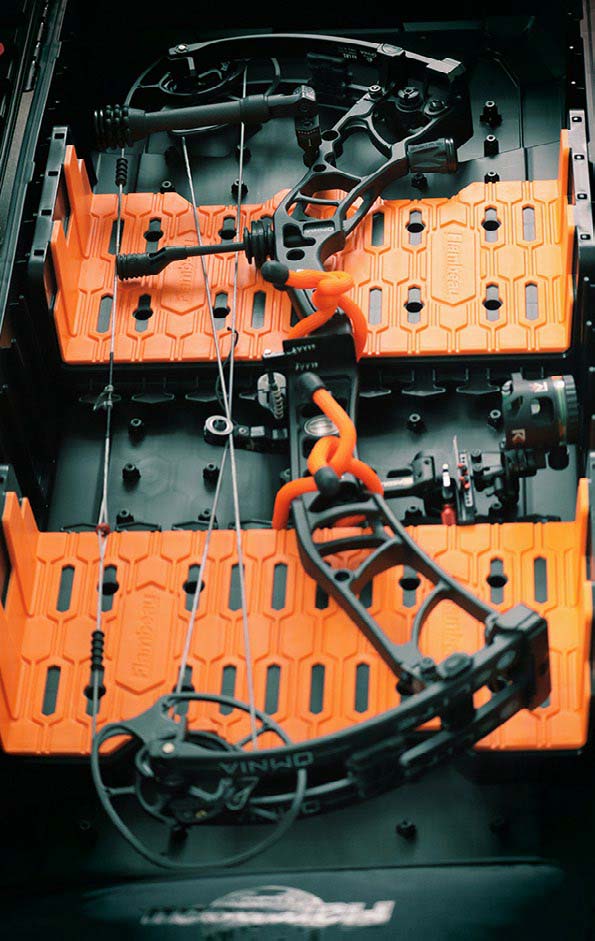 Storage and Practice
One of the most important (and also overlooked) items I believe you need for your bow is a good, solid bow case.
The Flambeau Formula bow case offers everything you need. It is airtight with a pressure release valve, which is perfect for traveling. It also has arrow storage. Unlike other bow cases that use foam, it offers the new free-floating technology. This allows you to lock in the bow solidly while not putting pressure on critical parts, like your sight or the cams. My favorite feature is the storage compartment. It allows me to take tools, multiple releases, and anything else I might need into the woods with me.
While on the topic of releases, I am shooting a wrist release this year. I think this is the best release on the market, especially for beginners. I have been practicing with a thumb release as well, but there is a learning curve associated with them.
Targets
Lastly, I think that a good target is important. I use two different targets. One is a Block Crossbow Infinity target and the other is a GlenDel Buck target. I know you're thinking, 'Why a crossbow target?' I use this because it is capable of stopping my compound arrows as well as my daughter's crossbow arrows. It is mainly used for sighting in and target practice. As the season draws near, I shoot at the buck target daily. Because it is so realistic looking, I believe it helps me get familiar with shooting a live animal. I was always told the only thing that will help you get better at shooting deer is shooting deer. Since that is not possible for repetitive practice, this is the second-best thing.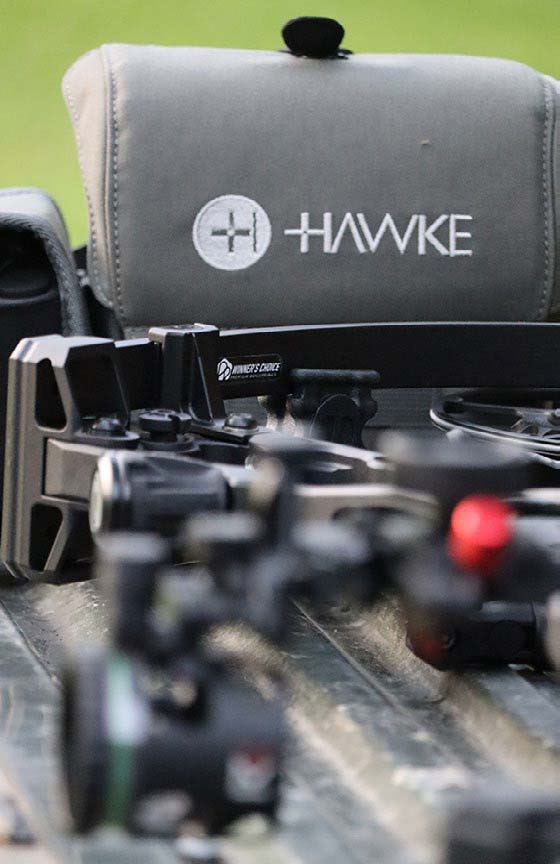 Rangefinder
I also want to mention how important it is to have a good rangefinder, not only for hunting, but for setting up your bow as well. I use the Hawke Optics Vantage rangefinder. It is accurate, well-built, and perfect for all shooting applications. You won't find a better rangefinder on the market.
Picking out and setting up a new bow can be a bit overwhelming. With so many bow options and accessories on the market it can be hard to know what you want and need.
There are a few things I learned in the process. The first is finding a bow tech you trust; they are a great source of knowledge. Next, know exactly what you want your bow to be capable of doing. This is important for your draw weight and arrow build. Lastly, find companies that are willing to talk to you before you purchase anything. This usually leads to outstanding customer service. I think that is important when making big investments.
Hopefully, you can take something away from my journey in building my new bow. Now for me, it's only a matter of time before it sends an arrow through its first whitetail!