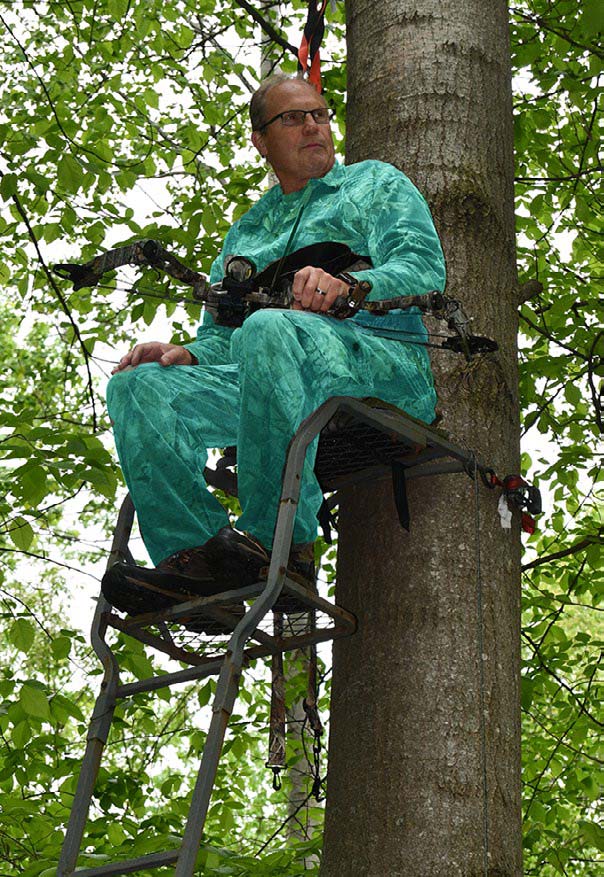 Photos: Loanna Ammerman
What Deer See and Hunters Miss About their Camo
My tree stand, waiting for me patiently for almost nine months, had not been visited by any human being since I set it up. It sits just off the edge of a ridge that the whitetails climb to get out of a cedar swamp and onto the higher ground where the white oaks grow. The wind was perfect, it was opening day of Michigan's archery deer season, and I was excited for the sneak attack that I was about to launch.
As I sat still in my stand, I heard noises of something making its way up the ridge, but as these things go, it could have been anything – except this wasn't just anything – it turned out to be a doe. I have a mantra that I repeat to myself whenever there are deer in sight. Instinctively I started repeating it in my head, "Motion kills. Motion kills." I didn't move a muscle as she walked off the edge of the ridge and then ten yards onto the high ground. I didn't intend to shoot her, but it wasn't my choice anyway. As soon as she got into my clearing, she looked right at me and stared. We played the game of who's going to blink first. I didn't move and had even closed one eye. It didn't take too long and she bounded away in flight because of an interloper that she had just identified.
This scenario happened not just once, but many times. It was puzzling to me as there was no reason for the deer to look my way. The wind is perfect to hunt this particular stand. I didn't move. Why were the deer staring me down?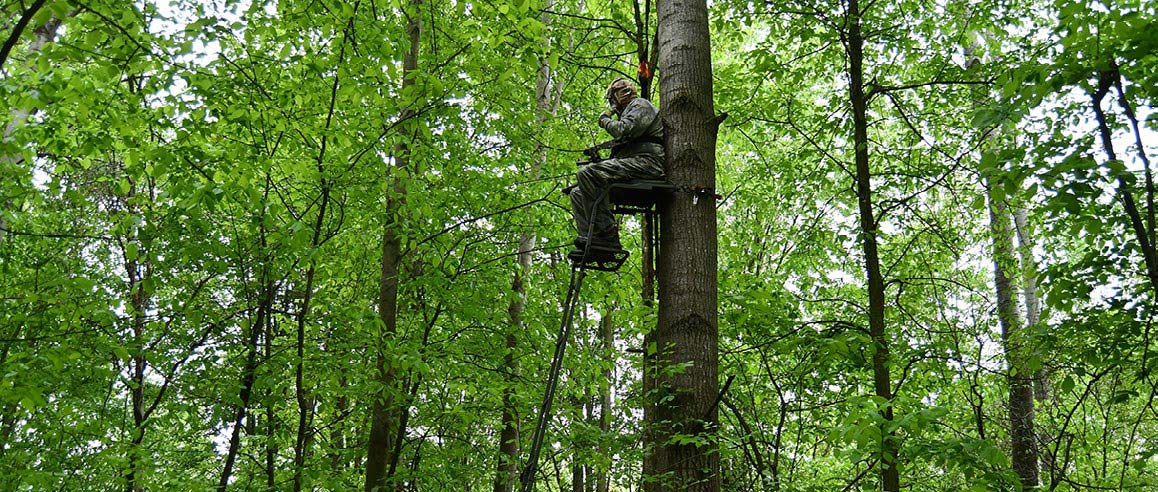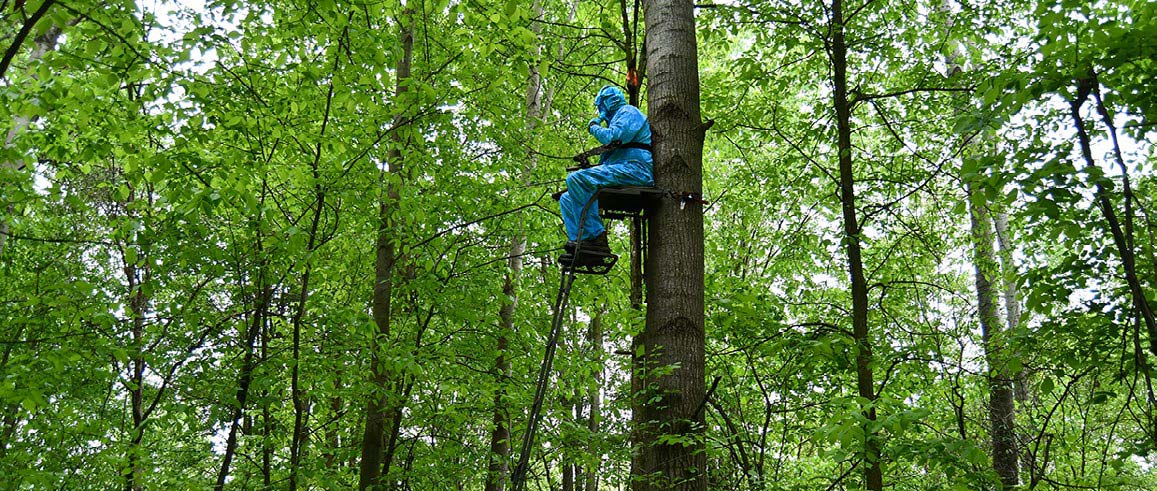 It turns out, although I was dressed in camouflage that got all sorts of compliments from my hunting partners, the deer didn't quite see it the same way that they did. To the deer, I was a big glowing blue aura in a tree. I can guarantee I have fixed this problem and I'll tell you how to check your own camouflage to see if you glow too!
Two years ago, I was at the National Shooting Sports Foundation's SHOT Show. This four day event gives outdoor manufacturers a chance to display their products and take large orders from retailers. I visited the booth of ATSKO / SNO-SEAL, INC. to talk with them about their excellent water repelling products. They had a small tent-like enclosure that was dark inside and were demonstrating their Ultraviolet light elimination product. The gentleman speaking with me said, "You know that deer see light reflections very differently than we do, right?" I swallowed hard as I had to admit that I'd heard "something" about that before, but more or less ignored it. He took me into the booth and demonstrated. He brought in a camouflaged garment that looked like something I might wear. With the lights on, it looked normal enough, but when he turned the normal lights off and the UV light on, that shirt glowed like I had just walked into a 1970's disco bar!
I started absorbing all I could as he spoke. "When you wash your hunting clothes, the detergent has brighteners that reflect the UV light. We can't see it, but deer don't have UV filters in the lenses in their eyes. They see much differently than we do."
Deer have a higher ratio of rods and cones in their eyes than a human has, so they see much better in low light conditions. This doesn't have much to do with me glowing like a big blob, but combined with the lack of UV filter, I surmised that my camouflage lit up in the early morning and late evening when a whitetail's vision is at its peak. There's plenty of scientific study information on this topic available on the internet and with just one search, you'll see that there's something to it. They see ultraviolet light reflections best in the 430 nanometer range – something our eyes filter right out. It turns out that plants and fungi on the forest floor appear differently to deer than to us. Some can glow a bit too (in various colors,) but certainly not emitting as big of a blob as a hunter would project.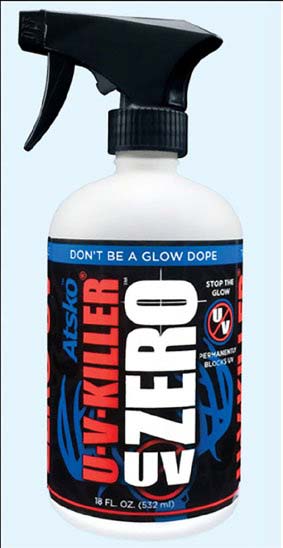 While at the Atsko booth, I mentioned a new camo pattern that True Timber had just introduced. It was a very impressive pattern. I wondered aloud if their camo glowed to the deer. "Let's go see!" said the Atsko representative and off we went to the True Timber booth. I pointed out their latest and greatest camo pattern and he whipped out a nice sized UV flashlight and flooded the garment with UV light. The shirt was as dull as it was in daylight – no UV glow. "I'll bet their product cost more than the average camo shirt. It takes special production quality assurances to make sure that the fabric is UV free, and that's an extra cost. That would be money well spent by hunters. Ninety-five percent of the manufacturers rely on hunters to use their own visual perception, rather than a deer's. The UV brighteners make it look better to consumers and this keeps their manufacturing cost down as well."
While we were on our Ultraviolet detection field trip, I asked him if he'd make one more stop. A pop-up blind company had just introduced their new blind in which a hunter can see out through the fabric, but wildlife could not see in. I was impressed. We got to their booth and he whipped out his flashlight and lit the blind up like a Christmas tree. The UV reflected light was obvious even in the well-lit auditorium. "Imagine how this would look in the early morning woods, with the sun just rising and the deer's vision is at its best? You might as well be an 'I'm right here billboard'."
I thanked the Atsko rep for enlightening me and then he thanked me. "I'll now go talk to the blind manufacturer's booth and see if we can't partner up and help kill their blue glow." I walked away more sure than ever that my hunting camo glowed as much as that blind.
It seems that new camo patterns are being introduced every year, and in case you haven't noticed, we've come a long way since the 1950s camo patterns. That pattern, which they called "leaf and twig," consisted of a couple of patches of shades of green and two blotches with shades of brown. Compared to modern camo patterns, the leaf and twig doesn't resemble leaves and twigs at all! Today's camo patterns are far different. You can see leaves – and twigs, but the deer are not buying camouflage clothing, the hunters are. If we saw what the deer can see when the clothes are on the store's racks, we would shop very differently.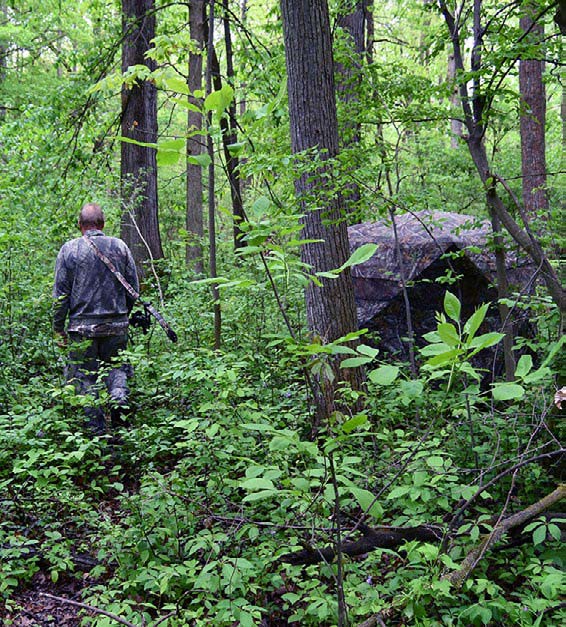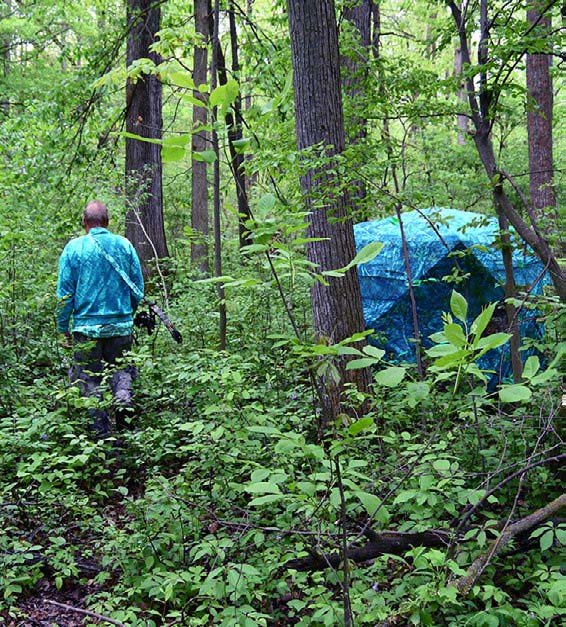 I always marvel at the hundreds of different fishing bait patterns there are for just one style of lure. They will probably all catch fish, but they have to catch the fisherman first. Modern camouflage garment manufacturers must make their products catch us hunters first by using the most realistic patterns that they can muster. Lucky for us hunters, we have access to UV flashlights, UV killer sprays, and detergents made for hunters without the brightening agents added.
I bought an ultraviolet flashlight and used it on my deer hunting clothing. Sure enough, it lit right up and my mood was as blue as the glow coming off the camouflage. I had spent countless hours sitting in the open woods with these clothes, the whole time advertising "I AM HERE!" I ordered some UV killer spray and after a few applications, I was able to get the glow toned down enough that I was much happier. I'm now rather gun shy to try washing the garments in a washing machine that's had gallons and gallons of fabric brighteners and scents poured into it throughout the years. Maybe there's no residue, but knowing what I now know, I'm not willing to take the chance.
Last year, during Michigan's archery season, I sat with my "motion kills" mantra going through my head as deer walked past me. On the ground, one wide six-point buck walked right by me within eight feet, until he had the wind at his advantage and his best protective sense kicked in. When in a tree stand, I no longer silently advertise that I am there. The deer have no reason to look up.
Using all the advantages at our disposal will help us as hunters. Every hunter worries about scent and wind direction, but like me (before being educated) not too many of us are concerned about what deer really see. We tend to think that if the camouflage looks like a leafy dead tree to us, then the deer should see it that way too. Nothing could be farther from the truth.