A fresh look at The Hunting Beast's lightweight treestand setup
One of the latest shifts in the hunting industry is toward ultra-lightweight treestand and hunting saddle kits. Some companies, like Tethrd, are supplying the need for lightweight saddle gear. But Beast Gear, courtesy of Dan Infalt's The Hunting Beast, is charging ahead on the lightweight treestand front.
I've had the Beast Gear Hang-On Treestand  for several weeks, and it hasn't disappointed me yet. Without question, this is the best ultra-lightweight treestand I've ever used. It's easy to operate, quiet to use, and very lightweight.
Regarding dimensions, the platform is 29 inches by 16 inches. The seat is 9 inches by 11.5 inches. The seat height is 21 inches.
The stand weighs a mere 6.8 pounds, which is nearly unheard of on the treestand market. Even at that weight class, it's engineered to maintain maximum durability and strength. It's designed with weight-reduction holes, yet still produces great structural integrity.
It's machined out of a solid 6061 T6 aluminum billet and assembled with grade 8 bolts, which increases the strength-to-weight ratio. It features a titanium grey anodized finish. It's externally tested to ASTM specifications and offers a 275-pound weight rating. With more than four years of prototyping and testing, and several more at market, The Hunting Beast crew is confident in the product. After testing it out, I am, too.
While some hang-on treestands have trouble gripping trees, the Beast Hang-On includes the Beast Gear Antler Bracket, which is designed to be compatible with many different tree bark types. This boosts stability and safety.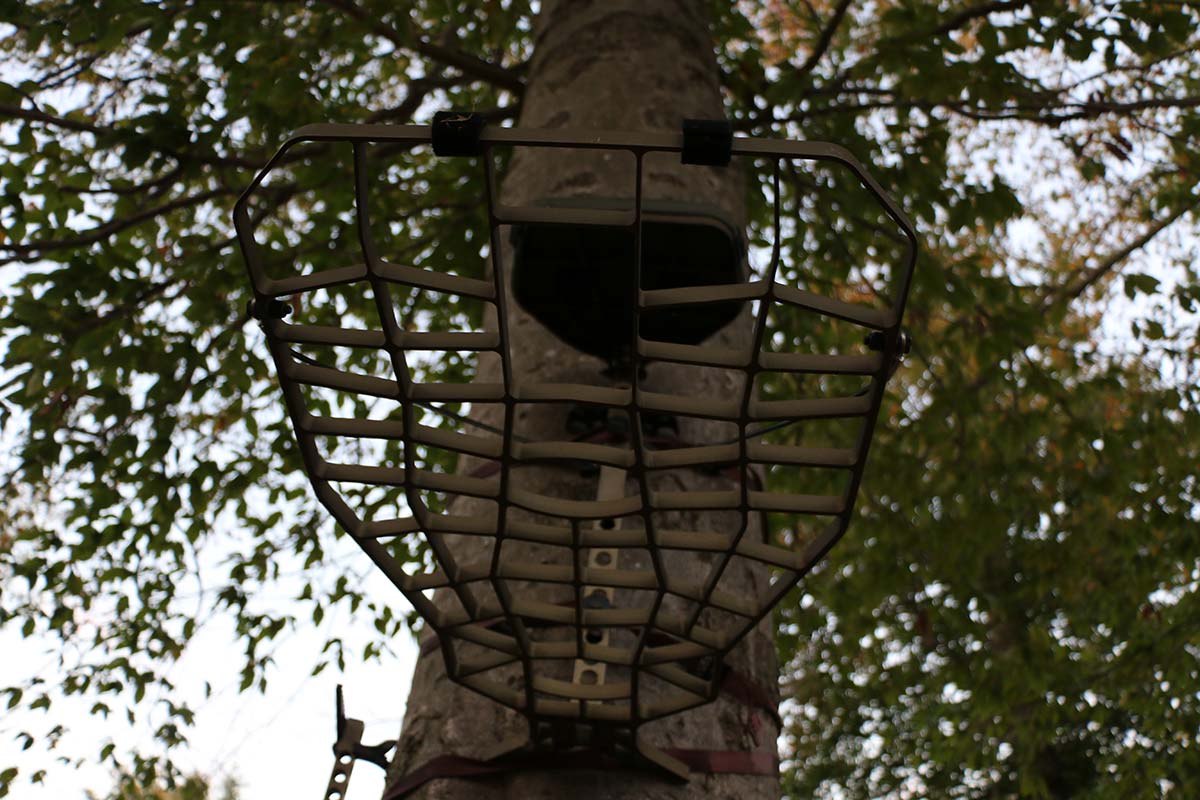 To improve ease of carry, it also sports a climbing stick attachment system. Furthermore, it even decreases felt load due to effective weight distribution. For increased comfort in the stand, it comes with a 1.5-inch-thick seat cushion.
In summary, while the $644.99 price tag might offer a touch of sticker shock, I assure you it's worth every penny. That is, for hunters who live the mobile hunting lifestyle. If you plan to hang this treestand in one spot and leave it there the entire season, it isn't for you. But if you hunt on public land, hike way in on private, can't afford to outfit an entire property with numerous treestands, or just want one treestand to bounce around with, it's the ideal stand. If you're in the market for an ultra-lightweight hang-on model, give this one a look. It's made in the USA.
Like the Beast Gear Hang-On treestand, the Beast Gear Climbing Sticks are designed to be ultra-lightweight. One 20-inch stick weighs only 2 pounds.
Crafted with 6061 aluminum, and assembled with grade 8 bolts, these sticks are strong. Like the hang-on treestand, the sticks feature the Antler Foot Design, too. These also allow for a non-staggered, in-line stacking design. With 9-inch, double-sided angled steps, climbing is safe and easy. These are 20 inches long but have 18 inches between steps. These come with a 300-pound weight rating.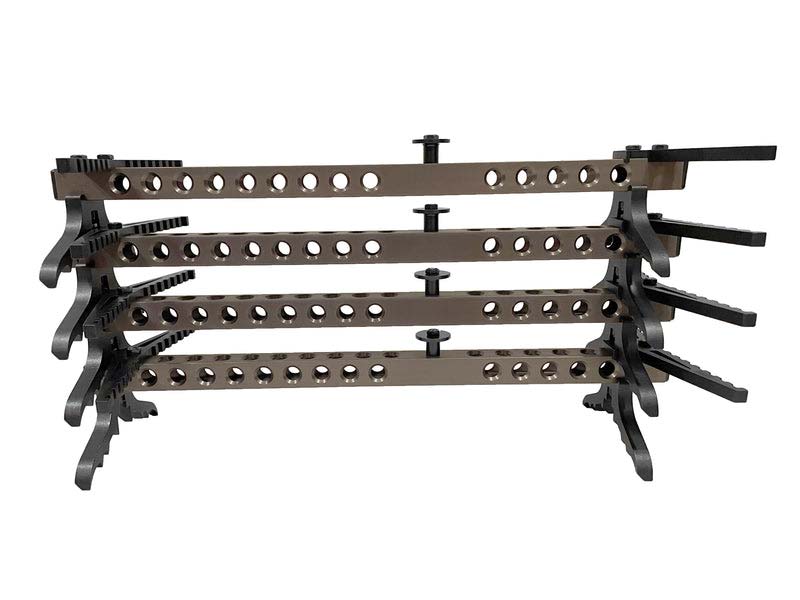 One of the most important elements of these sticks is reduced noise. The material, components, and overall design minimizes the odds of making unwanted noise. Many other sticks don't take that into account.
In addition to treestand use, these sticks also pair nicely with tree saddles. Regardless, at $82.99 per stick, it seems quite pricey. But for the mobile deer hunter, the reduced weight and decreased chance of noise is worth the price tag. These are TSA certified. Made in the USA.
Lightweight Hunting 101
Those who've been living the mobile, ultra-lightweight hunting lifestyle understand the need for a quality treestand or tree saddle and stick combo. Hunters must pack a lot of gear into the field, and without a very lightweight elevated hunting option, it's quite difficult to work deep into a property.
Of course, there are other options. Some hunters prefer climbing treestands. But for me, rarely is the right tree for killing a mature buck compatible with a climbing stand. Oftentimes, these are somewhat crooked, or too full of limbs to climb with a climbing treestand.
Even if "the right" tree happens to be a straight, limbless tree, chances are, during your approach, a bulky climber will brush up against sticks and other debris, making a lot of unwanted noise that will inevitably spook deer, perhaps even your target buck.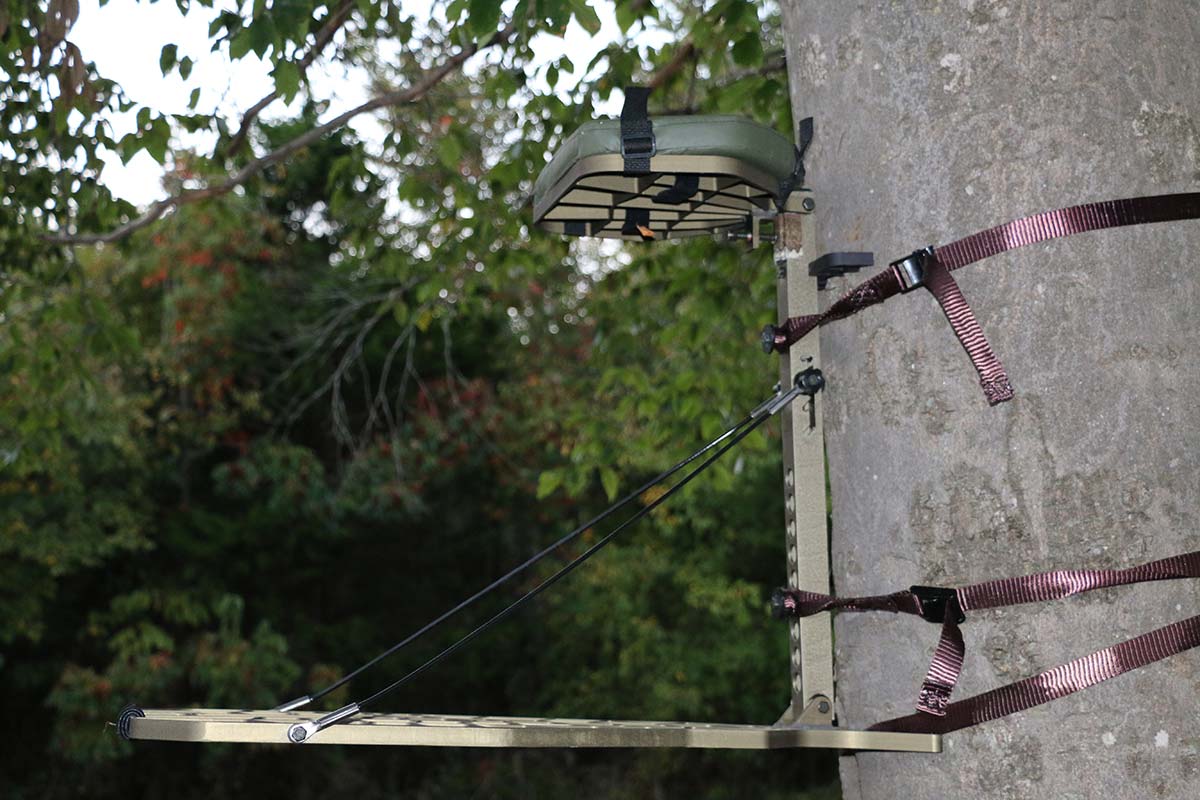 Therefore, deer hunters are left with two options. First, hunt from the ground and lose the advantage of hunting from an elevated position. Or second, choose a lightweight treestand or saddle and climbing stick combo that's made lightweight and for reduced noise. And that's where the Beast Gear Hang-On Treestand and Beast Gear Climbing Sticks really shine. If you're considering the mobile hunting approach, give The Hunting Beast a look, and see if you like what they have to offer this year.