Unleashing Precision and Performance
In the realm of archery, accuracy and consistency are paramount. For archers seeking the highest level of precision, the Last Chance Archery Bow Scale 3.0 and Handheld HS4 offer unrivaled choices. Both are designed for Professional Bow Shops and Home use. This cutting-edge duo empowers archers with the ability to measure peak draw weight, hold weight, and calculate let-off weight percentage, and so be able to tune their bows with unparalleled accuracy. They are durable, constructed of aluminum shells, and simple to use with one-pull of your bow accuracy.  By delving into the features and benefits of these exceptional tools, we will unveil why investing in the Last Chance Archery Bow Scale 3.0 and HS4 are game changers.
Accurate Draw Weight Measurements – The fixed mount Last Chance Archery Bow Scale 3.0 reigns supreme in the realm of draw weight measurements. With its advanced technology and exceptional craftsmanship, it provides archers with precise readings of peak draw weight, hold weight, and left-off capacity percentage, ensuring a consistent shooting experience. This scale offers an impressive weight capacity up to 200 pounds, and can handle a wide range of bows, from traditional to compound. Its durable aluminum construction guarantees strength and reliability, even in the most demanding conditions.
The HS4, a handheld companion tool to the Bow Scale 3.0, is a versatile and indispensable device for bow tuning. The HS4 is also built with a sturdy aluminum case and provides similar features to the Bow Scale 3.0 with a weight capacity up to 110 pounds. Plus, it adds the capability to accurately weigh common items such as fish, turkeys or even luggage with one lift. Both units feature an easy-to-use interface and clear digital display that make it useful and easy to read for all.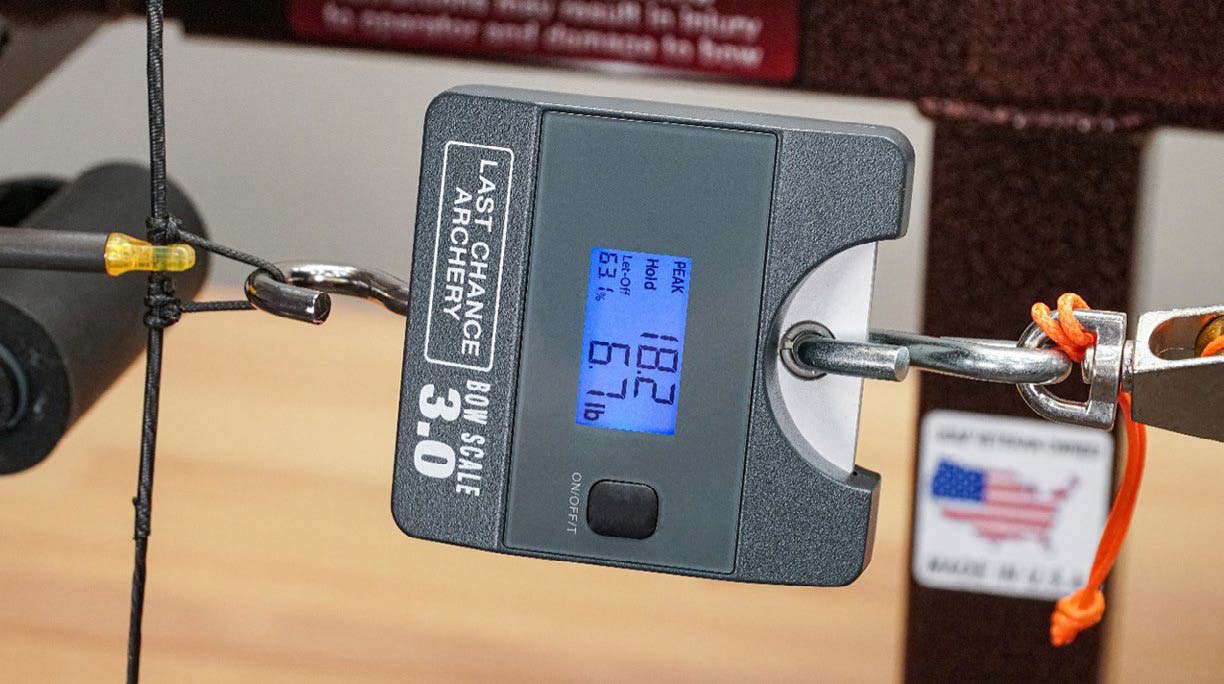 Enhanced Performance and Confidence – Using the Last Chance Archery Bow Scale 3.0 or Handheld HS4 translates into enhanced accuracy and unwavering confidence on the archery range and in the woods. By accurately measuring draw weight and let off weight, these tools enable archers to achieve peak performance and repeatability, shot after shot. With precise weight measurements and the ability to make adjustments, archers can optimize arrow flight, increase accuracy, and fine-tune their shooting style with draw weights that match their physical abilities and desired arrow performance.
Unparalleled Durability and Reliability – Built to withstand the rigors of regular use in the shop or on the range, both the Last Chance Archery Bow Scale 3.0 and Handheld HS4 are built with rugged aluminum cases, and exhibit outstanding durability. These tools are designed to withstand heavy use and harsh conditions. Whether you are a professional competitor or a recreational shooter, you can rely on the lasting performance of the Last Chance Archery Bow Scale 3.0 and Handheld HS4 to help you unlock your true potential and take your archery experience to new heights.