Over years of hunting deer, I have discovered a number of products that enhance my deer hunting experience that aren't available at a sporting goods store. Now when I head out on a deer hunt (or for that matter, any big game hunt), I carry many items that can help me out over the course of the hunt.
Reciprocating Saw
A battery-operated reciprocating saw (also known as a sawzall) can come in handy during the hunting season. These units are much smaller and quieter to operate than a chain saw and you don't have to deal with gasoline while hunting. The saws can be used to open up shooting lanes, trim some extra branches to brush a blind, or even to clear a path after you down a deer.
Sawzalls saws can also be a game changer when field dressing deer since they work wonders to cut off legs, head/neck or even to quarter a deer in the field. There is no doubt these tasks can be done with a manual bone saw, but the sawzall is effortless to operate. Such saws make these tasks much quicker to accomplish. That's important when you're racing time to beat the heat on an early September hunt or when you're trying to get the job done before darkness in a predator-rich hunting area.
My go-to saw is a Milwaukee cordless saw. I find these units durable in the field, and they can be used for home projects during the off-season. Over the years, I've tried a variety of sawblades for these tasks. I have finally settled on using Diablo Bi-Metal Demolition Blades in six- or nine-inch lengths. These blades rip through both trees and bones and stay sharp for several trips.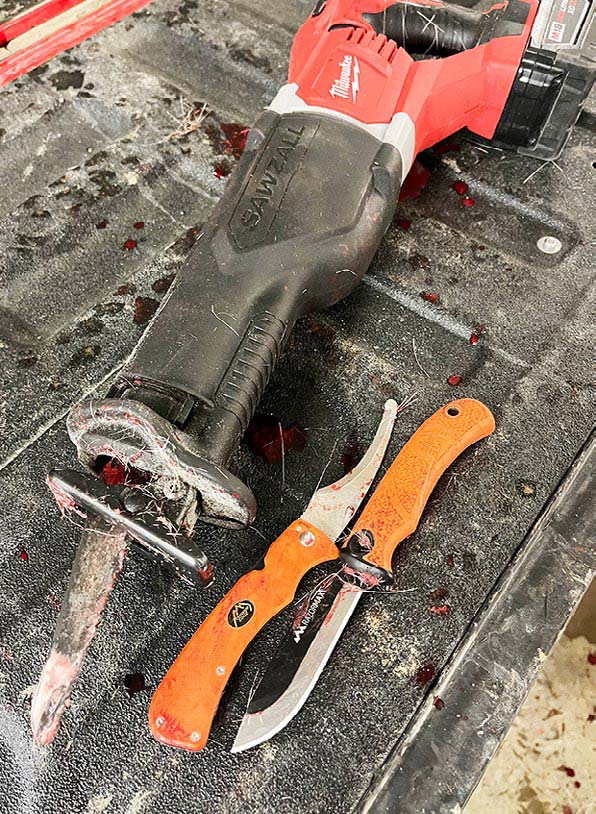 Rubber Gloves
Surgical rubber gloves come in handy when field dressing your deer. They keep your hands clean and protected. They also help protect your meat from any game scents, dirt or bacteria that may be on your hands before starting that task. A pair of shoulder-length plastic gloves also helps keep your arms and camo clothing clean when you're reaching deep into the cavity of a downed deer to get to the esophagus.
There is no shame in using gloves for field dressing. Keeping your hands and clothing clean during that task helps give hunters a much more positive image when they go into a gas station or restaurant after a successful hunt.
Wearing a pair of rubber gloves is also wise when setting out deer scents, such as mock scrapes or doe estrus products. The gloves keep the scents off your hands and fingers, and also prevent your human scent from contaminating the area where you're distributing the attractants.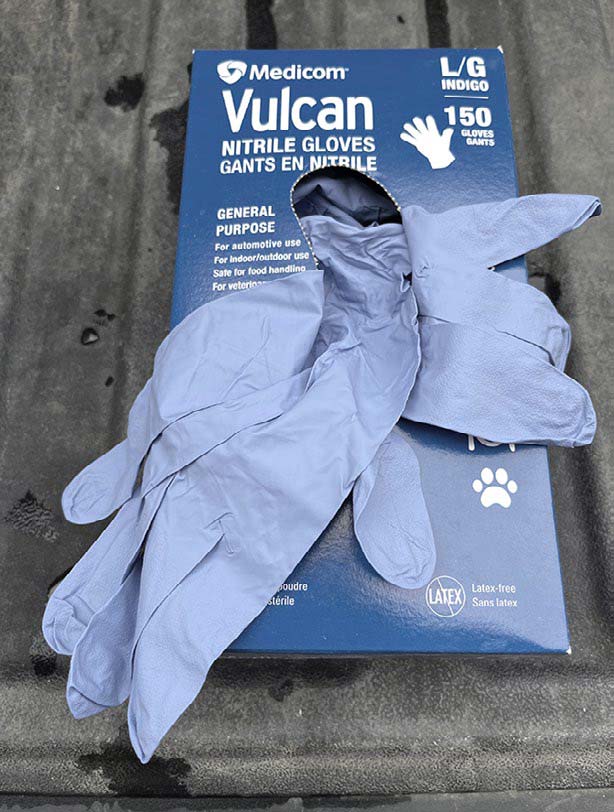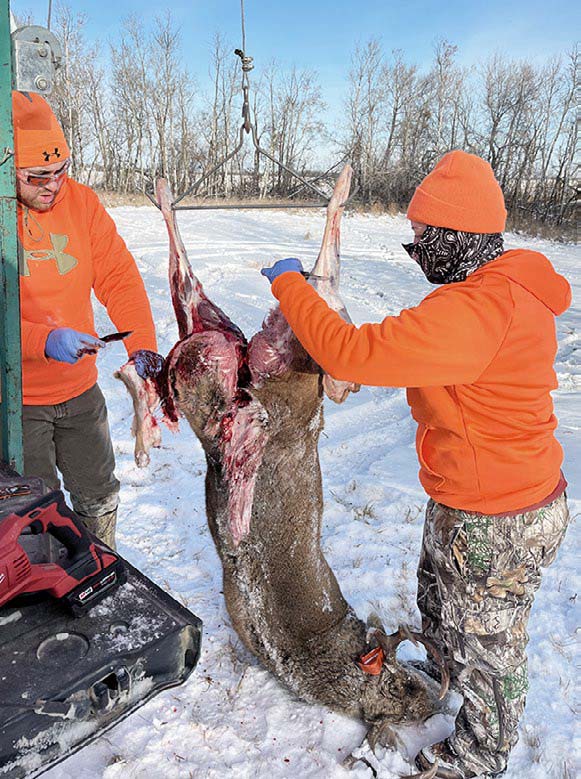 Baby Wipes
A package of baby wipes is a must for hunts. These wipes can be used to clean your hands and tools after field dressing an animal. The material on the wipes is durable enough to clean blood and fat off knife blades and tools, even in below-freezing temperatures. Yet they are gentle enough that they won't scratch or harm the finish on those items. The wipes can also be used for several hygienic purposes, including wiping down your face, neck and arms if you get over-heated while walking to your treestand.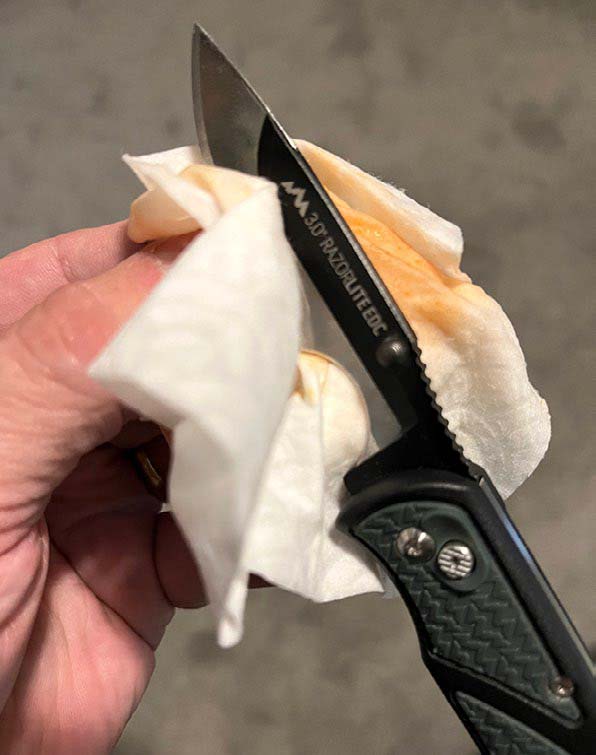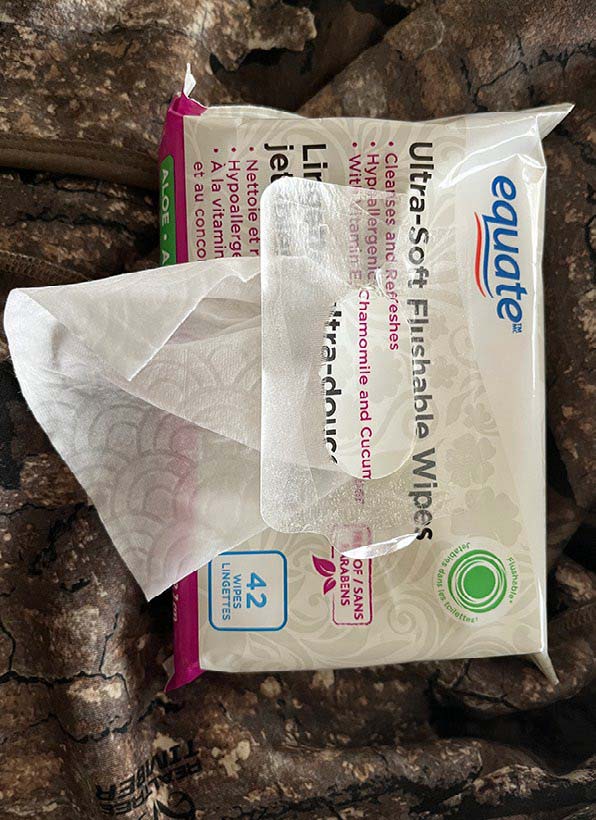 Plastic Bags
There are countless uses for plastic bags on a hunt. A small garbage bag is perfect for collecting and hauling out your rubber gloves and any rags, paper towels or other items used while field dressing. They can also be used to hold any chip bags, food wrappers or pop cans.
Large garbage bags can come in handy to cover your gear in the back of the truck if an unexpected rainstorm comes along. They can also store items such as duffle bags, pillows or sleeping bags when traveling to and from camp.
I also like to carry a variety of sizes of zip-lock bags. Zip-lock bags are quiet to open and close, making them ideal to use in your blind or tree stand. The bags come in handy to take a sandwich or some cookies with you in your pocket or backpack. They also work well to safely store and carry bottles of scent products.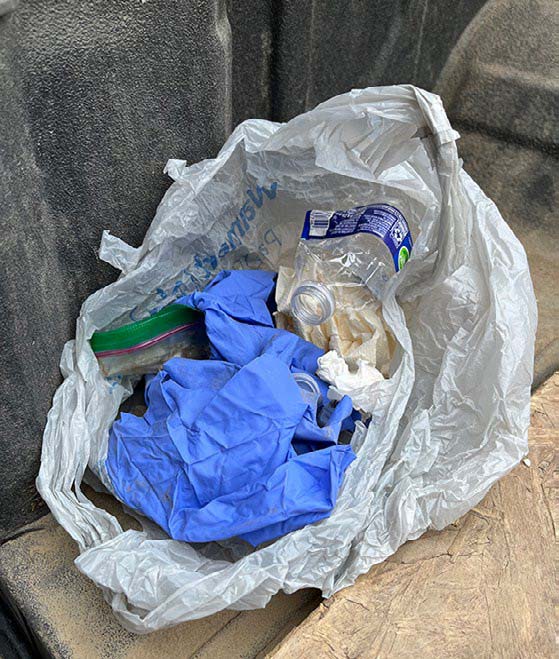 Hand Tools and Tape
A small set of hand tools is useful to bring along, too. Things can and will break. If you have a small set of tools along, you may be able to fix the problem and continue your hunt. For example, you can make minor repairs to your bow, such as tightening a quiver mount or bow sight. Your tool kit doesn't need to be extravagant, but at minimum, it should include a set of screwdrivers, Allen keys, pliers, sockets, a wrench and a hammer.
A roll of electrical tape and a roll of duct tape can come in handy in time of need, too. It's amazing how many things you can patch or repair with a roll of tape. I've even secured some rags over the sharp tines of a buck's antlers to get the rack and my gear home safely.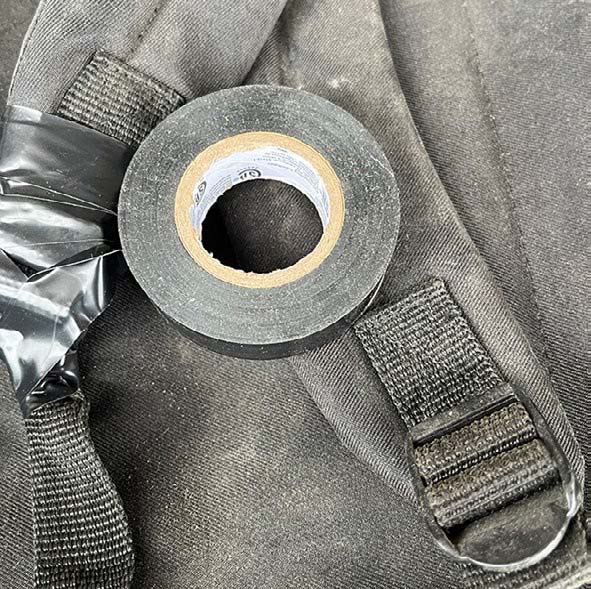 Shovel
A shovel can come in handy if you want to hang a game camera in a specific area that doesn't have any trees to hold your camera. In that kind of situation, you can dig a hole and set up a fence post to hold your camera.
If you're camping while hunting, a shovel can be used to dig a fire pit, allowing you to enjoy a campfire. The shovel can also be used to put dirt over the fire to put it out.
On late season hunts in snow country, a shovel can be used to dig out your ground blind after a winter snowstorm. A shovel will come in handy to get your vehicle unstuck if it gets stuck on the way in or out of your hunting location.
Ropes and Straps
Ropes, cords, bungee straps, tow straps and para cords have countless uses while you are deer hunting.
If you are field dressing a deer by yourself, you can use rope to act as an extra set of hands. Tying ropes to the legs of the deer and then to a nearby tree can make it very easy to access the deer's vitals as you field dress the deer by yourself. A rope can also be used to drag a deer out of the woods and to your truck. I recall one hunt years back where we took a solid tree branch and tied the legs of a downed deer to the branch. We then carried the deer out on our shoulders using the branch.
Once you have your deer loaded up, you may need to secure the deer or other items in your truck or trailer to keep your load safe. A rope can also be used to hang your deer at camp to skin and cool. Smaller diameter rope or para cord can come in handy to make a lift line that you can use to raise and lower gear in and out of your tree stand.
Bungee cords can come in handy to attach branches or grass to a ground blind. They can also be useful to hold your bow case and accessory bag to the rack of an ATV as you travel to and from your hunting location. On a cold day, you can use a bungee cord to attach an extra layer or two of clothing to the rings on your backpack as you hike to your hunting destination. Once there, the bungee cord can be quietly unhooked and you can put on your extra clothing layers.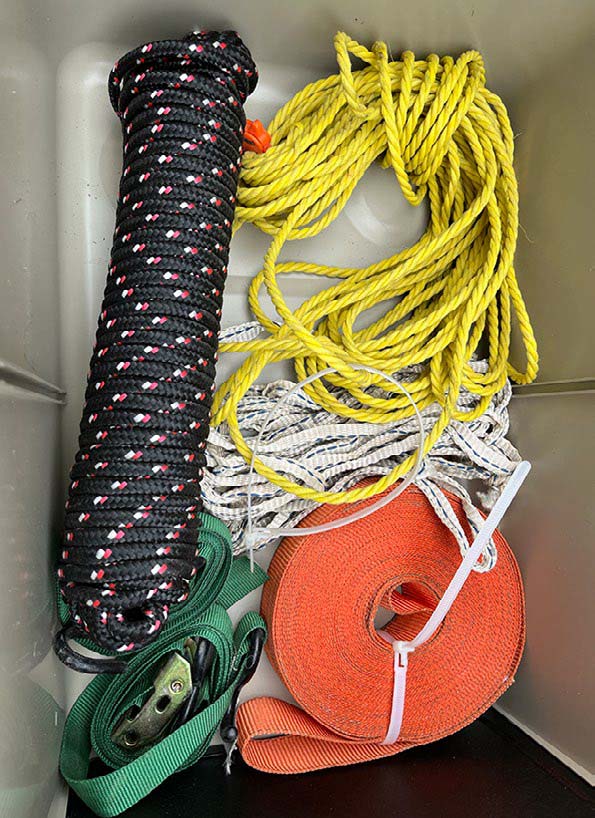 Tow Strap
When traveling to and from your hunting locations on a muddy day or in snow, a tow strap in your truck and ATV can save the day if you get stuck. Along with a tow strap, I recommend also carrying a couple of clevises and a hitch pin or two. Those small hardware items can make it quick and easy to attach a tow strap to vehicles. In the case of your truck, it may take someone else to come and help pull you out. However, with your ATV, it might be another ATV or truck that pulls you out. You may also need to get creative. Looping a strap around a nearby tree and attaching it to your winch can quickly get you back on your way.
Thermos
Most hunters will use a thermos to carry some hot coffee, tea, soup or water into their deer blinds. I will often carry a thermos of hot water to wash my hands and my field dressing tools after a successful hunt.
When using a thermos, I like to use a stainless-steel model with a neoprene cover to help protect the thermos from dents and to keep things quiet. When using a thermos, precondition it the night before. For cold liquids, fill the thermos with ice water the day before to cool it off. The next day, empty the ice water and fill the thermos with your choice of cold liquid. For hot liquids, fill the thermos with boiling water the night before. In the morning, dump the water out and fill your thermos with the beverage of choice. Doing so will keep your liquids at the right temperature for longer periods of time.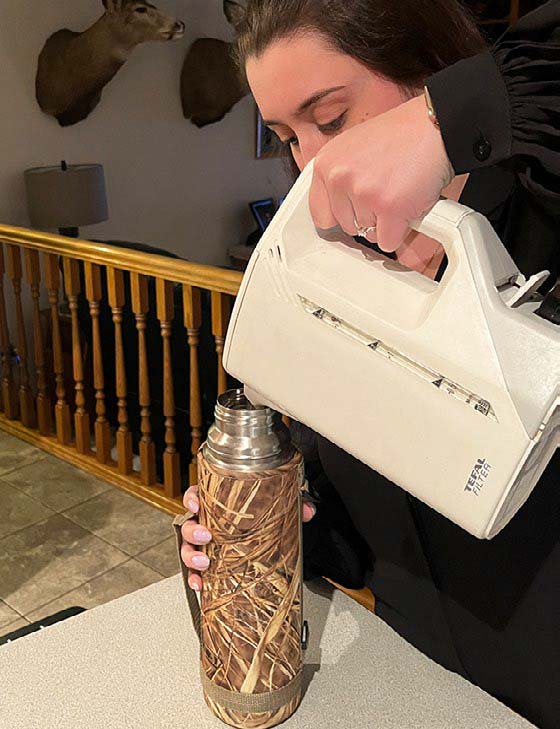 Tarp
A polyethylene tarp will come in handy for plenty of purposes. A tarp can be laid out on the ground while field dressing and deboning your deer so that you can place meat on the tarp to stay clean and cool. A tarp can also be used to cover a deer carcass in the back of your truck to keep dirt and bugs off the carcass. When using a tarp to cover your deer meat, always be sure the meat is completely cooled before completely covering the deer as the tarp will not breathe and can cause warm meat to rot.
A tarp can also be used to make a temporary lean-to if you need to spend the night in the woods. Tarps come in handy to cover firewood and gear from the elements, too.
When picking out a tarp to use for deer hunting, get one featuring grommet holes so you can attach a rope or bungee cord to secure the tarp in place.
First Aid Kit
A first aid kit is must for any outdoor outing and it's something you hope you never have to use. But since accidents, cuts, scrapes and rolled ankles happen, you need to be prepared. A number of companies make compact first aid kits that are perfect to take hunting, or you can make create your own and keep in a heavy Ziplock bag or sealable container.
At a minimum, a first aid kit should contain some bandages, gauze, adhesive tape, a tensor bandage (elastic bandage), antiseptic wipes, tweezers, disposable cold pack, safety pins, sharp scissors, a split and hand sanitizer.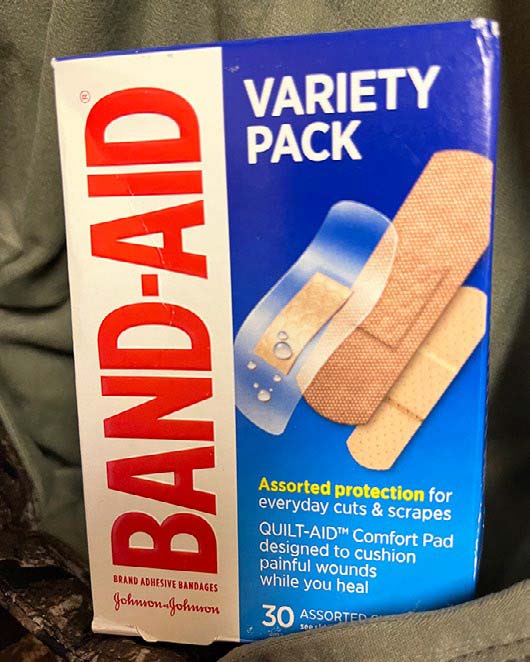 Storage Tub
It's great to have all the above equipment, but the question is how to carry it all into the field, so it is easily accessible, organized and protected from the elements. Over the years, I have tried a variety of plastic tubs to carry my gear, but it seemed they would break, the lids would fall off or the tubs would leak exposing my gear to moisture and dust.
I recently discovered the Yeti Loadout Go Box Gear Cases. They have proven to be the ultimate case for carrying all my gear while hunting. The beauty of these boxes is that they are extremely rugged and waterproof and dustproof. They feature a cargo tray, divider and zippered storage pouches to store and organize all my gear. These boxes have built-in tie-down slots to strap onto an ATV or to lock in place in your vehicle. They are available in three sizes to suit the amount of space you need for your gear.
Once I have all my gear picked out and ready to go, I pack it all into my Go Box and then throw the Go Box in the back of my truck. That way, the contents are ready when I need them. I also keep the gear packed in my truck for the duration of the hunting season.