Elk hunting is a gear-laden endeavor. I learned long ago that the better my gear, the better I perform in the woods. The to-come items are tried-and-true — not snake oil products selected on a whim. Take a long look at these 10 elk must-haves and consider adding several, or all of them, to your elk system.
I've been roaming the backcountry searching for elk for over 20 years. During that tenure, I've hunted with rifles and archery tackle. I've hunted in extreme and mild terrain and have taken several bulls with my rifle and archery tackle.
One thing I have learned when elk are on the menu is to not skimp on your gear selection. The better your gear, the more confident you are in the woods. When you can focus on finding elk and then making an ethical shot and not about whether the sole of your boots or your pack's shoulder straps will last another day, you can hunt freely. When your feet have blisters and hot spots, and you're body isn't rested because your sleep system is sub-par, it's easy for negative hunt psyche to slip in. When the negative thoughts start, it won't be long before you wave the white flag and head off the mountain.
This season, make excellent gear choices. The 10 to-come items are as good as I've found, and I know they will make your elk hunt safer, more comfortable, and more successful.
Nothing will break you down in the backcountry like a lack of nutrition. Bags of almonds, M&Ms, and beef jerky are fine during the day. However, you need to boil water and cook a carb/protein-rich dehydrated meal at night.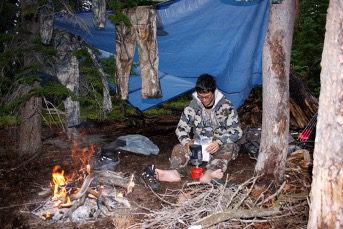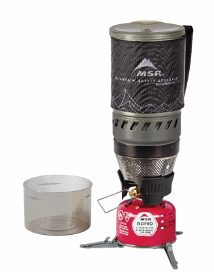 I've used many stoves during my backcountry career, and my number one go-to is MSR's WindBurner Personal Stove System. A complete cook system that includes a windproof stove, pot, and lid, this 1 liter, 15.3-ounce minimalist stove will meet all your backcountry needs.
The integrated cookware with a built-in heat exchanger rapidly transfers heat to the lock-on pot, reducing boil time even in cold, wet, and windy conditions. The system breaks down efficiently, including the 4-ounce (not included) fuel canister, and you can store everything inside the lock-on pot. This system is a backcountry win you shouldn't go without.
I lump this dynamic duo together as one sleep system. We can debate tents all day, and you'll need a good one, but you need to achieve quality rest while inside your tent. This lightweight system provides comfort and space saving in your pack.
The 1-pound Swift inflates quickly, is reasonably wide, and at 75 inches, will hold an extended body profile. When raised, several small pillow-like air chambers provide the back, hips, and legs with added support. These chambers also keep the body off the ground and help keep the cold floor from creeping into the bones.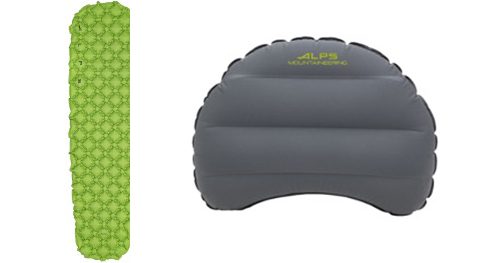 Combined with the inflatable fit-in-your-pocket Versa Pillow, made from uber-light polyester fabric that is brushed and soft, you have the makings of a good night's sleep, and sleep on an elk hunt is vital to body recovery.
Ultimate Predator Gear Elk Stalker Decoy
I refuse to pen a best-of gear article without including UPG's Elk Stalker Decoy. Why? Because it's allowed me to fill my freezer and put some horns on my wall many times over the years.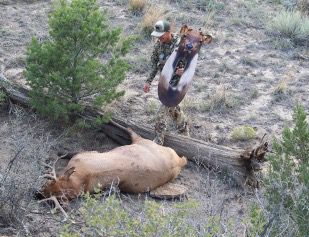 Weighing less than 10 ounces and collapsing to a 10-inch diameter disc, this UV-resistant fabric imposter mounts to the front of your bow via included Velcro straps. UPG does sell various other attachment systems, too. In seconds, the decoy attaches to the top and bottom limb pocket and gives an approaching bull the visual he's looking for — a cow. The shoot-through window promises total arrow clearance and built-in orange safety straps boost safety. If you're a solo elk hunter and are sick of calling bulls close only to have them not commit because they expect to see an elk and don't, this is a must-make purchase.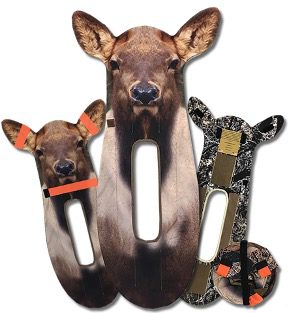 A winning combo I don't go to the elk woods without, Sitka's Thunderhead Jacket & Pant combo is an elk-hunting must. Moisture is likely on any elk hunt, and if you don't have a system you can retrieve from your pack quickly, you can bank on being cold and miserable.
While pricy, what I appreciate most about this system is its stealth. Most raingear garments create unavoidable noise, but these breathable 3-layer Gore-Tex fabric garments with an ultra-quiet brushed face keep you dry and allow you to continue on the hunt without the fear of spooking elk.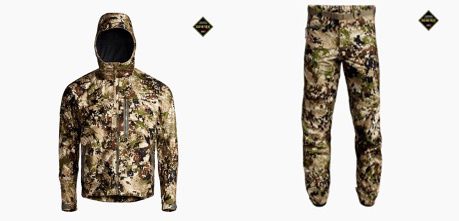 The system weighs less than 48 ounces, and the jacket's fitted hood moves with you, so your vision is never altered. The pants sport a full-length side zipper that means no having to take your boots on and off and get your feet wet. Unzip the zippers, and the pants will slide easily over your boots.
I've seen many elk hunts end prematurely due to inadequate boots. During my early years, I skimped on boot choice. I opted for cheap kicks that lacked stability, comfort, water resistance, etc. I've dealt with blisters the size of Coke cans and hot spots that wouldn't stop burning.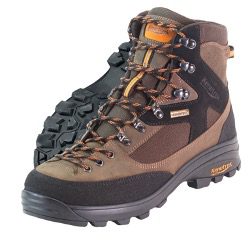 You'll be on your feet in unforgiving terrain when elk hunting. Your feet are two of your best assets, and those assets need to be protected. While I love Kenetrek's Mountain Extreme Uninsulated, if I'm going far and deep, I've found its Corrie II Hiker to be a win.
A boot that feels more like your favorite pair of running shoes, the Corrie II features 7-inch tall, ultralight leather and sports nylon lace-to-the-toe uppers. The 5mm nylon midsoles support the feet and ankle in rocky, unstable terrain, and the reinforced rubber toe and heel guards combined with double and triple stitching in high-wear areas add longevity.
The Grapon outsoles provide remarkable footing without adding unnecessary weight and bulk to this fine pair of elk hunting boots.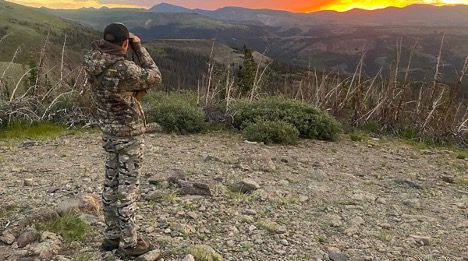 Your backpack is your lifeblood in the elk woods, and I've found none better than ALPS' Elite Frame +3800. To date, I've packed multiple bulls with this high-performance thermoplastic composite frame — a design that reduces weight and ups strength. Offering the user full customization to ensure comfort and support, the backpack has a torso-range adjustment between 14 and 20 inches, and the waistbelt is adjustable from 31 to 55 inches. The frame features 3D air mesh suspension with an anti-slip lumbar pad, and a pair of extension lashing straps are included. This backpack won the best overall backpack on this list of best hunting backpacks.
The 3800 Pack attaches and detaches from the frame in seconds via the hook-and-loop tabs, and compression straps suck the pack tight to the frame. The full-access main zipper means instant access to the large main pocket, and you'll be impressed with the integrated spotting scope pocket and the top zippered pocket, which is ideal for need-right-now items. The pack has a trio of compression pockets, a rain cover, and a rifle/bow drop-down pocket.
Montana Knife Company Blackfoot Fixed Blade 2.0 
I like replaceable blade knives, but I want a do-all fixed-blade knife in my pack when dealing with big, heavy-boned critters like elk.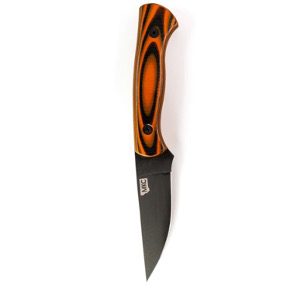 Enter Montana Knife Company's Blackfoot Fixed Blade 2.0. The knife weighs only 3.6 ounces, and the drop-point blade works well for skinning and caping as it does for deboning and prying.
Made from cryogenically treated 52100 high-carbon ball-bearing steel, the blade is tough and holds an incredible edge. Plus, it's a breeze to touch up. With a blade length of 3.5 inches and a total length of 7.75 inches, this knife takes up little room, and the G-10 handle scales ensure durability and provides an excellent grip even when wet.
Like any top-end must-have elk item, this knife will cost you some benjamins, but with free sharpening for life and the promise to handle any job you can throw at it, it's a necessary addition to your elk arsenal.
Even when calling to September bulls, I spend loads of time behind my glass, and Leupold's BX-4 HD 10x42s have served me well over the years. The binos are light, have excellent ergonomics, and gather light like crazy.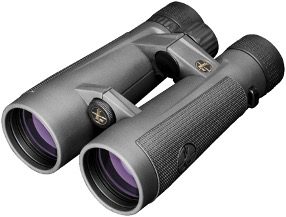 You'll love the open-bridge design, and I also applaud the built-in 1/4-20 tripod adapter port. Water and fog-proof, these binos sport exterior lens surfaces treated with DiamondCoat 2, an ion-assist lens coating that boosts light transmission to ensure maximum brightness and clarity.
Protected by Guard-ion hydrophobic lens coating that sheds dirt and water like a dream, these binos are ready to conquer any hunt.
SEVR Titanium 1.5 Broadhead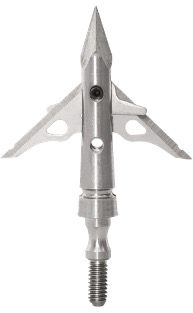 OK, we haven't touched on bow, arrow, sight, rest, and quiver choice. Yes, all of those are important, but the business end of your shaft will lead to a heavy pack out. Regarding broadheads, my sole go-to is SEVR's Titanium 1.5. I have anchored several elk, deer, pronghorn, bear, and a Rocky Mountain Big Horn with this head. It has proven a worthy quiver-filler, and I can't put a bigger endorsement stamp on it.
The blade angle is more swept back for maximum penetration, and the Lock-and-Pivot Blades are fully contained in the ferrule and will not open until impact is made. Upon impact, the blades sling to life from the rear and pivot as needed to keep your arrow driving a straight path through the animal. The titanium ferrule is bulletproof, as is the .032-inch thick, razor-sharp stainless-steel blades. Stretch Cut means the heads will produce a larger-than-blade slash from which blood will pour.
My favorite feature of the head is a technology SEVR dubbed Practice Lock. It's imperative to practice with the broadheads you plan to hunt with. However, this can be a pricy endeavor. Not anymore. Each SEVR head comes with a set screw that threads into a small hole in the ferrule that locks the blades closed, preventing deployment on impact. This means you can practice with the same broadhead you plan to hunt with.
I've forgotten game bags in the backcountry and dealt with sub-par makes that rip and don't do their job. Not anymore. Game bags are essential for keeping your meat clean, wicking away moisture, and promoting breathability. The better your game bag, the better condition your meat will be for processing.
I've found Caribou Gear is the best. The Wapiti is explicitly designed for elk and includes four quarter game bags, one meat parts bag, and one storage bag with a rubber-coated mesh lower. The total weight is 21 ounces, and with this system, you can break down a bull, bundle the meat up, and get it off the mountain.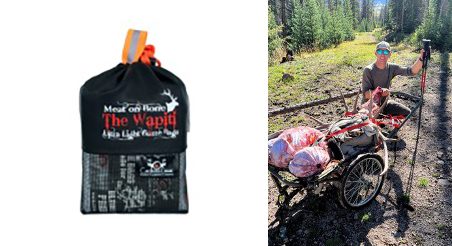 The bags are breathable and ultra-tough. They breathe like cotton but have the strength of Kevlar, and dust and bugs won't penetrate. Light reflective drawstrings ensure exact closure, and they are visible at night.
With this gear list and a few other items, you can head into the elk woods focused solely on hunting and not worrying about whether or not your gear choices will hold up to the demands of a true backcountry elk adventure.