The TenPoint Stealth 450 Oracle X &  The Viper 430
TenPoint Crossbow Technologies, an American owned company, has released 2 new forward draw crossbows to complement their 2023 product launches, the Stealth 450 Oracle X and the Viper 430.  Both are super-fast (450 and 430 FPS respectively) and have incredible new optics that allows you to shoot out to 100 yards with consistency and accuracy.  These crossbows utilize TenPoints new narrow design in a forward draw assembly that creates a smaller size footprint with less weight while still producing hard-hitting downrange accuracy.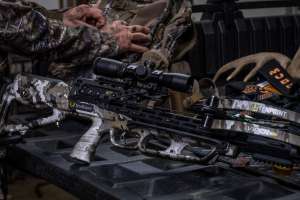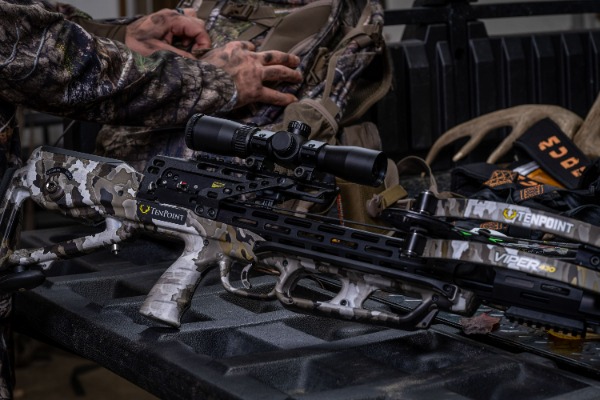 The   similarities continue with both Crossbows utilizing the patented ACUslide™ Cocking and De-Cocking System that has a patented Auto-Brake feature to safely control your crossbow while de-cocking it, using only 5 lbs. of force, and effectively stopping the movement of the crossbow string if your hand slips off the de-cocking handle.
While both come standard with different optics, the mounting rail is their new Scope Struts, which provide a very rigid and stable platform to mount all sorts of options including heavy scopes or night vision devices.  This design helps ensure if you drop the crossbow that the optics won't move due to a lightweight mount being damaged by impact.  Optics will be highlighted a bit later
Both crossbows utilize the TenPoint  RX6-Cam™ that are designed to generate a ton of rotation in a forward draw bow.  This creates tremendous power and high arrow speeds in both assemblies.  When paired with their 4-cable technology called Vector-Quad™, the cams and cables work together to stop cam lean and keep the arrow traveling straight down the barrel for improved accuracy and reduced string wear.  The S1™ trigger used in both Crossbows is their popular 2-stage, zero creep trigger assembly set to break at 3.5 pounds, included with a dry fire inhibitor for added safety.  Both assemblies can have a Sentry Bowhanger mounted in front, which provides a convenient method to hang your bow, but also keeps the broadhead from catching on anything in close quarters like in a ground blind.
The stock has an adjustable butt plate that moves 1" to provide for a different fit of the individual shooter.  The Stealth 450 has a standard supplied raised cheek comb that helps to center your eye in the optic, while the Viper 430 has this as an option to install later, depending on the optic that is chosen.
Both packages come ready to hunt with arrows, a cocking handle, integrated string stop to reduce vibration and noise, a 3-arrow quiver, Sentry Bowhanger, and depending on the model chosen a cool choice in optics.  Don't forget to order broadheads, they are not included in the package, but there are many options available.  See choices here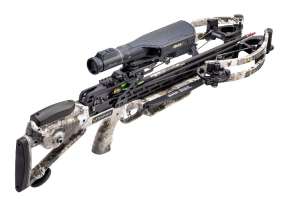 Standard on the Stealth 450 is the Burris® Oracle X™ Rangefinding Crossbow Scope.  It pairs with a wireless remote and features a built in laser rangefinder that with the push of a button will range a target out to 200 yards. The 2x-7x display shows the exact distance to the target with an aiming point that factors in the angle of your shot.  Burris backs this optic with their "No Questions Asked" forever replacement policy.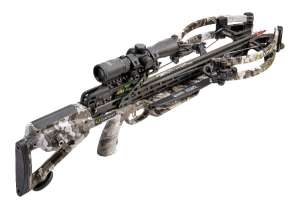 Standard on the Viper 430 is the RangeMaster 100 Precision Crossbow Scope.  This variable speed scope is designed to be utilized on crossbows with arrow speeds from 380 to 505 FPS, and has arrow drop compensation settings to cover this wide range of speed options.  It was designed to allow accurate shots out to 100 yards and has three illuminated dots calibrated to hit at 20/30/40 yards, three illuminated crosshairs calibrated to hit at 50/60/70 yards, and three illuminated chevrons calibrated to hit at 80/90/100 yards.  A rheostat controls the illumination settings for the sighting mechanisms.  It comes standard with flip up scope caps and has 2 camo options to choose from.
Ten Point's 2023 Lineup Comparison
| | | | |
| --- | --- | --- | --- |
| Crossbow Name | Flatline | Stealth 450 Oracle X | Viper 430 |
| Weight (lbs) | 7.5 | 7.5 | 7.5 |
| Length (in) | 26.5 | 33 | 33 |
| Width (in)  uncocked/cocked | 12/7.5 | 11/6.5 | 11/6.5 |
| Draw Weight (lbs) | 300 | 250 | 250 |
| Kinetic Energy (FP) | 188 | 191 | 174 |
| Draw Style | Reverse | Forward | Forward |
| Arrow Speed – 400 Gr (fps) | 460 | 450 | 430 |
| Bowhanger (y/n) | y | y | y |
| Quiver (capacity) | y (6) | y (3) | y (3) |
| Arrows qty (straightness) | 6 (0.001″) | 3 (0.003″) | 3 (0.003″) |
| Integrated String Stop | y | y | y |
| Optic | Burris Oracle X – Rangefinding | Burris Oracle X – Rangefinding | RangeMaster 100 (2-7 power) Variable speed |
| ACUslide Cock/Decock | y | y | y |
| Trigger – pull (lb) | S1 – 3.5 | S1 – 3.5 | S1 – 3.5 |
| MAP ($) | $3,349.00 | $2,849.00 | $1,849.00 |
These crossbows are helping to push the envelope in the narrow crossbow category, and both are terrific options for the first-time crossbow hunter.