In December 2012, some passionate people got together and realized future generations were not being taught about the sport of archery or conservation education, so a next-step youth archery program was born called the Scholastic Archery Association which does business as Scholastic 3-D Archery (S3DA). S3DA exists as an after-school program affiliated with but not limited to educational institutions, archery clubs and businesses, fish and wildlife agencies, etc. S3DA is the premiere youth archery organization that provides members archery competitions across the United States while providing bowhunting and conservation education and activities.
You are probably wondering why the name Scholastic 3-D Archery? Well, if you thought the 3D in the name meant 3D archery, you are close, but the great minds behind the program realized very early that shooting at foam animals was not enough for a well-rounded organization. The "3-D" in Scholastic 3-D Archery stands for three-disciplines of archery (Indoor, 3D, and Outdoor Target). Scholastic 3-D Archery is the only youth archery organization available where members can shoot recreationally or competitively at the regional, state, and national level year-round whether engaged in any discipline of archery or hunting. S3DA does require a mandatory dead period beginning at the end of each competition season so members will step away from competition archery and center their attention on the great outdoors.
Bear Archery was the first major archery industry sponsor that S3DA received. Their request was simple: "Create a program that Fred Bear would be proud of, promote fair chase and ethical hunting and be all-inclusive without any restrictions on archery equipment." Manufacturers, retailers, and archery businesses are attracted to the S3DA program because of that last line of Bear Archery's request. S3DA has no equipment brand restrictions so archers can shoot the equipment of their choice.
The S3DA program has developed a solid foundation by the support of many major national archery and hunting industry organizations. Today, S3DA has several national competition and conservation partners which include the Archery Shooters Association (ASA), National Field Archery Association (NFAA), USA Archery, Easton Foundations, Archery Trade Association (ATA), Pope and Young Club, Whitetails Unlimited, National Deer Association (NDA), and Bass Pro/Cabela's.
The very first S3DA National competition was held in London, Kentucky in 2013 in conjunction with the Archery Shooter's Association with close to 188 participants. Now, fast forward ten years later to the most recent 3D National Championship that took place in Rend Lake, Illinois in 2023, where S3DA held their own standalone event with more than 600 participants. Fred Bear would be very proud to see the growth of this organization which currently operates in 35+ states and is growing like wildfire. Although the numbers fluctuate daily, the organization is thriving with 4,000+ youth memberships, 500+ coach memberships, and 250+ team memberships.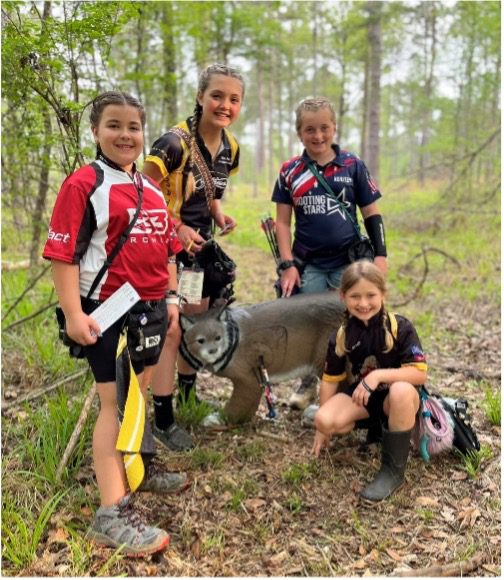 The Scholastic 3-D Archery program provides an interest in archery, outdoors, hunting, fishing, and conservation which are the platforms upon which the United States was founded. Youth are curious and often willing to try hunting by means of archery, firearm, or even trapping.
The S3DA conservation program has taken a rapid turn within the last year with the hiring of National Conservation Coordinator, Patty Reel. Patty is working diligently to develop a network of state-specific conservation coordinators that know their state and can tailor the conservation program to the needs of members in that state. One of the biggest challenges faced is that hunting is perceived differently in various locales across the country as well as the means of hunting and even the hunting seasons are vastly different. Patty is meeting this challenge by providing all S3DA members with education on the differences in hunting across the US and through hunting seminars, trade shows, and archery competitions. She continues to advocate with state fish and wildlife departments as well as various conservation organizations across the nation to grow the S3DA conservation program.
S3DA is committed to instilling in members the critical connection between hunting and conservation by exposing them to the Scholastic 3-D Archery/Pope & Young Clear Path Bowhunting Initiative. This initiative provides information on the North American Model of Wildlife Conservation, The Pittman Robertson Act, and includes an overview of the history of modern bowhunting and fair-chase ethics. All S3DA members are provided with this information to create a deeper understanding of the principles of being an ethical hunter as well as the importance of conservation practices. The expectation is that anyone within the program will have a true appreciation of the responsibility a hunter/conservationist has in keeping the balance of nature in check. In learning the ethics of fair-chase along with the proper mechanics of bowhunting, S3DA is creating an entirely new generation of outdoorsmen and women who will provide the outdoor industry with life-sustaining energy far into the future. Members of S3DA are learning values of sportsmanship and stewardship, hunting ethics, social skills, and so much more!
The path seems bright for this next-step youth archery program. The organization plans to continue bringing quality competition archery to youth near and far while encouraging them to explore beyond their own backyard what the great outdoors has in store. The staff will strive to always think outside of the box and push the boundaries of what youth archery "should" be. As we reflect on those passionate individuals that got together to form this great organization, they sure have a lot to be proud of and we have a lot to be thankful for. The Scholastic 3-D Archery program is a very important steppingstone to the preservation of hunting and target sports as well as the outdoor industry as a whole.
If you are between the ages of 8-18 and find yourself interested in the sport of archery, would like to know more about how to hunt, or simply want to learn more, contact the Scholastic 3-D Archery organization to see what contacts are already established in your area or how you can be involved in establishing a program.
For more information, complete details on S3DA and how to become involved at any level, a calendar of events, rules, regulations, and a list of state coordinators, go to www.s3da.net. For additional information, contact S3DA Executive Director Holly Helton at [email protected] or contact Kayla Bolton, Social Media Marketing Coordinator at [email protected].