At this point in my life, taking people hunting is more of a thrill as I create a situation between the person going hunting and the animal we hunt, especially when that scenario plays out in ways more magical than we could have imagined.
This deer hunt's lead-up had been in the works for two years. My son Brady (age 25) wanted to bow hunt deer for his birthday in early October 2020. With only two days left in the season, I decided to contact an outfitter, based on the tight timeline and given other productions I had going on. I was pleasantly welcomed by Rockridge Outfitters, just north of Kingston, Ontario, for a non-stop experience. We stayed in a beautiful cabin on the water on top of a rocky ridge. The terrain was most beautiful, the leaves were just in the beginning stages of changing, the days were full of color and the fresh smell of fall was in the air.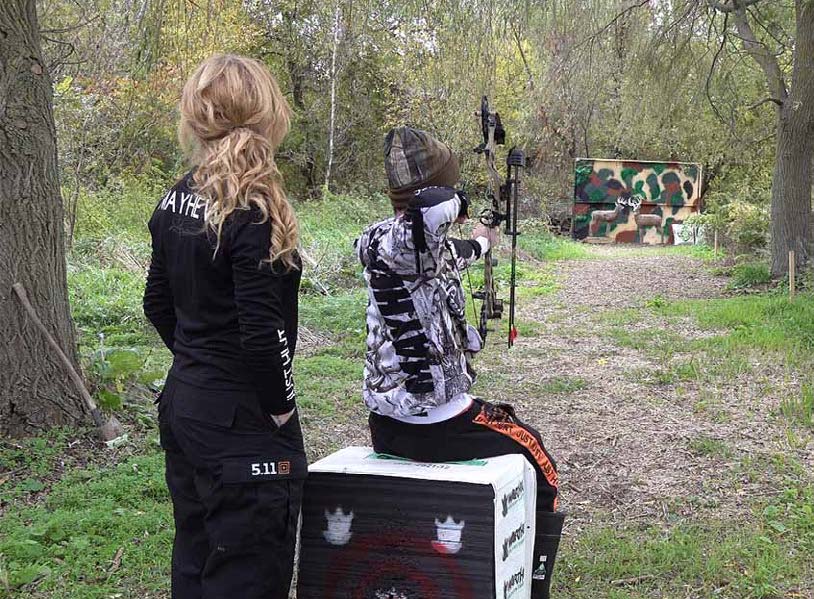 That year, my son's determination on the hunt was staggering. We experienced early, frosty cold mornings followed by long sits and lengthy evenings, all producing many deer sightings, but always out of range of his bow. All we had that year were buck tags because applying for an antlerless tag would have had to be done in the summer months.
On the last evening there, it was my luck that a 14-point buck stepped out into view at 17 yards. I was messaging Brady to ask how it was going on his end when I raised my eyes to continue watching the doe and fawn originally in my view. The pair had been replaced by a monster buck that I then harvested with my bow. Since we had plans to leave that night already, the buck was processed in the field and loaded into the truck with ice to prevent spoiling during the five-hour drive home.  Once at the butcher's, we wrapped the meat together as a group and shared the bounty of our hunt equally.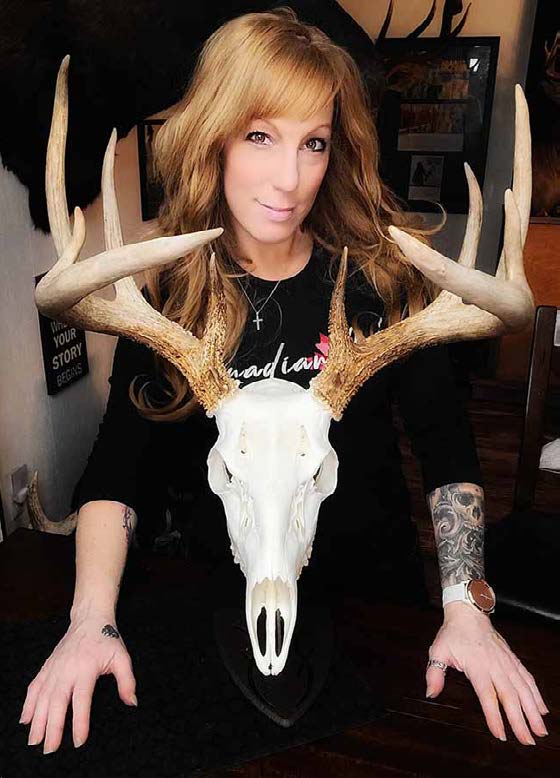 Brady missed the deer hunt in 2021 but returned in 2022 on another short trip a little later in the season. Arriving at Rockridge Outfitters again, we were in our box blinds within minutes of unloading the truck. This hunt provided full-on action instantly; deer just appeared in all directions. We had young bucks, large does with fawns and of course, turkeys.
I was sitting in my box blind watching a four-point buck at 18 yards. That went on for 45 minutes while I filmed. Brady texted to let me know he was in his box blind with an interesting buck out in front of him. It looked like it had only one antler. Brady contemplated shooting the deer but then changed his mind. He was curious about it. He waited the rest of the evening, watching other deer and several turkeys appear in the field. We continued to discuss that animal and our thoughts about taking him or not. We passed photos back and forth until the evening ran out of time.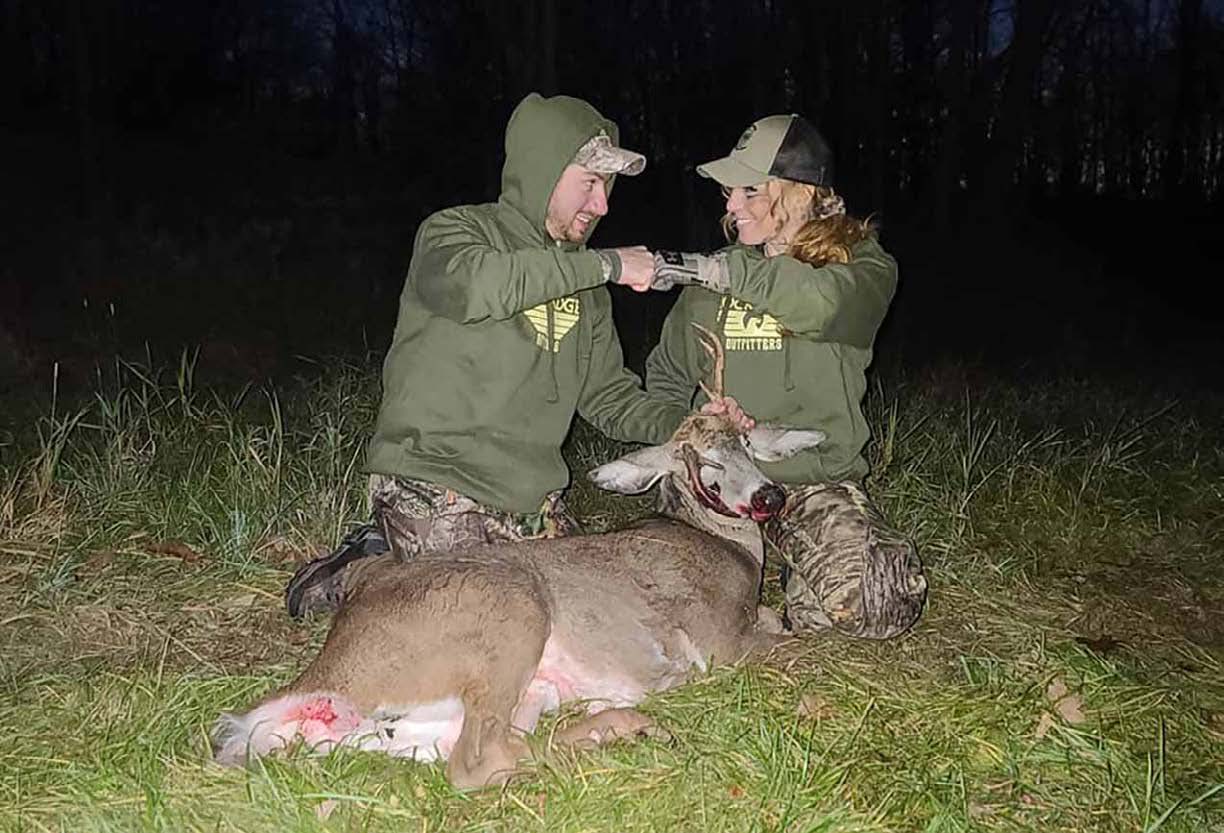 Back at the cabin, we studied the footage of this unique deer. We realized that one of his antlers was inverted, rather than missing, as we originally thought. I suggested that Brady harvest him for conservation. He agreed and determined this was the deer he was going to target. He couldn't wait to get back in that blind. Even though Brady had many other bucks and does in the area, he chose this one due to its antler abnormality. This one has a story. While we don't know completely what it is, this buck was able to function with a part of his antler growing into his face and brain, along with a cracked skull. We decided the deer was better off being hunted now than wondering if he would survive another year.
The next morning Brady sat in the same stand. The wait for that special buck just didn't pan out, so we took a late-morning break and hit the stands again. This was my son's second bow hunt for deer. (He harvested a beautiful 350-pound black bear the year before with his bow. Now, I gave him the extra challenge of self-filming for the television series "THAT Hunting Girl," so he sure had his work cut out for him. He was able to capture amazing footage of this deer the day before, along with other deer and some turkeys.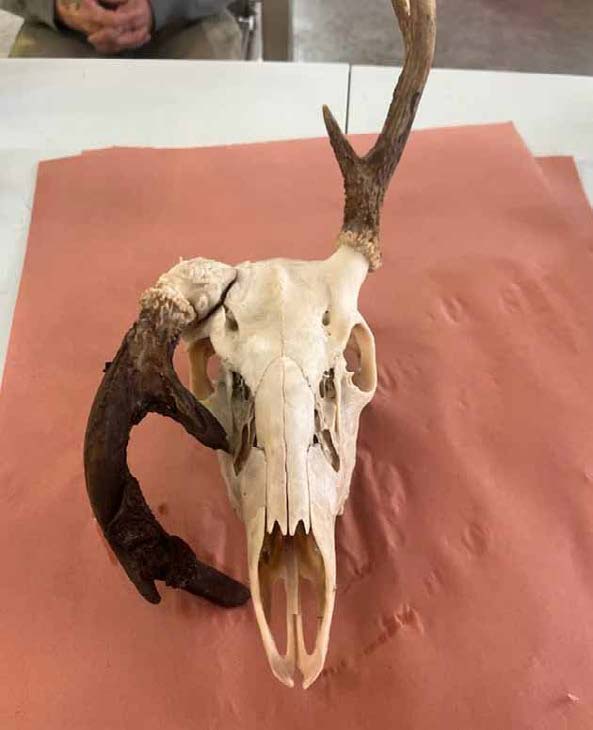 Like clockwork, this unique deer arrived back in Brady's sights and this night was going to go down differently. With this distinguished deer giving Brady the perfect shot opportunity, Brady raised his bow, pulled back, held it steady, and waited until the appropriate time to let his arrow fly. It was a perfect shot. The buck jumped up and hopped a few times then expired quickly. He didn't go more than 30 yards.
Brady's excitement came pouring out as he expressed his thoughts through his text communications.  He jumped out of his box blind and headed toward the deer. When he approached the deer, close examination showed the inverted antler protruding into the skull. The deer didn't look like it would make it through another year, and Brady knew he had made the proper decision. Removing this deer from the herd to prevent future suffering and harvesting him to feed his young family was clearly the right decision. We believed that the buck, when young, had either been hit by a car or was involved in a fight, affecting the growth of the antler. When we got the euro mount back, we could see how the damage affected the antler's growth.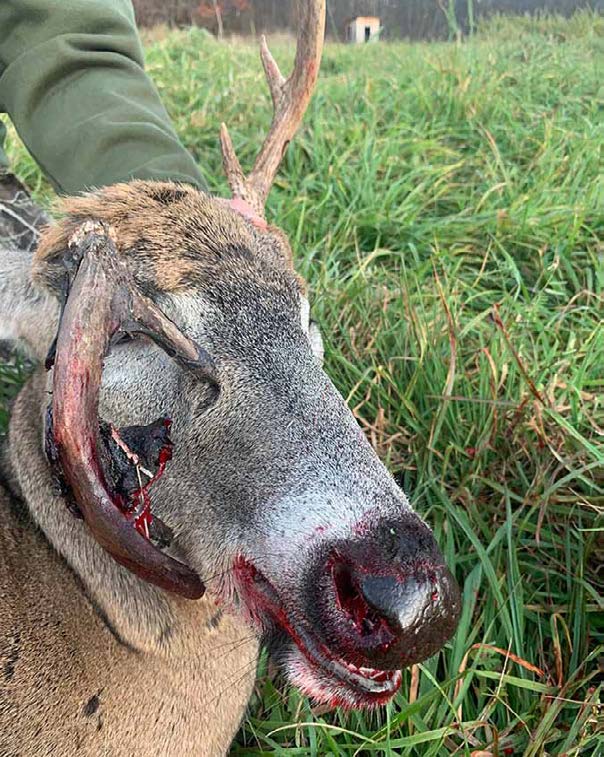 It's an unexplainable but immensely proud feeling when your child harvests an animal. I have experienced that with all three of my boys. They've been participating in hunting and fishing adventures since they were quite young. I feel satisfied that my boys had the same upbringing as I did, being to appreciate the outdoors and the sustainability of what we do as hunters. This hunt was a prime example of conservation. Sharing this story with our readers and viewers is undeniably a proud moment.
Stay true to your hunting heritage. It's all about adventures in the making, stories to share and memories that last forever.
You can catch this episode on the next season of "THAT Hunting Girl" with Amanda Lynn Mayhew on Sportsman Channel Canada.