As I held the forepaw of my youngest son's 2021 spring black bear for skinning, he said, "why don't we make the whole bear into charcuterie? I need some ingredients and love Chorizo, Tasso ham, confit, and smoked bear shanks. I want to make baked beans, Cassoulet and Jambalaya."
Sometimes your kid gets what they want.
Whole-bear cure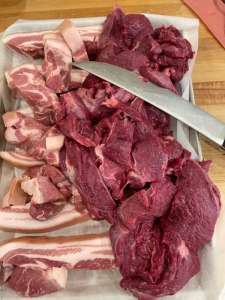 So that's exactly what we did. We already had one bear completely cut and in the freezer: fresh cross-cut shanks, cutlets, steaks, roasts, and stew. We even had a bit of trim put away in 15-pound bags to make sausage later in the year. So we put the bear on ice and continued to hunt for two more days. When we got home; Josh took the backstraps and the tenderloin for cutlets and fresh barbeque and everything else we made into charcuterie––a catchall phrase for a cure. (If Josh didn't want those backstraps fresh, I would have made maple back-bacon. You can read about this process in a back issue of Bear Hunting Magazine, and the story and recipe are on the BHM website. It is definitely worth the effort.)
Chorizo
Chorizo would've made great stuffed sausage, but we really wanted taco and tostada ingredients, so we didn't stuff casings. We cooked the sausage mixture fully and packed it in one-pound packs, ready to thaw, heat and make tostadas. We mixed coarse ground black bear shoulders 2 to 1 with pork belly and shoulder trim. We seasoned the mixture with five different dried chili peppers: Poblano, Ancho, Cascabel, brown chipotle, Morita chipotle, and Guajillo, all finely ground. We added diced shallots, smashed garlic, sliced onions, 1.5% salt by weight and a good sprinkle of black pepper. All this we cooked on high heat in a cast-iron frying pan until well browned, which turned out to be 180°F, well beyond the USDA recommended 160°F to be safe––no trichinosis.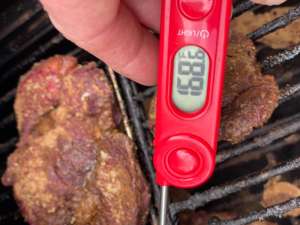 Tasso ham
We adapted Michael Ruhlman's book Charcuterie recipe for Tasso ham, a quick-cured salt-box method for ham. Ruhlman gives clear and precise ratio and measurements for salt, sugar, and cure. Dredge 'ham steaks' in the cure mix, shake off the excess, and refrigerate, which takes less than four hours. Then rinse the cured bear steaks in cool running water, dry, and dredge in a spicy Cajun mix of cayenne and white pepper, allspice, and other good things. After resting in the fridge overnight, hot smoke to at least 165°F. Remove from the heat, chill, vacuum pack, and freeze. Our family uses Tasso as a most excellent addition to shrimp jambalaya, gumbo and any other slow-cooked dish that would benefit from a bit of lean, spicy ham-flavored protein. Opportunities will show themselves. Add to mac and cheese? What about a lazy Saturday Omelet? Diced fine in bean soup, or any soup for that matter? Why not?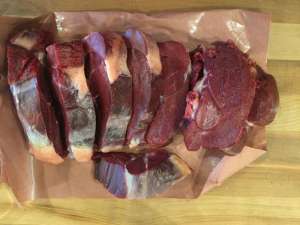 Smoked shanks
Ruhlman and his chef-partner Brian Polsyn have a recipe in Charcuterie for Canadian bacon cured in a wet brine. We adjusted this a bit and mixed up the brine, let it chill in our spare fridge overnight, and cut hind and foreshanks into fist-size balls of meat and bone. We added carrots, onions, celery, and celery root to the brine and some fresh sage, thyme and parsley. Every day we stirred the brine and turned the shanks over. On the seventh day, we rinsed them in cool running water, dried them well with paper towels, and put them in the fridge overnight on a rack to dry and develop a pellicle––that sticky outer coating that helps the meat absorb smoke. We smoked the shanks at 225°F for five hours and pulled them from the smoke at 180° F, when they were a red mahogany color to cool and vacuum pack. These are destined to enhance molasses baked beans and navy bean and onion soup for the winter.
Confit
The French word "confit" has evolved to represent a magical and sophisticated process to make the delicious and silken textured center of the plate meals in fancy dining rooms where real silverware rests on crisp linen tables cloths and the waiter bows and regularly says 'Madame.' But confit started several hundred years ago by farmers in rural France as a way to not die over winter. Confit is a process to salt and cure meats to preserve (particularly duck) for many months––even years––without refrigeration. We no longer required confit to preserve our meats, but we still really enjoy the unique taste of a well-crafted confit, so we continue to do it.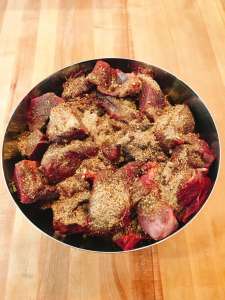 You can learn more about the process of confit by listening to my podcast interview with Kate Hill from the south of France, where she offers a week-long hands-on duck butchery and confit course. When we get back to normal post-Covid, I hope to go. Michael Ruhlman leaned on Kate Hill from Agen, France, when he crafted the confit section of the book Charcuterie. Hill is an American ex-pat who has logged a couple of decades in France, paying particular attention to the local butchers and their charcuterie processes––confit in particular.
I have adapted her recipe to make bear confit. Hill adds 3% salt to meat by weight and leaves it to sit in the fridge overnight. The following day she rinses the (cured) meat in cool running water and dries it. Then she covers it in fat and simmers in the oven at 180° F for 5 to 8 hours––until fork-tender. I did mine in rendered bear fat in the sous vide bags for seven hours at 180°F. The bear turns out mildly salted and fork-tender. We use this as an ingredient in our own wild game cassoulet. (A second podcast with Kate Hill) Pan-fried bear confit is perfect simply as a pre-dinner celebration of chunks of bear fried with sliced onions and eaten with your fingers and slices of fresh bread.
When the process was complete, my son and I had a year's worth of menu enhancing specialty ingredients, and…yes, we do feel proud of ourselves.
By Tim Fowler
Read the original article: http://bear-hunting.com/2022/3/whole-bear-charcuterie