Selecting the right compound bow sight is a critical decision for any archer because what you choose directly impacts accuracy and overall shooting performance. With a wide range of options available on the market, understanding the key factors and features of a compound bow sight is essential to making an informed choice. This comprehensive guide will walk you through the essential considerations. They include design, moveable versus fixed pins, single-pin versus multi-pin sights, sight window, adjustability, features, specifications and weight. We hope this guide helps you choose the perfect sight to align with your hunting and shooting style and preferences.
Bow sights, an essential component in the archer's toolkit, use unique terms that illustrate the intricacies of their design, function and use. Understanding this special vocabulary is key to navigating the array of bow sight options available and making informed choices tailored to individual shooting styles.
Terms such as "pin," "fiber optics" and "sight window" reference the core elements of a bow sight. The pin refers to the markers set at specific yardage that aid in target alignment. Fiber optics denotes the light-gathering strands that illuminate the pins, enhancing visibility in various lighting conditions. The sight window is the opening an archer uses to view the target to ensure a clear line of sight. Concepts like "micro-adjustments" emphasize precision, allowing minute tweaks to sight settings for fine-tuning accuracy. Meanwhile, the term "bubble level" underscores the importance of maintaining a vertical bow position to foster shot consistency. The terms provide a gateway to unraveling the science and art of accurate archery, help archers communicate effectively and make informed decisions and refine their shooting prowess.
The sight window is the portion of the bow sight used to view your target. It plays a crucial role in aligning your aim accurately. Look for a sight window that offers a clear and unobstructed view of your target. A larger sight window can be beneficial for improved visibility and target acquisition, especially when shooting in low-light conditions. Additionally, consider whether the sight window is compatible with your shooting style and the type of shooting you plan to do.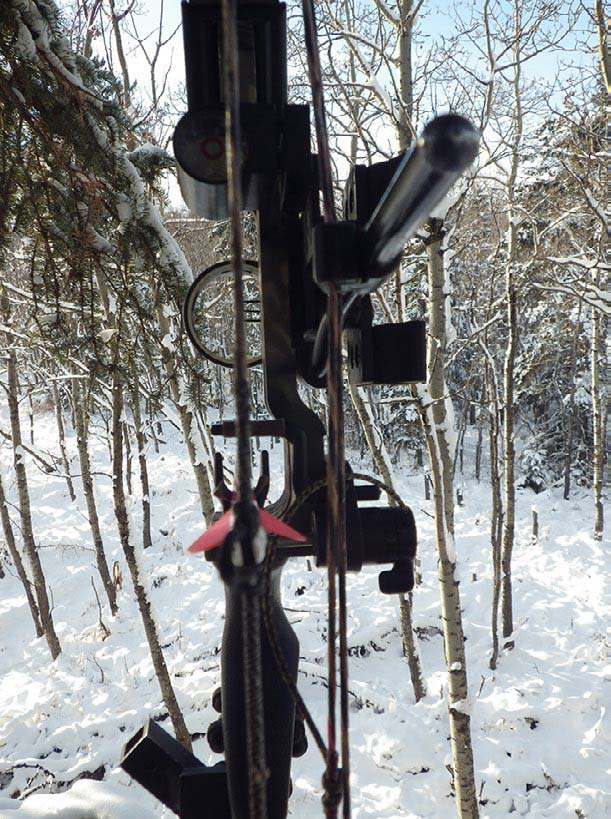 Consider Weight
The weight of a compound bow sight can influence your overall shooting experience. While a lightweight sight may be more comfortable to carry and maneuver, it might not provide the stability and steadiness needed for accurate shots. Conversely, a heavier sight can offer better balance and reduced vibration, contributing to improved shot consistency. It's crucial to strike a balance between weight and stability based on your shooting style and preferences. Additionally, consider any additional accessories you may want to attach to the sight, since these can also affect the overall weight of your bow setup.
Consider Thickness
Different sight pin diameters can significantly impact your archery experience too, so it's crucial to determine the distinct advantages and potential drawbacks associated with various pin thicknesses. The sight pin diameter, which refers to the width of the pins on your compound bow sight, plays a pivotal role in determining how accurately and comfortably you can aim and shoot. These pins come in a range of diameters, from the finer 0.010 inches to the broader 0.019 inches, or even larger. Each diameter has its own set of benefits and considerations that cater to different archery styles, shooting environments and individual preferences.
Smaller-diameter pins offer advantages that may be appealing to certain archers. These finer pins provide an enhanced level of precision in aiming, particularly useful for those engaging in long-range shooting. The subtlety of these pins allows for more accurate target placement, enabling archers to consistently hit desired points even at extended distances. These pins also offer a reduced obstruction of the target, granting a clearer line of sight to your intended point of impact. This clarity can be advantageous, especially when shooting at intricate targets or focusing on fine details.  However, it's essential to acknowledge the potential drawbacks of smaller-diameter pins. While they excel in precision, they may falter in low-light conditions or when targeting objects with dark colors since the thin pins may become harder to discern. The heightened level of precision they demand may also render them less forgiving of minor aiming errors. That can potentially impact consistency, particularly for archers who are still honing their skills.
Conversely, larger-diameter pins present a distinct set of pros and cons. The most notable advantage of these pins lies in their enhanced visibility, particularly under low-light circumstances or when targeting objects with less contrast. Their broader size makes them more conspicuous, enabling quicker target acquisition and reduced time spent aligning the shot. This advantage can be pivotal in scenarios that demand rapid responses or when shooting moving targets. The larger aiming point of these pins offers a higher level of forgiveness for minor inconsistencies in your aiming process, as well. For beginners or archers who face pressure-filled situations, this can be a valuable asset for maintaining accuracy (even when factors such as adrenaline or tension come into play). Further, the larger pins lend themselves well to close- to mid-range shooting, where speed and agility in targeting are paramount.
It's important to recognize that the advantages of larger-diameter pins often come at the expense of precision. While they excel in providing a clear line of sight and facilitating swift target acquisition, the larger-diameter pins might not be as effective in situations that demand meticulous accuracy, particularly over long distances. The broader pins also cover more of the target, potentially obscuring the view and affecting shot placement.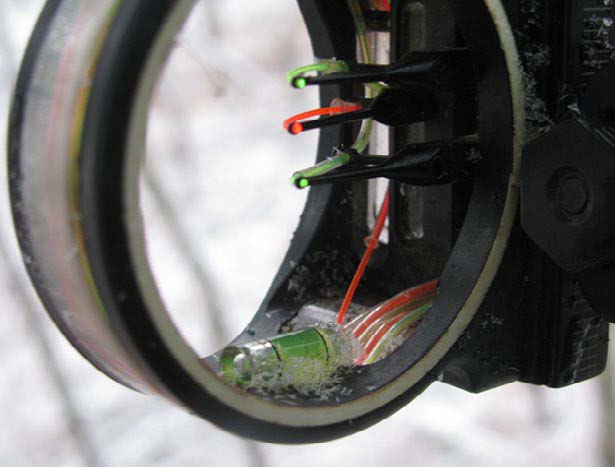 Round Pin Guards
Round pin guards in bow sights are important for their ability to optimize an archer's aiming experience though enhanced target acquisition and precision. The circular configuration of the pin housing guard serves as a natural frame with the common peep sight, intuitively guiding focus toward the center of the target. This design minimizes distractions and clutter within the sight window so helps ensure that the pins and aiming point remain the central point of focus. Round pin guards effectively eliminate potential visual obstructions that could create inaccuracies or hesitations during shot execution. The simplicity of the round pin guard design streamlines the aiming process, promoting quicker and more intuitive target alignment, too. This aspect is particularly valuable in high-pressure situations, such as bowhunting or competitive archery, where split-second decisions can significantly impact performance. Ultimately, round pin guards contribute to a more seamless and fluid shooting experience, emphasizing the archer's connection to the target and reinforcing the pursuit of consistent and accurate shots.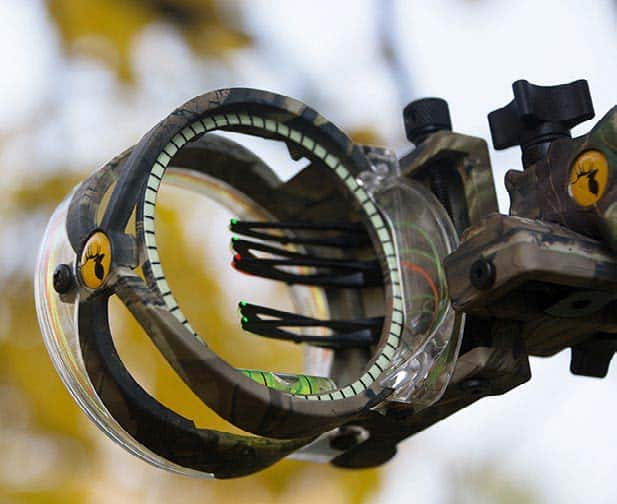 Bubble Level
The incorporation of a bubble level into a bow sight testifies to the precision and meticulousness that archers seek in their shots. This unassuming yet indispensable feature plays a pivotal role in fostering consistency and accuracy, elevating overall performance to new heights.  Its fundamental function is maintaining perfect vertical alignment during the draw and release of an arrow. A bubble level, which is often affixed to the sight housing, provides a visual indicator that helps archers ensure the bow is held upright. It's hard to find a sight these days without one.
Multi-pin sights bring efficiency to archery with multiple fixed pins that are calibrated for specific distances, such as 20, 30, 40, and 50 yards. Designed for quick-target acquisition in diverse shooting scenarios, they eliminate the need for manual adjustments.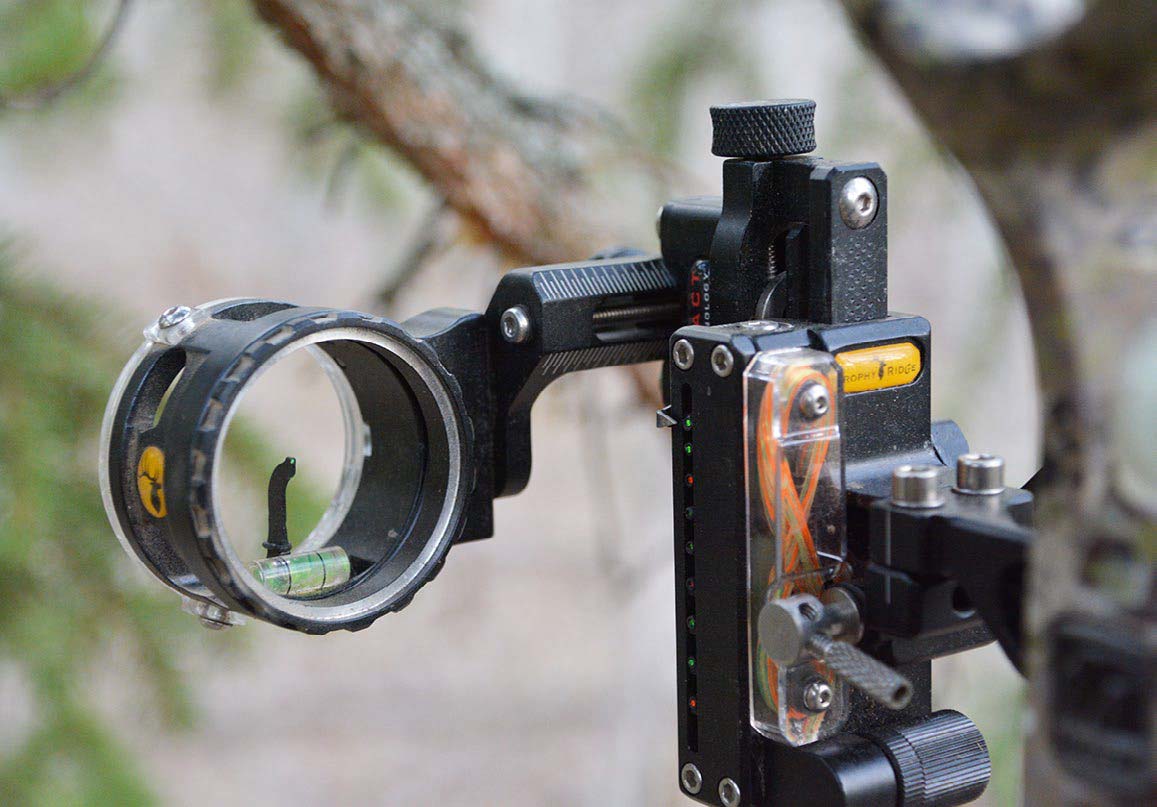 When choosing a multi-pin sight, prioritize well-spaced and easily distinguishable pins, even in low light. But how many pins are ideal? The optimal count depends on your shooting style, archery type and preferences. The pins directly influence how you adapt to varying distances. For newcomers and hunters requiring swift aiming, fewer fixed pins offer advantages by reducing clutter, so they typically suit archery novices and hunters seeking quick target acquisition. Since no constant adjustments are needed, the hunter's focus remains on the shot. However, aiming between pins can be less precise, potentially requiring hold-over or hold-under estimation, and that introduces some guesswork.  The advantages and disadvantages of fixed pins are shown in the table below.
| | |
| --- | --- |
| Advantages | Disadvantages |
| Ease of Use: Inherently straightforward, making them an excellent choice for beginners and hunters who require rapid response to changing scenarios. | Visual Clutter:  Multiple pins in the sight picture can create visual confusion, potentially affecting both precision and visual clarity. You could mistakenly choose the wrong pin. |
| Rapid Target Acquisition: Thanks to the preset pins, archers can aim and shoot swiftly at established distances, rendering these particularly well-suited for hunting situations. | Estimation Required: When aiming at distances that fall between the preset pins, archers must estimate hold-over or hold-under, introducing an element of uncertainty. |
| Reduced Adjustment: Once set up, fixed pins demand minimal ongoing adjustments, enabling archers to concentrate more on the execution of their shots. | Limited: Fixed-pin sights are most effective for shooting at specific distances and may not perform optimally in a situation presenting varying yardages. |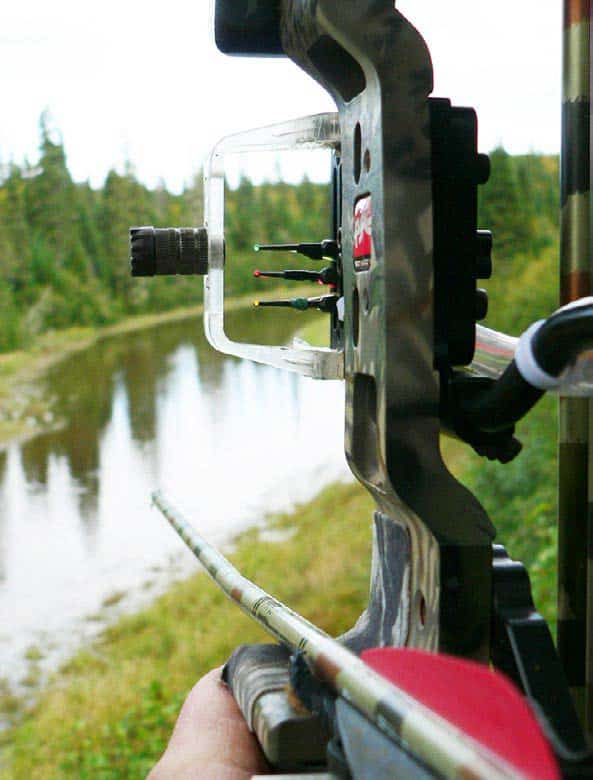 Single-Pin
Single-pin sights have gained popularity among bowhunters and precision shooters alike. They feature a single adjustable pin that can be set to a specific distance. Single-pin sights provide a clean sight picture and reduce clutter, which can enhance accuracy and confidence during shots. These sights are particularly effective for long-range shooting since they eliminate the need to estimate hold-over for different distances. However, they may require more adjustment when transitioning between various yardages. Therefore, one day during the peak of your hunt, you may forget that your single pin is set to 30 yards and shoot an animal that is standing at 40 yards. (This hasn't happened to me yet, and I sure hope it doesn't.)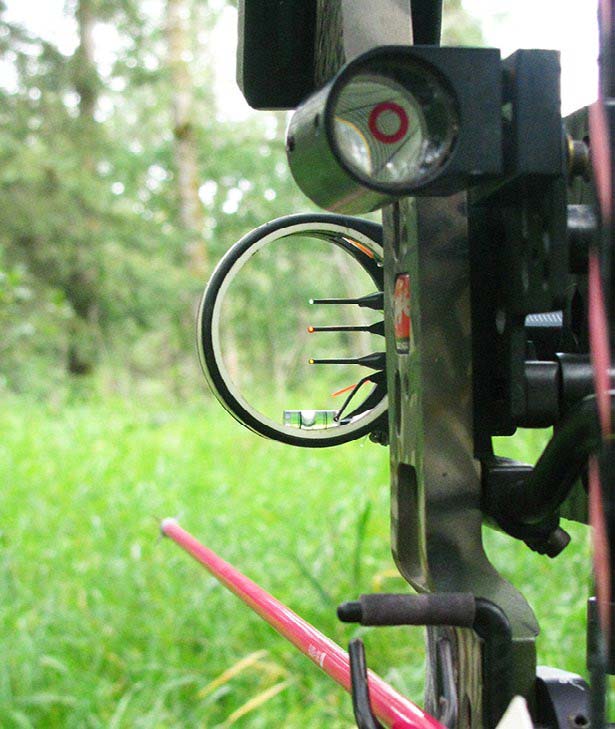 Adjustable Pin
Adjustable-pin sights sometimes referred to as moveable-pin sights, offer a heightened level of customization by allowing archers to manually adjust a single pin to accommodate various distances. This adaptability is particularly advantageous for target shooters and 3D archers who frequently encounter a diverse range of yardages.
The presence of only one adjustable pin in the sight picture ensures a clean and unobstructed view, promoting enhanced accuracy and consistency. However, it's important to note that using adjustable pins requires more adjustment time compared to fixed pins. That may mean they are less suitable for scenarios where rapid target acquisition is crucial.  Most moveable adjustable pin sights are single-pin. There is a three-pin sight called "Hotwire" from Trophy Ridge. It gives bowhunters the luxury of both a fixed- and floating-pin sight, with fixed pins for 20 and 30 yards and a third floating pin for when you have a little more time to range the distance and set the pin using sight tape.  My thoughts on the advantages and disadvantages of adjustable pins are in the table below.
| | |
| --- | --- |
| Advantages | Disadvantages |
| Customizable Distances: Adjustable pin sights grant archers the ability to finely calibrate their sight for precise yardages, thereby enhancing accuracy across different distances. | Adjustment Time: The process of adjusting the pin's position demands additional time, potentially affecting an archer's capacity to swiftly adapt to sudden shifts in shooting conditions. |
| Uncluttered Sight Picture: With only a single adjustable pin within the field of view, the sight picture remains clear and unobstructed, enabling heightened focus on the target. | Less Intuitive: Individuals may find it slightly more challenging to adapt to an adjustable pin compared to the straightforward nature of fixed pins. You also have to remember the distance where the sight is set. |
| Versatility: Adjustable pins are especially well-suited for 3D shooting, target practice and situations where distances frequently change. | Skill Requirement: Effectively using adjustable pins necessitates practice and a thorough understanding of the sight's adjustments and the corresponding distances. |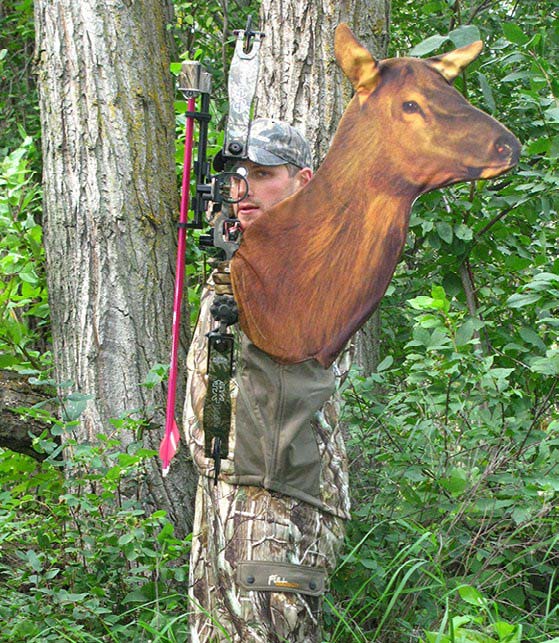 Micro Adjustments
When it comes to achieving precise accuracy with your compound bow, the ability to adjust your bow sight effectively is paramount. Different bow sights offer a variety of adjustment options to fine-tune your aim and ensure that your shots consistently hit the mark.
One notable advancement in bow sight technology is the inclusion of micro-adjustments. Sights equipped with micro-adjustment features provide archers with unparalleled control over their aiming point. These subtle adjustments can be made in tiny increments. Micro-adjustments are particularly valuable when dealing with minute changes in shooting conditions or when striving for pinpoint accuracy. However, while micro adjustments offer exceptional precision, they may require a degree of familiarity and practice to master.
In addition to micro-adjustments, many bow sights offer traditional windage and elevation adjustments so you can align your sight with the arrow's trajectory. Combining these various adjustment options empowers archers to tailor the sight to their unique shooting style, environment and individual preferences, ultimately resulting in more consistent and accurate shots (also known as tuning).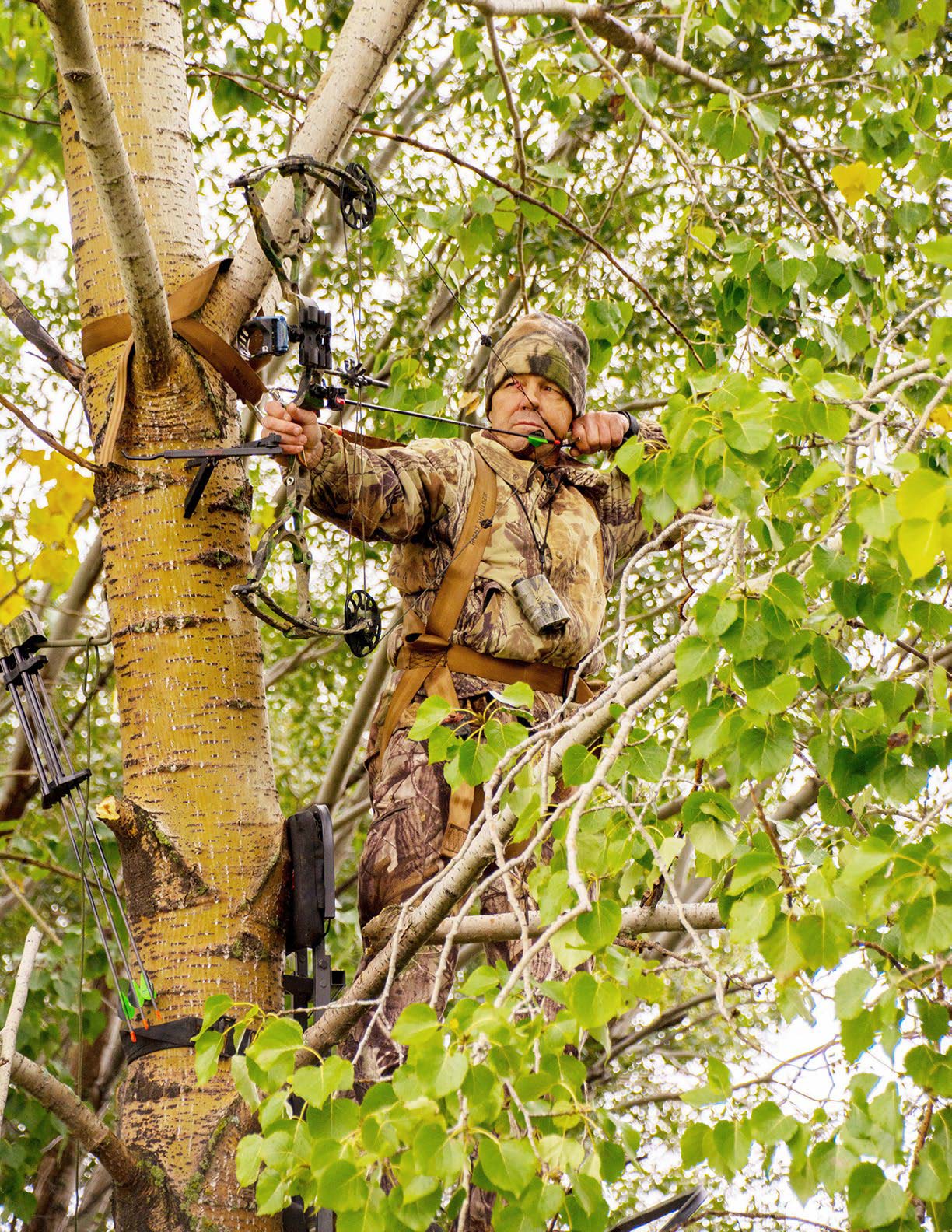 Sight Lights
Sight lights, a modern innovation in archery equipment, offer a range of benefits and considerations for both seasoned archers and newcomers to the sport. When attached to a compound bow sight, these compact LED lights can significantly impact an archer's shooting experience, particularly in challenging lighting conditions. Sight lights offer valuable advantages in terms of enhanced visibility, improved accuracy and maintained night vision. Careful consideration is required to ensure that the light's brightness is optimal for your needs, preventing distraction or overdependence over-dependence.  Sight lights advantages and disadvantages are outlined in the table below.
| | |
| --- | --- |
| Advantages | Disadvantages |
| Enhanced Visibility: The primary advantage of using a sight light is the improved visibility it provides in low-light environments, specifically dusk and dawn. This reduces eye strain and instills confidence in accurately aligning your shot. | Distraction and Overbrightness: While sight lights can be advantageous, excessive brightness or glare may negatively impact your sight picture, leading to distraction and reduced accuracy. |
| Precise Aiming: Sight lights contribute to heightened accuracy by ensuring that your pins are visible. This precision is particularly valuable for bowhunters hunting right at dawn and dusk, as well as competitive archers aiming for consistent performance in indoor or low-light tournaments. | Battery Dependency: Many sight lights rely on batteries for power, which can pose a concern if they run out during a critical moment. Carrying spare batteries is essential to prevent unexpected disruptions during shooting sessions, especially in remote or outdoor settings. |
Selecting the right compound bow sight is a decision that should not be taken lightly. Each archer's shooting style, preferences and intended use are unique, and there is no one-size-fits-all solution. Whether you opt for a moveable pin sight to accommodate changing distances, a single-pin sight for precision shooting or a multi-pin sight for quick target acquisition, your choice should align with your goals and abilities.
Additionally, factors like the sight window, adjustability, features and weight play a crucial role in enhancing your shooting experience. Ultimately, the perfect compound bow sight is a personal decision that requires careful consideration of all the features and factors discussed in this guide. Take the time to test different sights in the environments you plan to use and assess how each sight performs under various shooting conditions. By making an informed choice, you'll be well-equipped to improve your accuracy, boost your confidence and enjoy a more rewarding archery or bowhunting experience.
Product Mentions