Here's an excellent treatment for tough-to-deal-with venison ribs
When it came to cooking for our family, my dear mother was more interested in keeping us four kids from starving and our father happy than pursuing some obscure culinary delight that would make the neighbors jealous.
She first worked full-time as a clerk steno and then as executive secretary. (She basically ran the place for a fraction of what the boss made––but that is another story.) Money and kitchen time were tight. But we ate well because of Mother's ingenuity and sensible money management.
When pork side ribs went on sale (as they often did when I was a kid because no one wanted them), Mom would snap up a couple of packages. One was for the table, the other one for the freezer. Thinking about these ribs transports me back to my childhood kitchen table with bantering brother and sisters. That memory sparked this recipe that has been adapted to venison.
The best way to cook venison ribs seems to be an ongoing conversation. At butcher time, I cut a swath of venison ribs from last season's Whitetail while planning to try this adaptation.
Mom seasoned the pork side ribs, stuffed them with the same kind of dressing she used for turkey, rolled the ribs around the stuffing, then tied them and baked them. She may have come home on her lunch break to put them in the oven at noon, to set the clock to launch the cook time for the ribs and baked potatoes so they would be done for supper.
I want to honor my mother and the crazy-good food she put on the table. Many of my most cherished memories are around the meals enjoyed at her table. My kids and grandkids report that this recipe is do-again worthy. Give it try.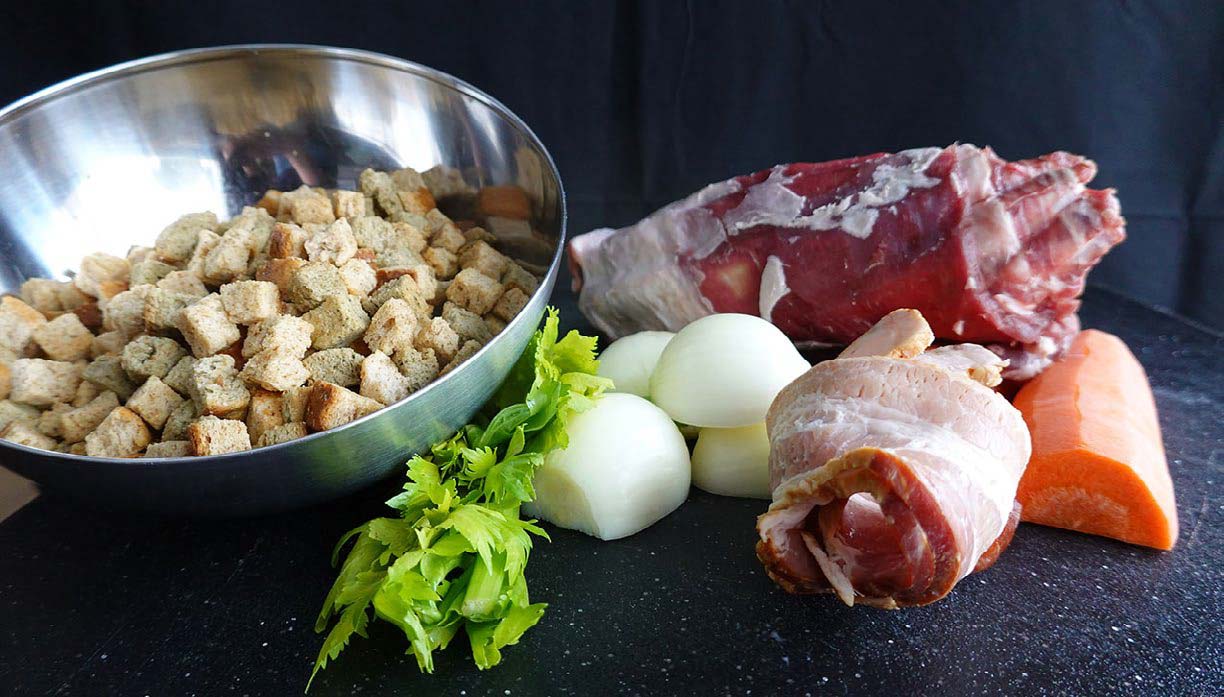 Equipment
Cutting board
Butcher knife
French knife
Paring knife
Covered roasting pan or aluminum foil
Large skillet
Large stainless bowl to assemble and toss the dressing
Measuring cups
Butcher string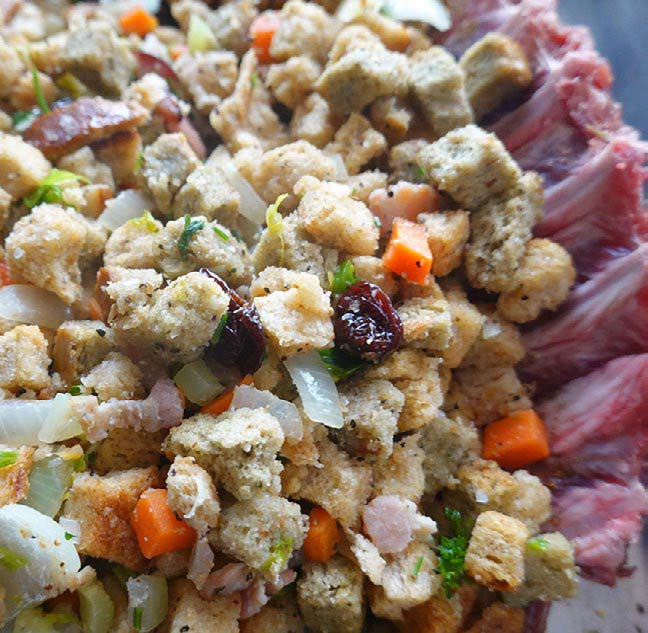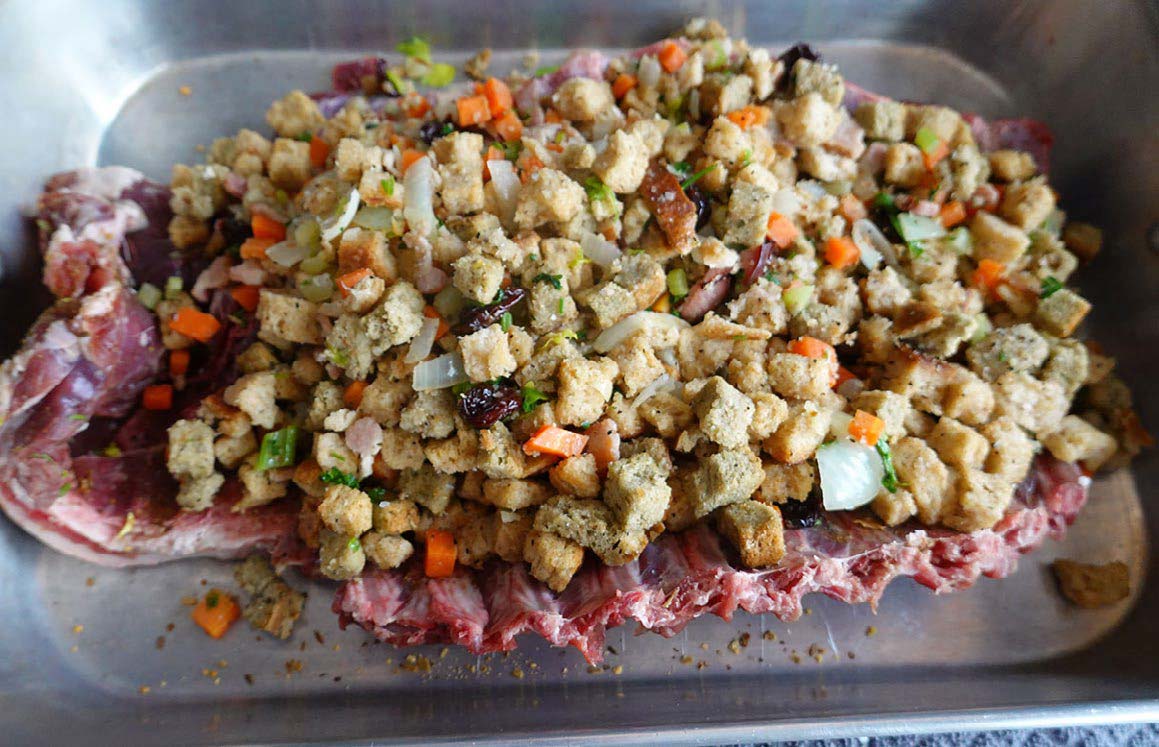 Ingredients
Full rack of venison ribs
Hunt Chef Speed Beef Rub (or your preferred seasoning)
4 slices of bacon, diced
1 cup diced carrots
1 cup diced onions
1 cup diced celery leaves and stalks
½ cup raisins or dried cranberries (optional)
4 cups of stale breadcrumbs, diced
Chicken stock
Coarse salt
Coarse pepper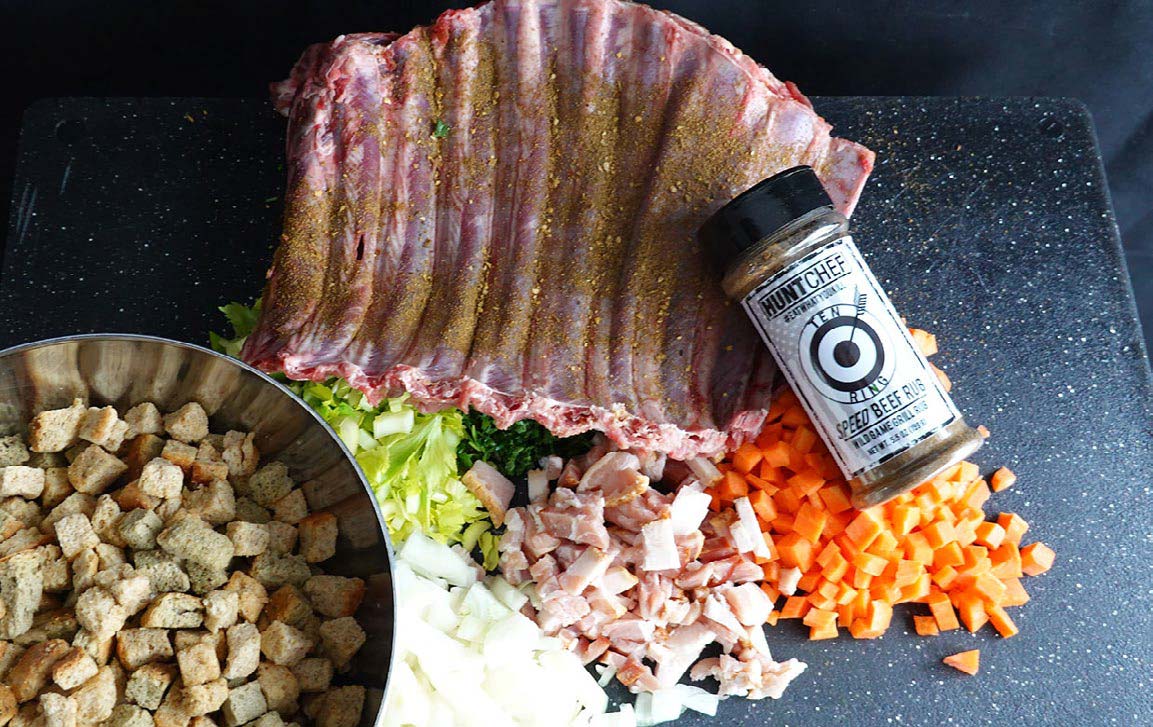 Method
Trim most of the fat from the deer ribs. Rinse them in cold water and dry with paper towels.
Season well with your favorite seasoning and let rest while you prepare the dressing. (Hunt Chef's Beef Speed Rub worked well for this recipe.)
Turn the oven on to 350 ̊ F.
Dice the vegetables, bacon, and bread.
Place the bread cubes in a large stainless bowl.
Heat a large skillet on medium-high, sauté the bacon until it releases most of its fat, then add the diced vegetables.
When the vegetables are almost cooked, shut off the heat and add a cup of chicken stock.
Stir the vegetables well to loosen and dissolve any tasty bits from the skillet.
Pour this mixture over the bread and toss the bread to distribute the vegetables throughout the dressing.
Mix in raisins or cranberries now if you are using them.
Season to taste with coarse salt and pepper. (I used about a teaspoon of each.)
Lay the venison ribs membrane side up and cover them with an even layer of dressing.
Roll the venison ribs to enclose the dressing. Cover them with aluminum foil and place them in the roasting pan and roast for 3 hours. You may tie the ribs if you like, but mine just tucked into the pan nicely.
Check the venison ribs' progress at 2 hours, when the internal temperature is 180 ̊ F they are well done.
Remove from the oven to a cutting board and cut in two-rib sections.
Serve with baked potatoes and your favorite salad or vegetable. (Or just serve them as an appetizer, as I did.)
Note: feel free to substitute your preferred stuffing. And there is no shame in "pushing the easy button" and using your favorite version of stovetop dressing as a substitute.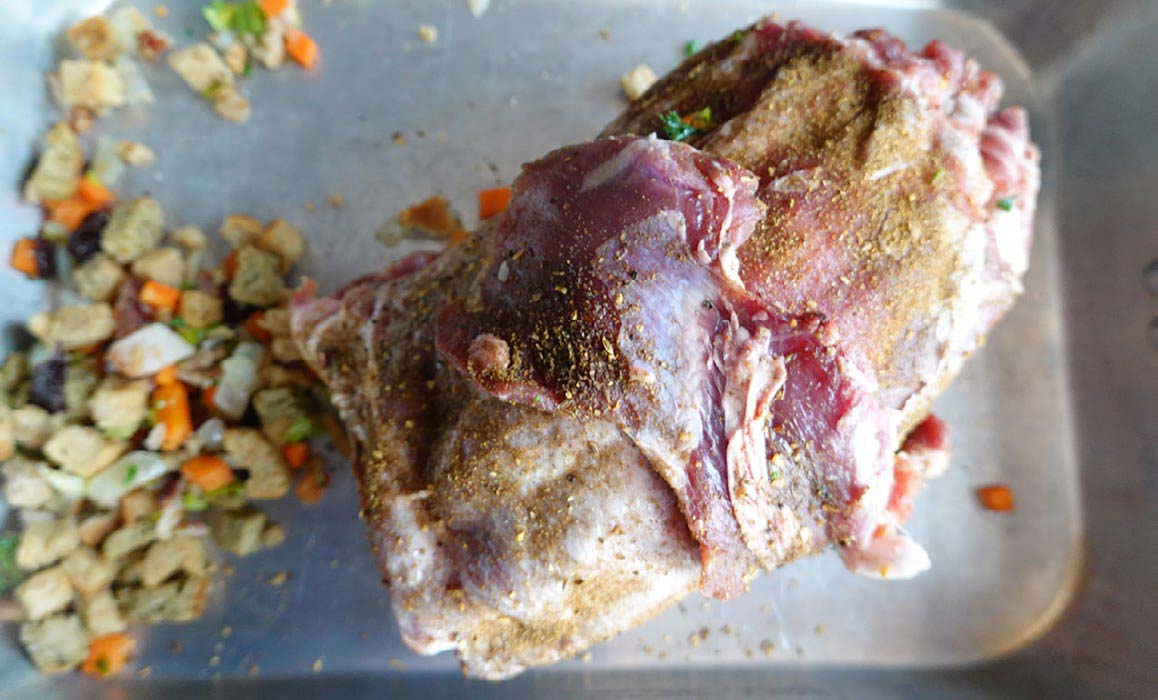 A Confession
As an aside, I prepared some insurance when I made this recipe.
This rib recipe was a test specifically for North American Bowhunter Magazine and I wasn't sure exactly how it would be received by our 11 dinner guests, so I prepared another complete dish for dinner.
The venison ribs were served as the appetizer and were completely devoured. Even I was impressed with the tenderness and rich flavor of both the ribs and the dressing. My guests confirmed the recipe was a success and suggested the next year we do the same thing with venison ribs.
Thanks, Mom.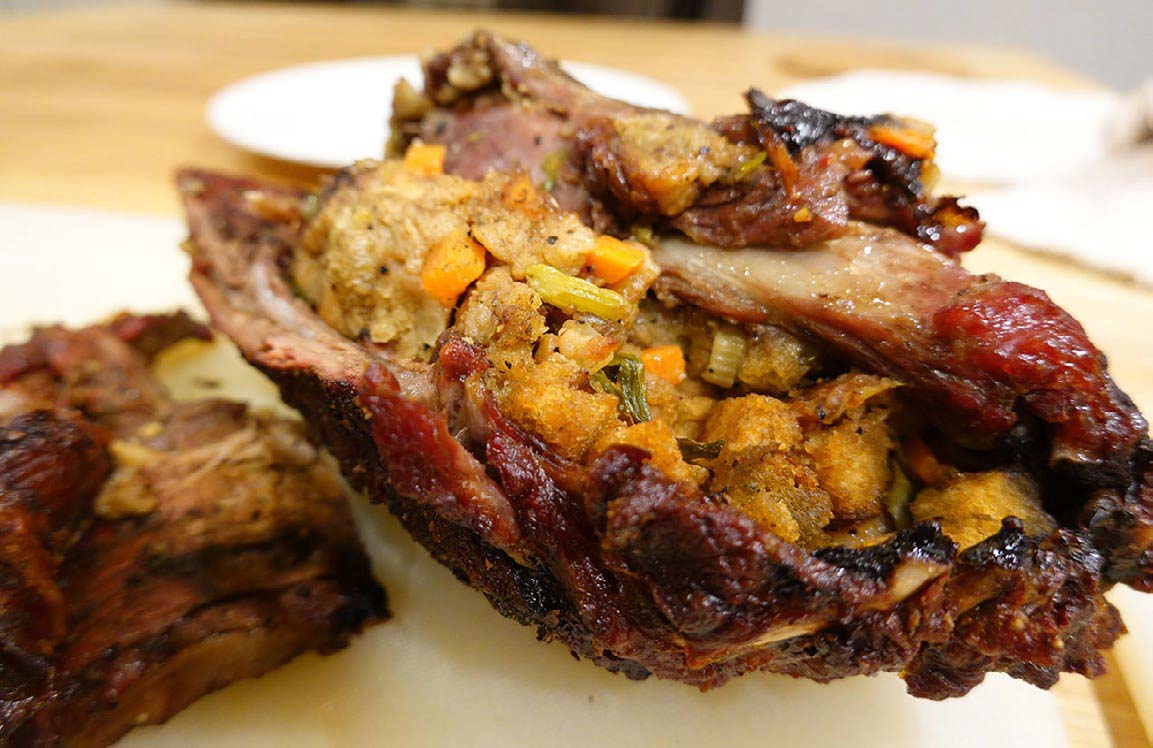 Or… check out our partner HuntChef's way of doing Venison Ribs below.