Hunter's Cutlets for the Whole Family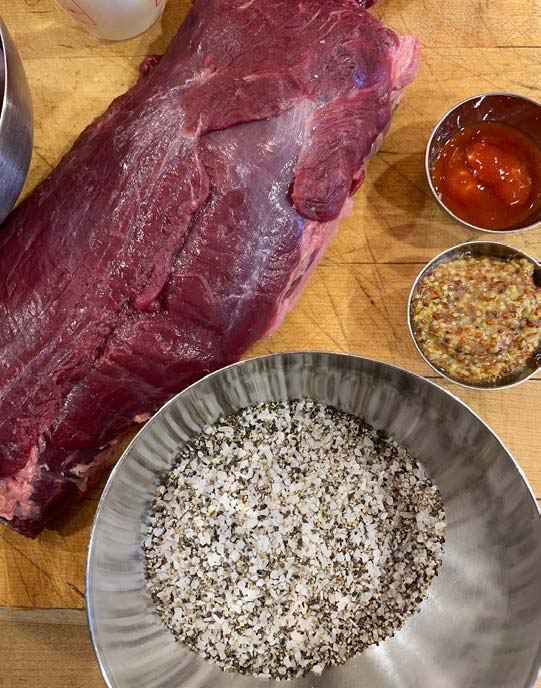 Jägerschnitzel means hunter's cutlet, and it's the perfect game-dinner entree.
The dish can be fancied up for date night or dressed down for a simple Tuesday-night supper. This time of year, we hunters are likely to want to clear some space in the freezer for the anticipated results of bear season- opening and a summer of successful fishing trips. Serving Jägerschnitzel is a great option to help make more room in the freezer.
While this German dish was originally made with venison or wild boar, nearly any lean, straight-grained game will work. Every cut from hare loins to Snow Goose breasts, and black bear round steak to elk, antelope, deer, or moose meat will make delicious Jägerschnitzel. There are myriad options, and all of them are guaranteed to be delectable on the plate for a memorable meal.
The name of Jägerschnitzel is a celebratory nod to hunters. The cutlet recipe simply calls for a straight- grained piece of meat, between two and five ounces in size, that's hammered flat, seasoned, floured, and pan- fried. A tender cut of meat can be served just like that straight from the pan. A tougher cut of meat such as cutlets from a black bear leg or a mature goose breast does better to simmer sauced in a slow oven for a couple of hours.
Plan a Day Ahead
Here are the simple steps involved. First, thaw the muscle meat in the fridge for a day. Unwrap and rinse the meat with water and dry with paper towels. Weigh the meat and decide how big you want your cutlets to be. Carefully remove any remaining gristle and silver skin, then cut the meat muscle across the grain. Sometimes you'll want one large cutlet per serving. Other times you'll want multiple cutlets to comprise a whole serving to provide guests some flexibility in portion size.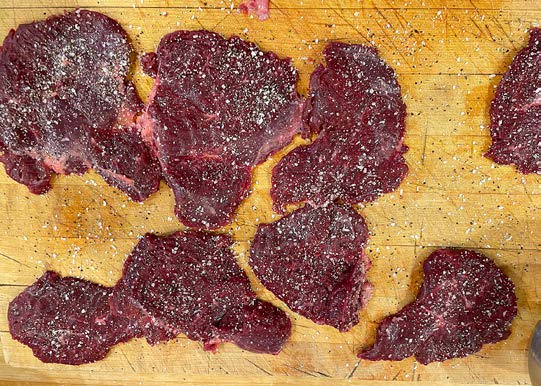 Once the meat is cut into portions, place the piece between two layers of plastic wrap and pound it with a cleaver or a meat hammer into a thin cutlet. (A carefully wielded hatchet works well in a pinch, too.) The seasoning for this recipe is just coarse salt and pepper blended at 50:50 by volume.
Next, sear seasoned and floured cutlets to a mahogany color. Place them in a Dutch oven or casserole dish. Cook some garlic and shallots, deglaze the frying pan, and make the sauce. Once the sauce is added to the cutlets, give it a couple of hours in a slower oven to ensure the cutlets are fork-tender.
You can serve this dish with any vegetable. Something green comes to mind, like Brussels sprouts. Egg noodles are an especially lovely compliment to the sauce. A twice- baked potato or a potato pancake is perfect, too. You also can go with buttermilk mashed potato or a plain baked potato to keep things simple.
Jägerschnitzel has become a favorite at our table with both hunters and non-hunters. I hope your crew enjoys the celebration of a successful hunt, too. Enjoy!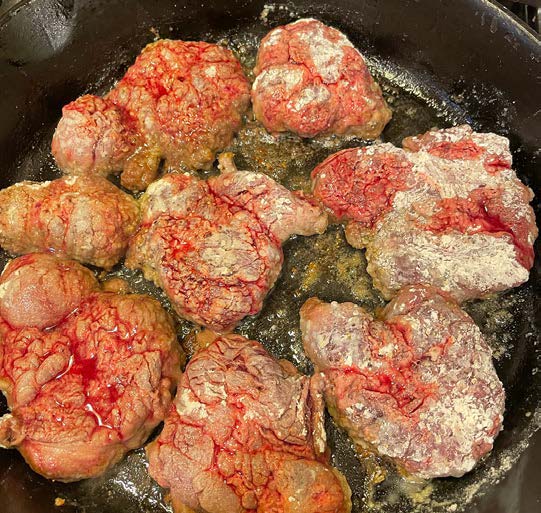 Equipment
Cutting board
Boning, slicing, and chopping knives
Measures
Cast iron frying pan
Enameled cast Dutch oven
Wooden spoon
Meat mallet or cleaver for flattening cutlets
Oven and stovetop
Electronic gram scale, to a max of 11 (Select a scale that will read out both ounces and grams.)
Ingredients
4 thumb-sized shallots, peeled and finely diced
2 garlic cloves, smashed
250 ml / 1 cup game stock (I use bear stock, but beef, pork, or venison works fine.)
796 ml / 28 ounce can of whole Italian tomatoes (hand-smashed)
60 ml / 1/4 cup heavy cream (35% whipping cream is perfect)
15 ml / 1 Tablespoon grainy mustard
5 ml / 1 teaspoon hot sauce (optional)
50/50 blend of coarse salt and coarse pepper for seasoning
All-purpose flour for dredging
Olive or canola oil for searing the cutlets
0 kg or 2 pounds of single-muscle game meat, cut into 2- to 5-ounce chunks. (I used black bear round steak for this recipe.)
Method
Wipe the meat with paper towels to ensure the surface of the meat is dry.
Cut meat across the muscle grain into 60-150 gram (or 2 to 5-ounce)
Place the cutlets between two sheets of plastic wrap on a solid surface and pound with a cleaver or meat mallet to form them into 1/2 centimeter (or 1/4-inch) thick cutlets.
Spread the cutlets on a plate and sprinkle them with coarse salt and Let them rest for at least 45 minutes while you assemble the other ingredients.

The finished and sauced Jägerschnitzel.

Prepare a dredging pan with a cup of

Peel and dice the shallots and crush the
Heat the oven to 325
Assemble the other ingredients and warm the frying pan over a medium flame.
Make sure the cutlets have warmed to room temperature (about 45 minutes or so to absorb the salt mixture), then dredge in flour and fry in olive oil over medium-high heat.
Remove seared cutlets to the Dutch
Add a bit of oil if required and sauté garlic
Deglaze the frying pan with the
Add cream and
Pour the mixture over the cutlets and bake them in the covered Dutch oven for about 2 hours.
Meanwhile, prepare potatoes or other sides as
Prepare Brussels sprouts (if you have them) by washing, draining, trimming, and cutting in half.
When schnitzel cook time is complete, remove the dish from the oven.
Sauté the Brussels sprouts season with salt and
Dish up dinner: Jägerschnitzel, baked potatoes, and (Or whatever sides suit you and your guests.)
Sharing harvested game, carefully prepared, and graciously served gives me tremendous pleasure. I hope it does for you, too.
This recipe serves four.