Chorize style venison meatballs liven up your weekly pizza night.
Who doesn't love pizza? Whether you use Tony Gemignani's The Pizza Bible's advice to craft your own, buy fresh dough from the deli or throw down a frozen premade crust, there's nothing quite as delicious as your own pizza made fresh at home.
In hunter-family households across the land, game-based pizza toppers elevate your weekly pizza night into the wild zone. These easy-to-make chorizo style venison meatballs add a spicy kick to pizza, or they can be sized up to make big, peppery game venison meatballs for spaghetti. Or you can take the mix in a different direction and scramble-fry it to fill your favorite lasagna recipe.
Value-Added: Game Meat Pizza Toppers
Adding value to the game I harvest and butcher is a key guiding principle in our house. I would rather keep the shanks from deer, antelope, elk and Moose to make Osso Bucco than grind that meat. But whatever does end up in the ground meat pile is more likely than not to end up in one of our family's favorite eight types of sausage that we regularly make.
One of my personal goals this year was to tackle homemade pizza. My family bought me the Camp Chef Pizza Oven that fits on the Camp Chef Stove. With that, our Friday take-out pizza night routine stopped, and we opted for made-in-house. We saved some money, and we are having more fun.
Recently, I've been focused on what kinds of wild meat I can put on top of the pizza. Every week I find myself removing sausage casings from chorizo or andouille to use for toppings on pizza. This is a wasted effort, so I thought, 'Why not just mix sausage meat into tiny (15 g/half-ounce) meatballs for pizza use?'  It worked perfectly.
Culinary Gifts to Your Future Self
The outcome of processes like this are gifts to your future self. After determining how to get the best value from an animal carcass, I figure out how to make that process easier. One theme that repeats in our house often is the gift-to-my-future-self theme. There are packages of tiny chorizo venison meatballs in my freezer, packaged perfectly for just one pizza. And there are other packages of monster meatballs for spaghetti or linguine, ready for the addition of either tomato sauce or mushroom sauce.
Give yourself, your family and your friends a gift. Here is a simple recipe for meatballs––perfect for topping pizzas. And put some cooked meatballs in the freezer as a gift to your future self.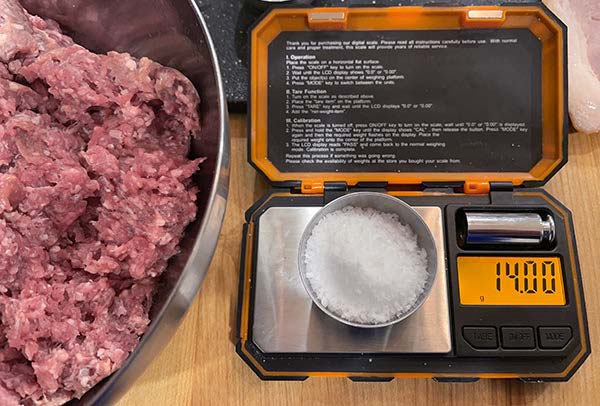 Tools and Equipment
Cutting board
French knife
Micro plane
Gram scale
Kitchen Aid mixer (or another brand of your choice; you can use your hands, but the mixer makes it go much faster.)
Cookie scoop (We maintain a selection of various sizes to make perfectly matched meatballs and cookies, but hands will do the job, again. Also, see the sidebar.)
Oven
Rimmed baking sheet
Parchment paper (optional, but this makes cleanup so much easier.)
Mixing bowls of assorted sizes to hold measured ingredients
Measuring cup
Instant-read electronic thermometer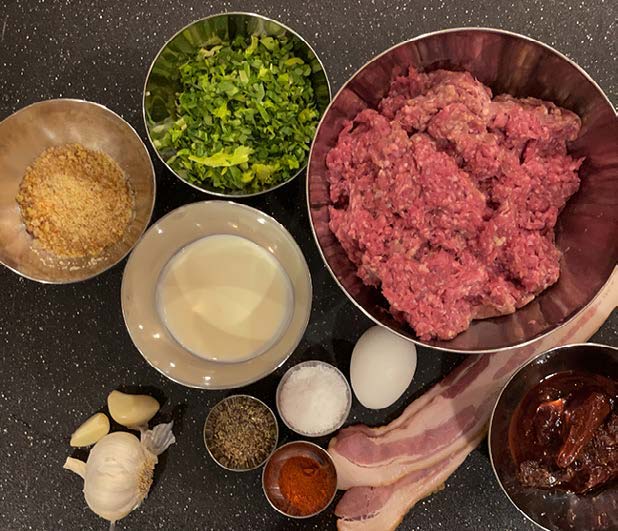 Ingredients
900 grams (2 pounds) of ground venison (feel free to substitute any game; this works with bear and goose, too)
4 slices of side bacon (125 grams) finely diced
3 Chipotle peppers, canned in adobo sauce (A word of caution and encouragement: these peppers are hot, but not crazy hot. Go ahead and adjust the number of chipotles to suit your crew's spice tolerance. If you are afraid of heat, strain the seeds from the peppers by pushing the works through a sieve.)
5 grams (1 tablespoon) salt (1.5% of meat by weight)
+/- 5 grams (1 tablespoon) coarse black pepper
+/- 5 grams (1 Tablespoon) hot smoked paprika
2 large cloves of garlic, micro-planed or smashed
70 grams (2 ounces) of chopped fresh celery (mostly leaves)
30 grams (1 ounce) chopped fresh, flat-leaf parsley
4 Tablespoons fine breadcrumbs
4 Tablespoons heavy cream
1 large egg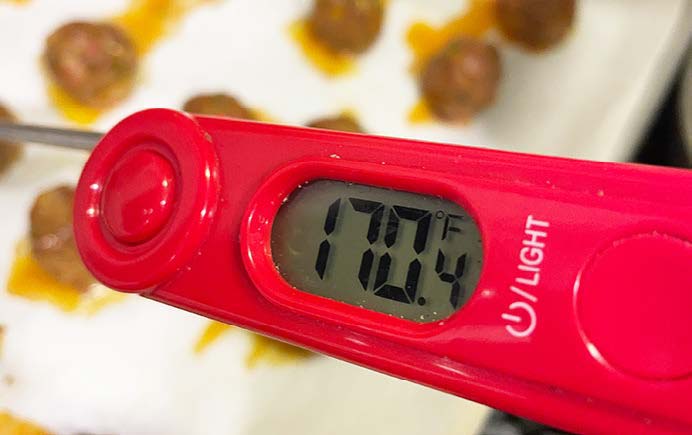 The Process
Meatball prep is a great place to engage kids in the kitchen––Everybody washes hands! (Sometimes kids need a reminder.)
Mix the milk and breadcrumbs in the mixing bowl.
Weigh the ground meat and add it to the Kitchen Aid mixing bowl.
Slice and chop the bacon as fine as possible and add to the bowl.
Measure salt, black pepper, and paprika. Calculate salt at 1.5% of the total weight of the meat. (In this case, the math goes like this: (900 grams) x 0.015 = 13.5 grams. Note: the bacon adds some salt to the mix, and the bread, celery and milk offset some of this. You can adjust the amount of salt to suit your taste next batch.)
Dice the canned chipotles and add to the egg.
Finely chop celery leaves on a cutting board with a chef's knife and add to the mix.
Attach the paddle to the mixer and start on the lowest setting to incorporate all the ingredients. If you have a clear splash cover for your mixer, now is the time to attach it. Once all of the ingredients are incorporated, gradually increase the speed to a higher setting until the meat mixture binds together well. This might take two minutes or so. When the meat starts to smear, you're done.
Before you scoop the works, take a sample meatball, flatten it and cook it in a frying pan. This gives you one last chance to check and change the spice profile. More salt? More chipotle? This is your last chance to make a seasoning correction.
Scoop the meatball mixture to form uniform balls the size of your choosing.
Bake in a 400˚F oven until 165˚F or better, about 15 minutes. Remove to a cooling rack.
Use the meatballs as you wish.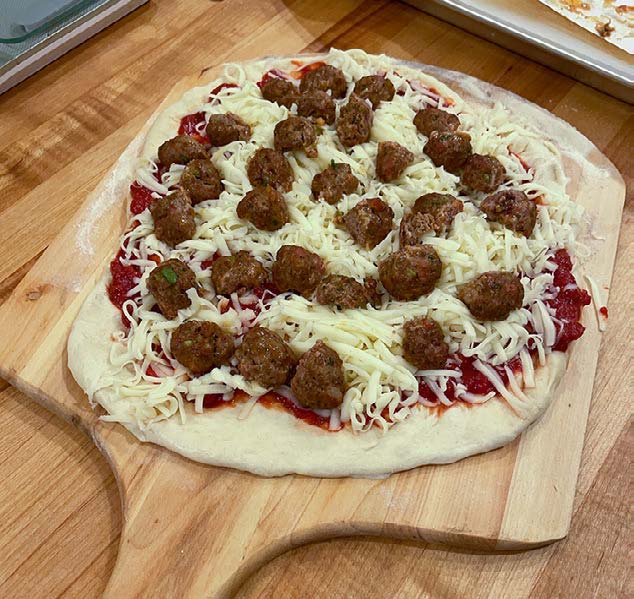 Charcuterie and Salumi: Two Christmas Ideas for Your Budding Butcher
Michael Ruhlman is a prodigious author focused on food writing. Several of his books grace my culinary library shelf. Two of his books in particular get more kitchen worktime than any others. They are: Charcuterie: The Craft Of Salting, Smoking and Curing. This book helped me develop my fresh sausage output in both quality and variety, initiated my game curing and advanced my hot- and cold- smoking game. The other book is: Salumi: The Craft Of Italian Dry Curing. This one builds on the concepts in Charcuterie and explores the Italian angle of dry curing. It helped me expand game curing and encouraged me to start curing goose, black bear, deer and elk.
Both books are chock-full of solid advice and easy-to-follow recipes for people who want to add value to their annual game harvest. If you want to go a bit further, add Pate, Confit, Rillettes: Recipes from the Craft Of Charcuterie. This book guides readers along the path to top-drawer treatment of wobbly bits. None of these books is focused solely on wild game, but the lessons delivered in them translate perfectly to a selection of big game, waterfowl, upland birds and rabbits.
In some ways, buying one of these books for one of the hunters in your house is like getting a special gift for yourself. The value-added products I have produced after learning what Ruhlman teaches benefit my family and friends all year long.