List of the 25 Best Broadhead Brands to Help You Choose
The broadhead market is one of varied options. It can be astounding how much there is to choose from in order to fulfill the needs of your particular hunting setup and preferences. We've gathered here a selection of broadheads of all shapes, sizes, blade counts, and designs, from the fixed to the mechanical to the hybrid. Some are shiny new releases while others have stood the test of time as classics. At the end of the day, the only one who can decide which broadhead fits the situation is the person who shoots it.
The MegaMeat is a three-blade expandable broadhead with a 2-inch cut. The blades slide rearward to make this cut, with no "chopping" motion, Ryan Silver told us. This also means the blades are exposed all of the time and will be cutting no matter what happens upon impact. Silver described them as "ultra-sharp." The SnapLock collar is designed for ease of use: snap the blades in and go. This all-steel broadhead comes in a 100- and 125-grain model. This year's ATA show saw the debut of the DeadMeat V2, which features all the same features as the MegaMeat save for a few minor differences. Most notable is the 1.5- inch cut to give less drag through the impacted animal, resulting in better penetration, especially for lower-poundage bows or longer shots. The blades are a little bit thicker and tougher as well. This broadhead also comes in 100 or 125 grains.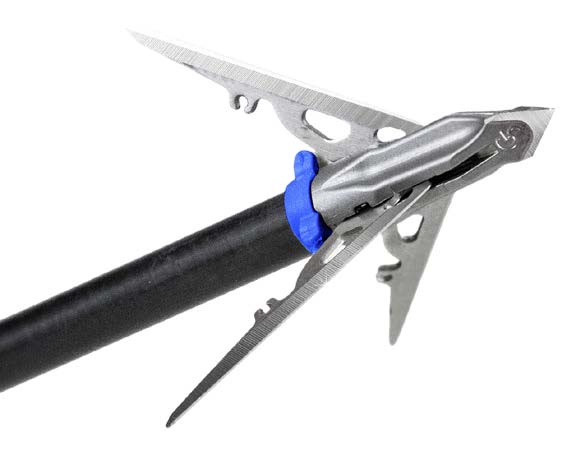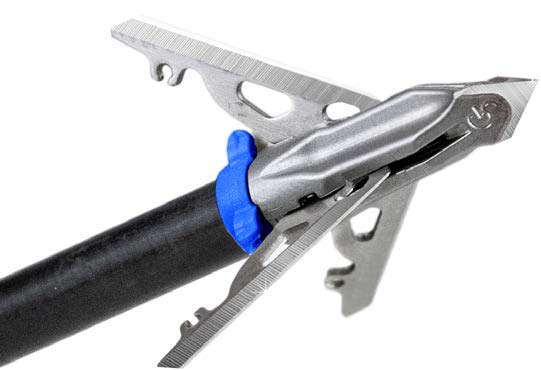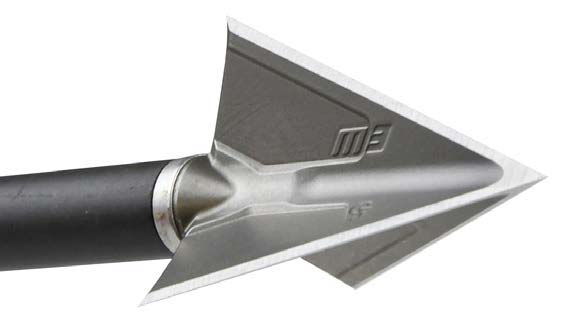 The Montec M3 is a solid piece of steel without welds, bolts or screws. It can easily be resharpened with a flat stone sharpener. The non-vented Montec design is built for a quiet arrow flight. The 420 stainless steel allows for a stronger build and a sharper cut than the original Montec. "It has the perfect blade angle for cutting and penetration," Silver said. This broadhead is also available in 100 or 125 grains.
Each of these broadheads has a Ballistics Matched Point (BMP) practice head aerodynamically matched to fly like a field point. This is designed in no small part for efficiency of tuning. These broadheads all come in crossbow versions as well.
Matt Pell gave us the basic rundown on the three models Ozcut carries, stating that they are field-point accurate and field-tested. Ozcut takes testing seriously, Pell said. Each of these broadheads has a one-piece solid construction design without vents, cutouts, O-rings or detachable blades. This is designed for a quiet flight, durability and penetration ability. All of these broadheads are easily resharpenable and reusable.
The Hurricane is a single-bevel broadhead with a helical design to promote better spin. When an arrow impacts its target, it continues to spin on its way through; the Hurricane promotes that spin in order to make a bigger wound channel.
The Elite 3-Blade has a double-bevel three-blade design and leaves good blood trails. The Elite 2-Blade, on the other hand, doesn't leave as nice of blood trails as its three-bladed sibling, but it does have the most accurate arrow flight of the whole Ozcut family as well as excellent penetration. This two-blade head is recommended by Pell for elk, buffalo, large African game, hogs or shots with less than 50 pounds of pulling weight.
For more information, visit ozcutbroadheads.com
| | | |
| --- | --- | --- |
| The Offset Blade technology of Ozcut's Hurricane allows the broadhead to continue to rotate through flesh, making for large wound channels. | Ozcut's 3-Blade Elite is a one-piece head with a tip designed to break bone. | The Elite from Ozcut is also available with only two blades, increasing accuracy. |
We caught up with Tim Kent to discuss the FeraDyne umbrella and the broadheads that come from Rage, Muzzy, Wac'em and Rocky Mountain. Our first order of business was Rage.
The Hypodermic Trypan NC was introduced in 2021. The needle-like titanium ferrule is complemented by stainless-steel blades. This broadhead delivers a 2-inch cutting diameter and is available in 100 grains with both a "regular" and a crossbow version.
The X-Treme is available in three versions: cut-on-contact, chisel-point, and crossbow. Each of these heads features a 2.3-inch cutting diameter, an aluminum ferrule, and stainless-steel blades. Kent stated that this was the largest cutting-diameter Rage offered in a broadhead. The X-Treme comes in 100 grains.
Hypodermic
The Hypodermic NC +P is built for increased penetration on larger game, with the "+P" in the name actually standing for "plus penetration." The blade angle is swept back to achieve this. The needle-like ferrule is similar to that of the Trypan NC and features a hybrid tip. The Hypodermic NC +P offers a 1.75-inch cutting diameter with its stainless-steel blades and is available in 100 grains as well as a 125-grain crossbow version.
All three of these models feature Rage's NC ("No Collar") technology. This eliminates the need for O-rings, dental bands, clips, or collars. The blade retention happens in the blade itself; tabs allow it to roll along a radius and snap into and out of holding position on that radius. Upon impact, the blades travel up the tabs and open up. The result is large entry wounds and good blood trails.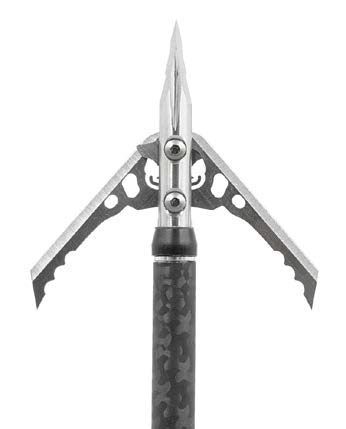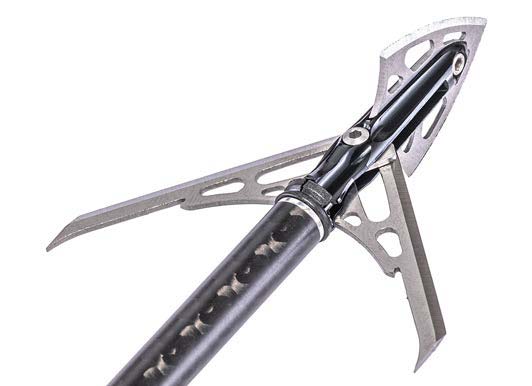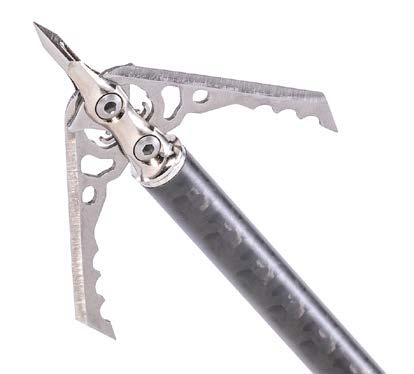 The Muzzy One is precision-engineered from a single piece of steel, making it a true one-piece broadhead. Available in 85, 100 or 125 grains, the Muzzy One offers a cut-on-contact design whose cutting diameter reaches 1-1.25 inches based on the configuration. The three blades can be sharpened on a flat stone. The lack of moving parts lends itself to reliability due to the elimination of the risk of blade loss or shedding. The deep penetration and great flight characteristics make this head recommended by Kent for big game. The Muzzy One comes in regular and crossbow versions.
The Trocar features stainless-steel construction and a three-blade design. Muzzy's Trocar tip is known for its ability to break bone, Kent said, and in this design, it is backed up by offset blades that help stabilize the broadhead in flight for accuracy and consistency. The contact design keeps it short. The Trocar is available in 100 or 125 grains and in regular or crossbow models.
Titanium Ferrule
The "Ti" in the name of the Trocar HB-Ti stands for "titanium." Titanium is the material for the ferrule while the blades are stainless steel. This hybrid head acts as a fixed-blade head and a mechanical head in one system. The fixed blades' cutting diameter is added to that of the mechanical blades to achieve a 1-5/8-inch total cutting diameter upon impact. This makes a sizeable entry wound. The mechanical function is based on a gator-style blade and a friction release. This broadhead is available in 100 grains.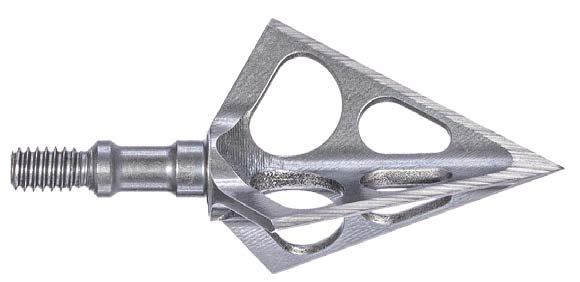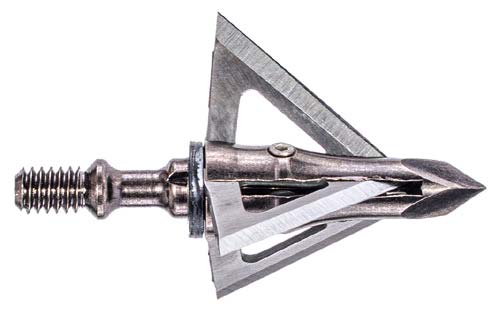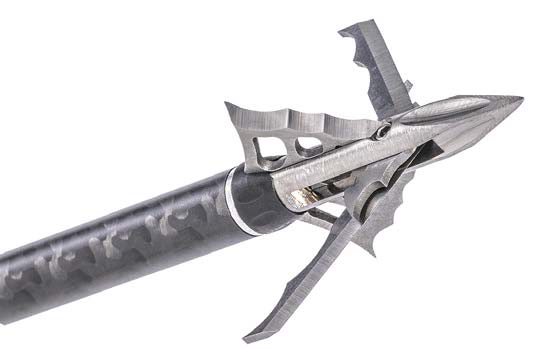 The Wac'em Standard is a three-blade head that delivers a 1-inch cutting diameter. The aluminum ferrule is paired with sharp stainless-steel blades designed for excellent flight. The blade-locking system keeps the blades locked in place. "In my opinion," Kent said of the Standard, "it's one of the most underrated broadheads on the market." The Hybrid model uses SlipCam technology but is held with a dental band. Its fixed leading-edge blade gives a 1-1/8-inch cutting diameter while the mechanical blades add 1-5/8 inches, taking it up to a 2-3/4-inch total cutting diameter.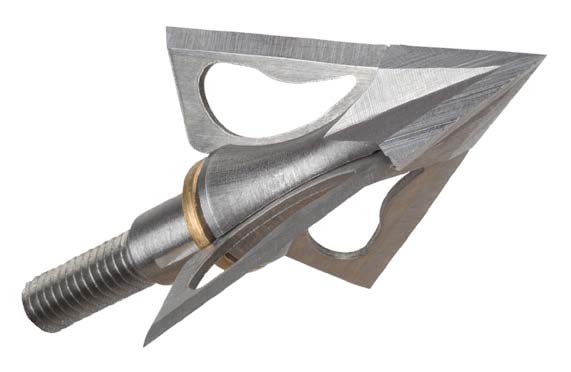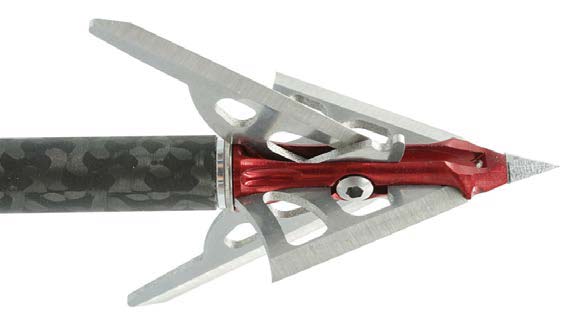 ROCKY MOUNTAIN
The Switchblade is a four-blade expandable hybrid with a 7/8-inch cut-on-contact tip and 2-inch expandable blades, bringing the total cutting surface to 2.9 inches. The aluminum ferrule is complemented by steel blades in an over-the-top or "jackknife" blade system.
The First Cut-X is a crossbow-specific four-blade hybrid head. The cut-on-contact main blade descends down to a pair of additional blades, increasing hemorrhaging. The cut-on-contact blade gives a 7/8-inch diameter, followed by the 2-inch diameter of the wing blades, totaling a 2-7/8- inch cutting diameter. This 100-grain head has a compact design built to fly well from a high-speed crossbow. It is sold in three packs.
Rocky Mountain Broadheads can be found online at feradyne.com/rocky-mountain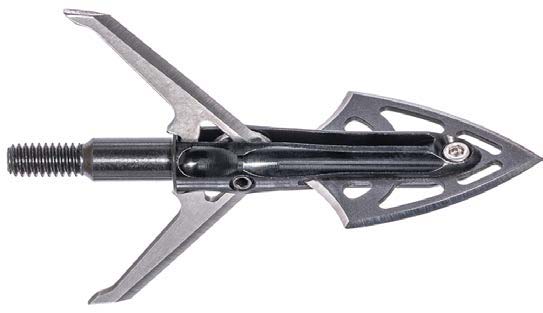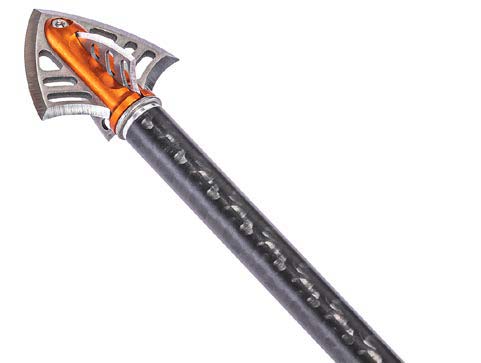 SWHACKER
While there is no new broadhead release for 2022, Swhacker has big news this year in that all of its production is returning to U.S. soil. This goes for mechanical, fixed, and hybrid broadheads. Jeff Bast told us that the intended yields are a better handle on inventory and more ability to support dealers. Most assembly and packaging will take place in the Georgia-based headquarters. This final move brings all brands under the Kelly Outdoor Brands umbrella to the United States.
Swhacker has long been known for expandables such as the 269 model. This broadhead, part of the Levi Morgan Signature Series, weighs 125 grains and delivers a 2.5-inch cut. The aluminum ferrule is ribbed and reinforced for strength and rigidity. The curved blades open after initial penetration to make less resistance and a better pass-through. BladeLock tech means you can lock the blades and practice with the head you intend to hunt with. Insert a screw to be able to tune with the broadhead you'll use in the field. When it comes time to hunt, remove the screw and replace it with the HuntReady silicone plug that functions like a band. This plug sits tightly in the hole that keeps the blades in place, but when the broadhead impacts, the blades will open and split that plug. The 269 works well with high-performance bows and crossbows, Bast said, and the blades are designed for easy replacement when necessary.
Hybrid & Fixed-Blade
Over the years, the brand has expanded to keep up with the market demand for broadhead variety. The Swhacker standard of quality has now been granted to the hybrid and fixed-blade categories. The 257 is an example of a 100-grain hybrid head from Swhacker. Its 1.75-inch expandable blades are complemented by 1-inch bleeder blades to give you a double cut on impact, improving the blood trail when the expandables activate internally. These blades are also easy to replace. The 262 is an example of a fixed-blade model from Swhacker and also belongs to the Levi Morgan Signature Series. This three-blade head gives a 1.25- inch cut. The ferrule is built stout and is topped with a cut-on-contact tip. Bast stated that this particular broadhead is gaining traction in both the compound and the crossbow market.
These broadheads and more can be seen at swhacker.com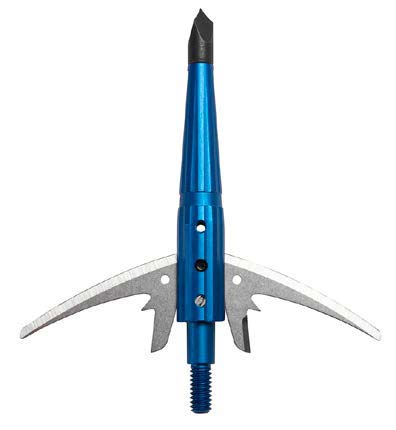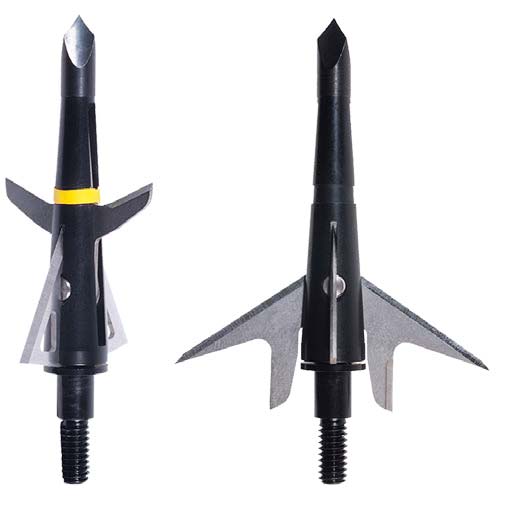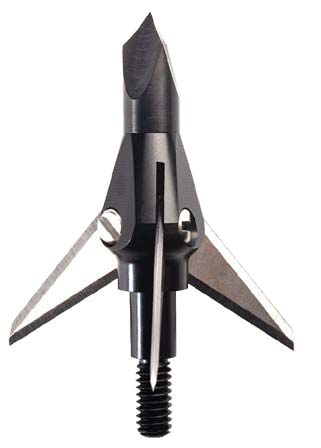 WASP
The SharpShooter 200, a 200-grain addition to the SharpShooter series, is new for 2022. It is a single-bevel model with replaceable blades. The 200-grain weight is meant to increase front of center (FOC) on the arrow. Though Micki Weaver primarily recommended it for the traditional hunter, she also said it would work well for crossbows and compounds. The ferrule is made of steel, complemented by a stainless tip and blade. Older SharpShooter models are available in 100 and 150 grains.
The Sledgehammer, at 150 grains, was also designed for the hunter who wants more FOC. The steel ferrule and stainless-steel blades are tipped by a stainless Trocar (SST) tip.
The Jak Knife mechanical two-blade broadhead has a cutting diameter that is slightly more than 2 inches. The .036 stainless blades fold forward to give this broadhead field-point precision. This broadhead also features the Trocar (SST) tip. It is available in 100 and 125 grains.
You can look at these broadhead models and more at wasparchery.com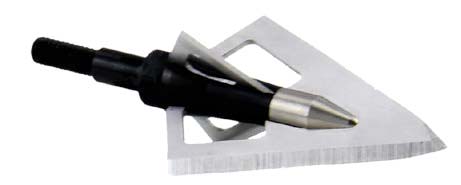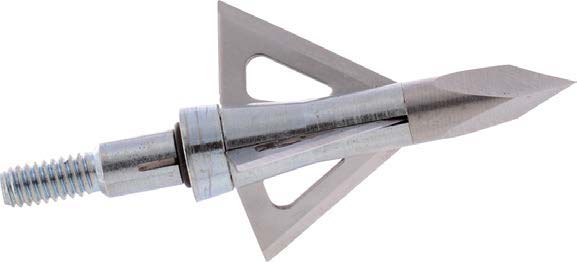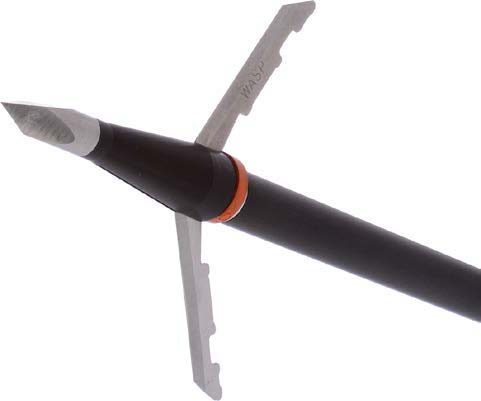 3RIVERS
We talked to Johnathan Karch about a handful of the broadheads manufactured by or imported through 3Rivers Archery. 3Rivers itself offers the three-blade Woodsman head, which Karch finds very effective. "It is our own personal broadhead that we manufacture right here," he explained, going on to say that staff members hunted with it before putting it out for purchase. This long, lean broadhead is built with a ratio close to 3:1 to increase its penetration.
You can look at this broadhead at 3riversarchery. com/brand/woodsman-broadhead.html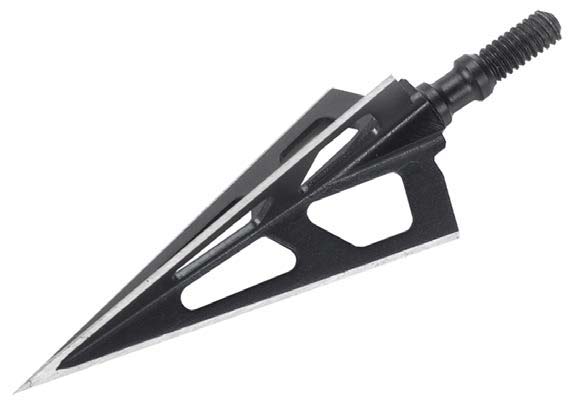 STEEL FORCE
Karch went on to tell us that the Steel Force brand is made up of price-point models that are good for beginning hunters. Even though these broadheads must be sharpened by the end user, the materials are high-quality.
The Single-Bevel broadhead is available in Standard models at 125 and 175 grains as well as Traditional models at 225 and 300 grains. For these Traditional heads, there is a true 3:1 ratio that gives a long, lean design. This combined with the heavyweight gives more FOC and penetration power. Any of these Single-Bevel models can be purchased at $45 for a three-pack, and Karch recommends them for beginner hunters who want to try out things they may have heard about.
Check out 3riversarchery.com/brand/steel-force-broadheads.html to see these heads and more.

BEARPAW ARCHERY
3Rivers imports the Jager broadhead, which Karch also recommended as an entry-level blade for the beginning hunter. This price runs at $30 for a three-pack.
You can see the Bearpaw selection at 3riversarchery.com/brand/bearpaw.html

VETERAN INNOVATIVE PRODUCTS
VIP engineers its products around the concept of momentum management, as well as the Flex Cut technology. "Momentum management is the science of keeping the arrow straight for superior penetration," Mike Walston said. The sides and tips of these broadheads are designed with this principle in mind. The intended result is for the broadheads to open up and do the most damage inside of the animal, making a desirable exit wound. The Flex Cut technology acts as a "shock absorber" to keep the broadhead moving forward in a straight path.
For 2022, VIP is releasing a two-blade mechanical broadhead, the Ranger, and its three-bladed mechanical cousin, the Commander. These two broadheads have the same technology save for the number of blades. Each comes in 100 or 125 grains, though there is also a 150-grain Commander X for crossbows. These broadheads are designed to give you the benefits of a fixed-blade head and a mechanical head in one; each has a 1.4-inch cutting diameter when closed and a 2.4-inch cutting diameter when open. There is also new opening and resetting technology in these heads, which will be revealed by the corporation at a later time.
Fixed Three-Blade
The year 2022 also sees the release of the fixed three-blade Bomber. This simple broadhead is available in 100 or 125 grains as standard weights. It can be comparable to the Commander in many respects, though it is still a true fixed-blade model. When you shoot game with the Bomber and retrieve it, if it is not a pass-through, the blades will swing forward so you don't pull back through interference. You can then lower them to the fixed position once more. The cutting diameter is 1.4 inches.
The Guillotine turkey head will also be relaunched with an upgraded design. With a 2.75-inch cutting diameter, this head is specifically designed for the decapitation of turkeys. The blade width is sizeable for its function, Walston said; the Guillotine boasts four fixed blades total.
A crossbow companion model, the Guillotine X, with a 1.5-inch cutting diameter will also be released.
True to its name, VIP is owned by veterans, and all broadheads are American-made out of Fredericksburg, Texas. Visit veteranip.com to see more information on the company and its products.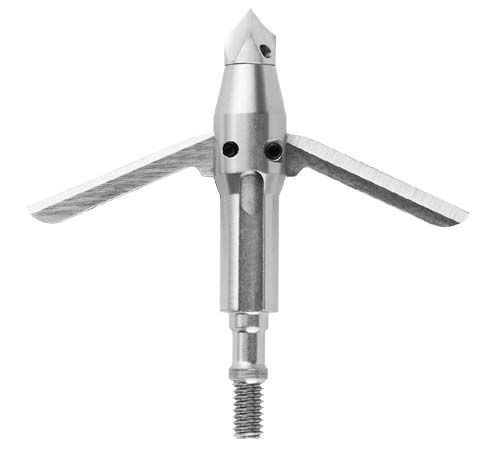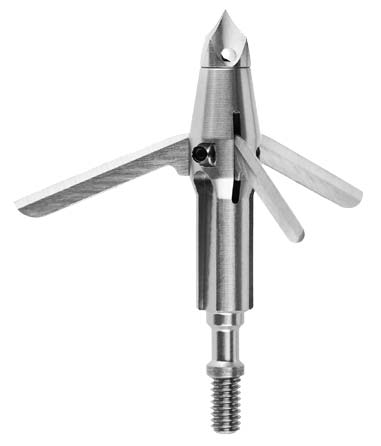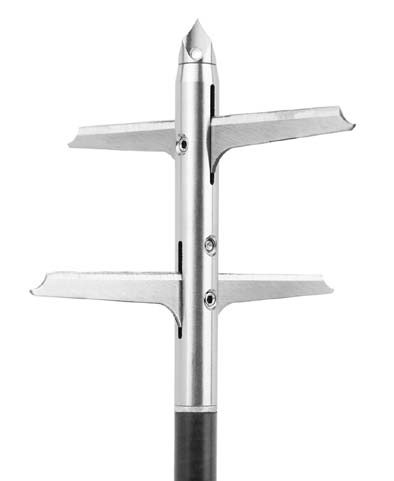 B3
When we spoke to Joe Scott in 2021, the only fixed-blade head that B3 offered was the Destrukt. This crossbow-approved, all-stainless-steel head leaves a 1-3/16-inch cutting diameter for large exit wounds and increased blood trails despite its small cut and low profile. Offset blades attach to a one-piece ferrule to make for fewer variables during flight. Scott told us that this resulted in field-point-accurate flight, which is an important design principle for all B3 broadheads. The Destrukt was a 2021 best-seller, Scott said.
The Meg 100 was a new mechanical broadhead for 2021. The ferrule is 7 Series aluminum while the three blades are stainless steel and give a 2-inch cutting diameter. This broadhead comes with a collar whose only function is to affect the weight; there is no need to hold the blades with rubber bands, washers, or collars. The curved blades promote better penetration. True to its name, this broadhead weighs 100 grains, and it is also crossbow-approved.
The EXO2 is a two-blade head constructed of 100 percent stainless steel. A one-piece ferrule and curved blades combine to deliver a 2-inch cut. Scott stated that the EXO2 is field-point-accurate out to 70-80 yards. This broadhead is also crossbow-approved.
All of the ferrules in B3 broadheads are manufactured in the U.S. More information is available at b3archery.com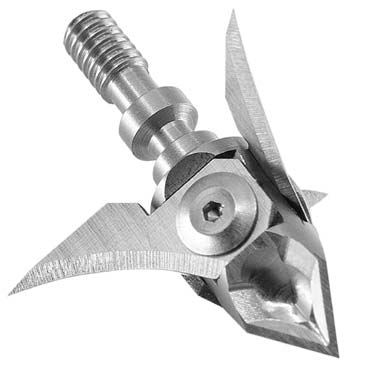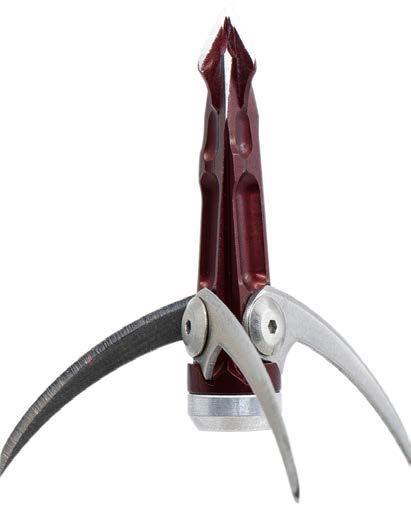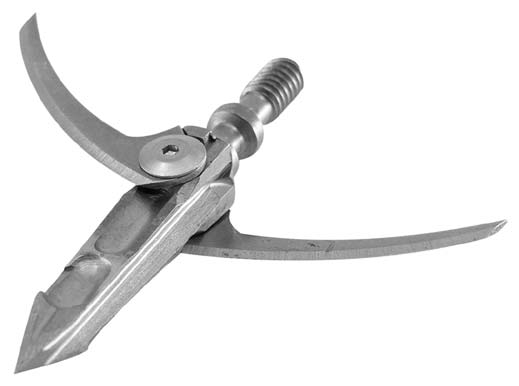 INNERLOC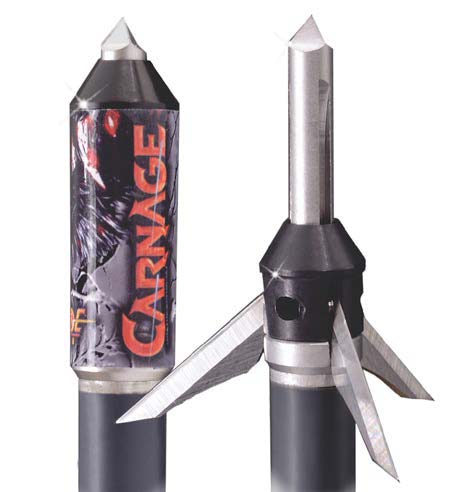 The Devastation is available in 100, 125, and 150 grains, with the 125-grain model new for this year. This expandable three-blade head provides a 2-inch cutting diameter. The same clip lock you would see on Innerloc's EXP model holds the blades closed without the need for O-rings, washers, or similar. The Devastation is particularly engineered to be compatible with heavy-poundage, high-speed crossbows, as we learned from Connie Sullivan. When the blades open, they hit the Dynamic Blade Cushion to protect them from the impact and keep them from breaking. This also lets the blades open very wide. The cushion is replaceable and should be swapped out after the shot. Sullivan stated that the Devastation is field-point accurate due to the aerodynamic profile when closed.
All About the Wrap
The Carnage is a popular Innerloc model thanks to the thin wrap around it to keep its blades in place. Upon impact, the rear-deploying blades shred through the wrap. The package comes with 16 different wraps and you can purchase replacements separately. The Carnage is a 100-grain three-blade head with a 1.5-inch cutting diameter. Both the Carnage and the Devastation will work for crossbows as well.
The weighted broadhead adaptors are seeing success in the marketplace. Recently, the trend of low-poundage arrows has given to a trend of higher-poundage arrows, Sullivan said. The adaptors Innerloc offers allow you to increase the weight of your broadhead. Sullivan stated that they will fit any broadhead on the market.
You can see all this and more at innerloc.com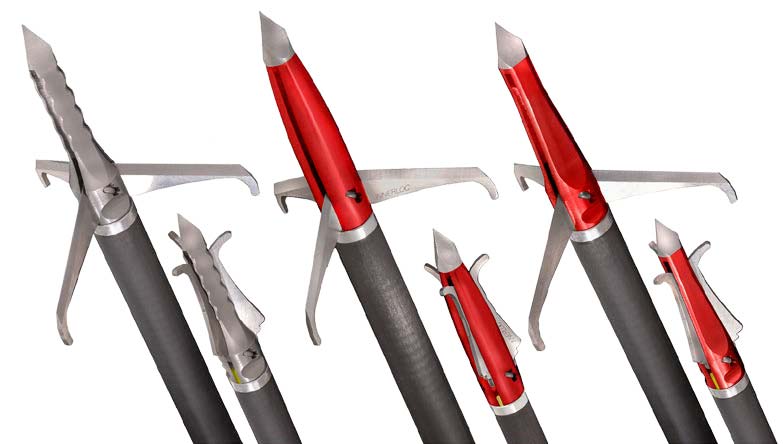 MUSACCHIA BROADHEADS
Musacchia Broadheads is built on two time-tested fixed-blade models: the three-blade NBS100 and the four-blade NBS100. Each weighs 100 grains, as is indicated by the name. John Musacchia Jr. designed the NBS series to be simple and high-quality. The body is comprised of 7075 T6 aluminum while the blades are made of 420 stainless steel hardened to 51.5 Rockwell. This composition lends itself to a tough, durable design meant to withstand circumstances that would normally cause bending or breakage. It's all capped off by a 416 stainless-steel Trocar tip hardened to 42 Rockwell and designed to be bone- breaking in larger game. The 31.5-degree blade angle and 15-degree Trocar tip also assist in the penetration of flesh and bone. The four-blade NBS100 features a 1-1/8-inch cutting diameter while its three-bladed sibling provides 1-1/4 inches – before you factor in the Trocar tip.
See the whole story behind these broadheads at musacchiabroadheads.com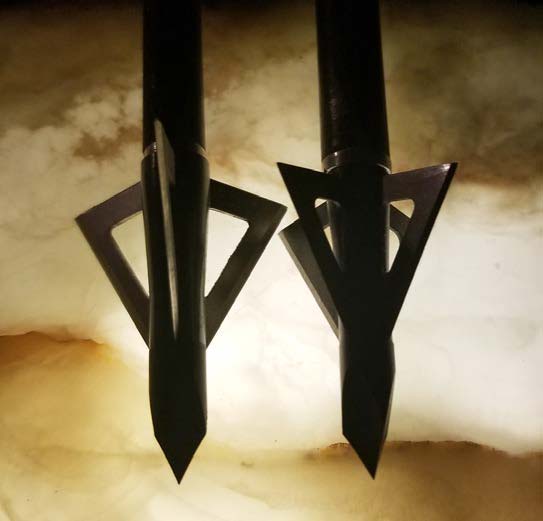 NEW ARCHERY PRODUCTS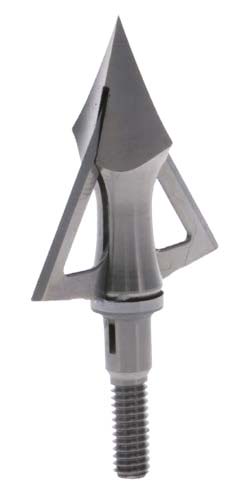 Keith Beam shoots with the DK4 personally and was able to tell us what he appreciated about this four-blade broadhead. The fixed/mechanical hybrid is designed to impact all four points at the same time, creating a four-blade entry hole. The fixed blades are impact-responsive so that they are locked into place during flight but will cantilever to the side if it hits an angle. This keeps the arrow on its intended path. There are two versions of the DK4 available, differentiated by cutting diameter. The 1-3/8-inch-diameter version is conducive to any speed of crossbow while the 1-3/4-inch-diameter version works well with compounds.
The Endgame has a single-piece titanium ferrule, two fixed stainless steel blades, and a large bone-breaking tip. The .031-inch-thick blades can be replaced. Each Endgame is individually spin-tested and boasts a 1-3/16- inch cutting diameter for its 100-grain weight. Practice blades are included in the package.
The Quadcutter also features the single-piece titanium ferrule and 0.31-inch-thick replaceable stainless- steel blades. Those blades are held in place by the X-Lock blade-retention system. Weight and blade thickness are also the same as the Endgame; the big difference is that the Quadcutter has four blades as opposed to two. Each Quadcutter is also individually spin-tested, and practice blades are included.
See  this  information  for  yourself  at newarchery.com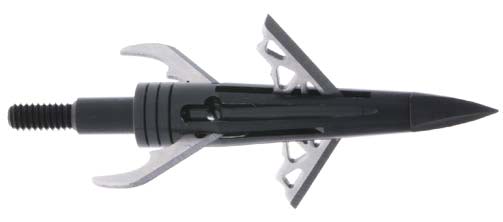 SIK BROADHEADS BY BEAR
The SK2 is the most popular mechanical broadhead in the SIK line, Alec Wyman informed us. The FliteLoc clip is designed to deploy on impact and not a moment before. The two-blade SK2 creates a 2-inch offset entry wound and has a 3.625-inch cutting surface. It will work for small or large game. This broadhead is only available in 100 grains.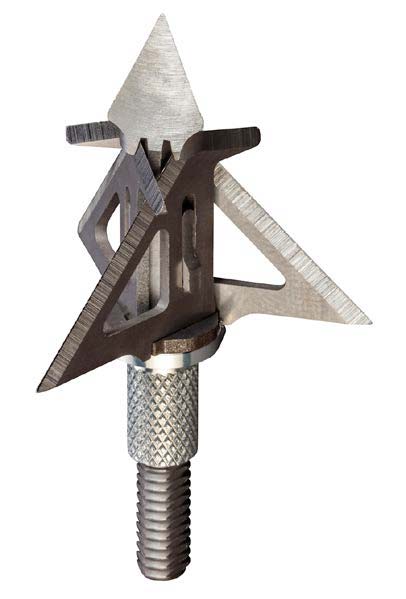 The F4 is the most popular and the most accurate fixed broadhead from SIK, Wyman continued. It is also available only in 100 grains. The cutting diameter is 1.35 inches while the four blades boast 3.35 inches of cutting surface. This is a very traditional-looking broadhead, Wyman said, with its blades cut at a 27-degree angle for a "nostalgic" aesthetic. The F4 is all stainless steel, double- bevel, and 27-degree laser-welded.
The F3 is another 100-grain fixed-blade head. With three blades and a 1-3/16-inch cutting diameter, this is the smallest fixed-blade model in the SIK catalog. Wyman noted that it is gaining traction in the market. The F3 is a one-piece stainless head with a hybrid tip. The fretted rear locking collar holds the three blades in place, even in high-impact scenarios like shooting through shoulder blades. Those blades are winged and offset, bolstered by a knurled and threaded rear locking collar. The durable F3 leaves a good cutting channel.
Each of these heads is available either in a standard or crossbow version, all of which are 100 grains. The SK2's crossbow version features a clip of different density so it can hold up to faster speeds.
Go to beararchery.com/pages/sik-broadheads online to learn more about these selections.
DIRTNAP GEAR
The Titan is the newest offering from DirtNap. This broadhead is 200 grains, but the Modular Weight System (MWS), a 25-grain collar, can be added to bring it up to 225 grains. The Titan features two main fixed blades, with a 1-3/16-inch cut, and two bleeder blades, with a 5/8- inch cut. Tom Addleman said this broadhead is favored among traditional archers and big-game hunters alike because of the modification ability.
The Hellhound is a 100-grain, four-blade broadhead with replaceable blades. Each pair of blades in the "plus" gives a 1.1-inch cutting surface for 2.2 inches of cutting surface total. The steel construction of the Hellhound is plated with nickel for an attractive shine. Addleman said this will be a good broadhead to use with crossbows, compounds, and more.
DirtNap has sold the DRT since the beginning but now has the HD DRT: a single-bevel model ground on the right side to promote rotation. This all-steel head comes in 150 grains but you can use the MWS to increase that weight to 175. The cutting dimensions are the same as those of the Titan.
Visit dirtnapgear.com online for information on these broadheads and more.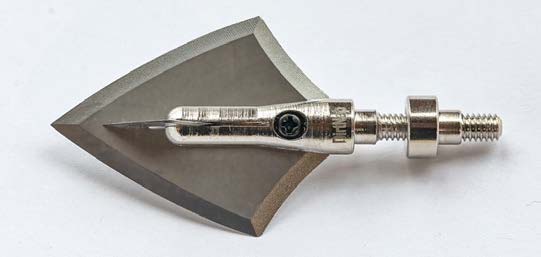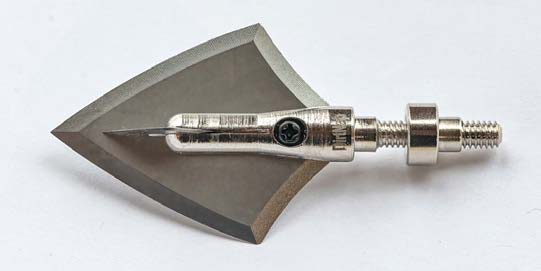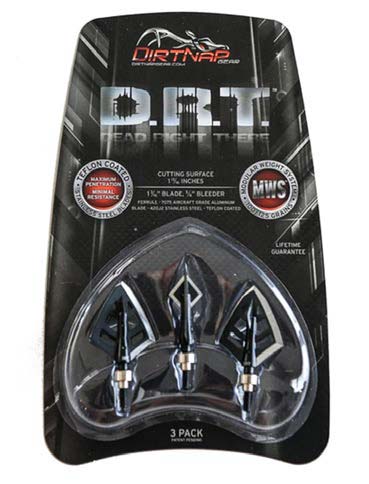 RAMCAT BY ARCUS
The Diamondback Hybrid, newest among the Ramcat inventory, was released in 2020. This 100-grain head is a combination fixed-blade/mechanical hybrid, Amanda Popp told us; its fixed blade gives a 7/8-inch cut when it first hits before the mechanical blade opens it up to 2 inches or more when fully deployed. Other features are a concave airfoil scoop and an O-ring system that secures the mechanical blades until impact.
The Diamondback is a fixed-blade head that comes in 100 or 125 grains. The front and rear blades are both sharpened and the cutting diameter is 1-1/16 inches. It shares the patented airfoil tip of the Diamondback Hybrid. Popp said that some people call the HydroShock a fixed-blade head while others call it a mechanical. At Arcus, they refer to it as a "pivoting" broadhead. This head, available in 100 or 125 grains, features the airfoil scoop design on the tip, allowing field-point accuracy. The blades are cantilevered over the arrow shaft, offset in the broadhead body for a vortex cut, and designed with backcut technology. The HydroShock will pivot as needed to keep the arrow driving forward: for instance if the arrow hits bone. This broadhead features a double O-ring system.
For 2021, a three-pack of any of the three aforementioned Ramcat models will be priced at $34.99. Take a look at arcushunting.com/ramcat/ to see more.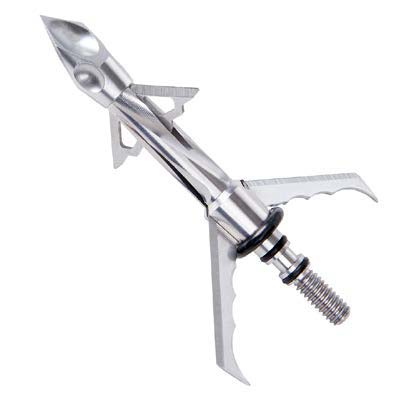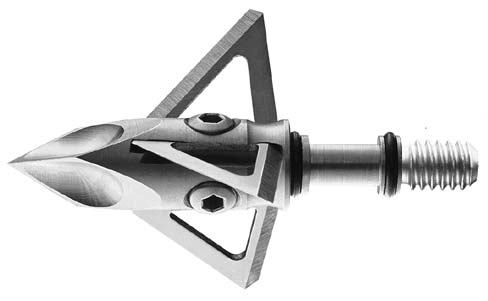 TROPHY TAKER BY ARCUS
Popp also informed us about Trophy Taker's two models, starting with the Shuttle T-Lok, which she recommended for whitetail. The "T-Lok" name comes from the patented T-shaped connection between blades and ferrule that prevents blades from separating, even if the broadhead is shot into foam. The single-piece ferrule has a cut- on-contact tip. The blades are non-vented to increase penetration and decrease noise during flight. Popp said that this broadhead was designed for oversized entry and exit holes, with a 1-1/8-inch cutting diameter.
Popp then recommended the A-TAC for big game such as elk. This one is machined from a solid brick of stainless steel. Its four blades each boast a 0.8 thickness. This cut-on-contact head has a cutting diameter of 1-1/8 of an inch.
Head on over to arcushunting.com/trophy-taker/ to see these broadheads in detail.
| | |
| --- | --- |
| Trophy Taker's Shuttle T-Lok is named for the T-shaped connection that holds the blades and ferrule together firmly. | Trophy Taker designed the A-TAC with thick 0.080-inch blades for more cutting power. |
MAGNUS
The year 2022 marks Magnus' 38th year in business. Each Magnus broadhead is dialed in so that it spins within
.003 of an inch, Mike Sohm said; this ensures good flight out of high-speed bows and crossbows. The Stinger is available in weights of 85, 100, 125, and 150 grains and in a two- or four-blade model. No matter the configuration, it is precise, sharp, and manufactured of aircraft-quality aluminum. The 85-grain model delivers a cutting diameter of 7/8 of an inch, the 100-grain model gives a 1-1/16-inch cut and the 125 and 150 each deliver a 1-1/8-inch cut.
The Stinger Buzzcut is also available in two or four blades. It is identical to the Stinger, including the weight configurations and cutting diameters, except that the Buzzcut features a chisel-serrated blade that penetrates a smooth edge but cuts a larger hole.
The Black Hornet is available in a smooth-blade version or as the Black Hornet Ser Razor, which has the chisel serration. It comes in two or four blades and 100 or 125 grains. The main blade has a .060 thickness and the four-blade version has a radical bleeder blade with a .040 thickness. This makes the blades tough and strong, with a quality cut.
All Magnus broadheads come with a lifetime replacement guarantee. If you damage one, no matter what you've shot it into, simply email the company a photo of the damage along with your name and address. Magnus will then replace the broadhead for you.
To see more, venture over to magnusbroadheads.com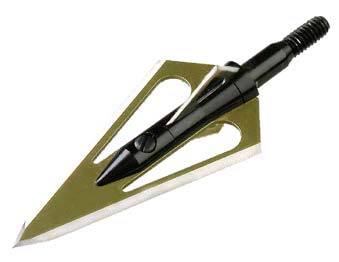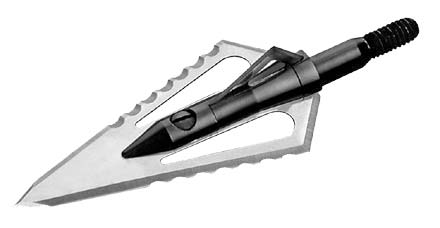 TENPOINT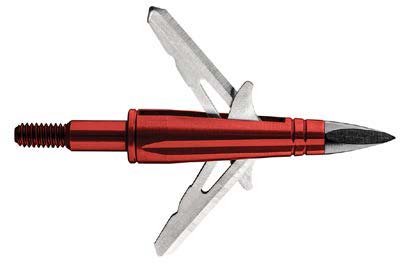 The TenPoint broadhead line offers an expandable head and a fixed-blade head so as to fulfill preferences for each. The expandable model is the EVO-X CenterPunch, which has specifically been designed for accuracy out of TenPoint crossbows. Brian Flaherty told us it has been the most popular of the TenPoint broadhead offerings. This 100-grain head features a rear-deploying design and delivers a 1-7/8-inch cut. The ferrule is made of T6 aluminum and has a strong precision point. The three blades feature a floating-blade design to ensure they won't open during flight.
The fixed-blade model is the EVO-X Montec, made by G5. This 100-grain, one-piece head is built for maximum strength. Its three blades create a 1-1/8-inch cut.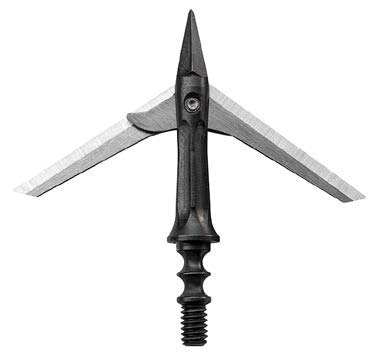 WICKED RIDGE
The newest member of the family comes to the Wicked Ridge line in the form of the Impact. True to Wicked Ridge's principles, Flaherty said, this head was designed for performance and precision at an affordable $34.99 per three-pack. The Impact weighs 100 grains and has two blades with a rear-deploying design, making for a 2-inch cut. The floating blade design is also seen here.
To see these broadheads and other products from TenPoint or Wicked Ridge, visit tenpointcrossbows.com
ROCK RIDGE OUTDOORS
The Super Freak Extreme is the signature model of the Rock Ridge lineup. This two-blade stainless-steel mechanical head is known for its standout orange look, Lucas Mashtare said. The chisel-tip design is engineered so that the broadhead will fly like a field point. When it hits, it delivers a 2.75-inch cutting diameter. You can change the rubber band consistency by sliding it up and down. Mashtare recommends this for virtually any archer.
The Hatchet is a newer rear-deploying mechanical that is similar to the Super Freak Extreme in many respects. Its cutting diameter is 2 inches. Made of stainless steel, the Hatchet is built for the compound bow and features a chisel tip. Mashtare said this head is popular for big game, from whitetail to hogs and then some. He also mentioned that it is effective for low-percentage recovery shots.
The Surgeon uses MIM technology to produce a single solid piece from the ferrule to the blades, cut at a 45-degree angle. Even though Mashtare did not personally recommend sharpening the blades, he did mention that you can do so on a stone if you choose. This robust stainless-steel broadhead is engineered to fly like a field point. With a cutting diameter of 1-1/16 of an inch, the Surgeon is versatile, Mashtare said, suitable for turkey, whitetails, and more.
Look to deadringerhunting.com online to see these broadheads and more.
ANNIHILATOR BROADHEADS
We spoke to Co-Founders Brandon Brodie and Micah Brown about the Annihilator broadhead's technology and how it fuels an ethical broadhead. The Annihilator features a full shoulder around the back end, acting as a shield between the broadhead and arrow shaft. This keeps the shaft from accumulating any friction, putting the full brunt of the force on the broadhead upon impact. This gets the whole projectile through the animal faster.
The way the blades are displaced, in a back-scoop wedge design, also guarantees a non-closing wound channel. This solid-piece broadhead features a .91-inch cutting diameter in its regular incarnations and a 1.0625-inch cutting diameter in its XL forms. However, the hole it creates is one and a half times the size of the cutting diameter.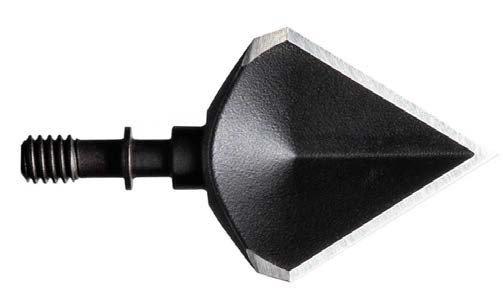 The metal "wall" from blade edge to blade edge is a unique patent to Annihilator, Brown explained. The curvature and the way it hides the shaft cause it to draw atmospheric pressure through the animal impacted. This is similar to how a rifle bullet would work but at much lower speeds and without the rip and tear usually created by a bullet. The gap left between the hide and shaft induces air to make the hide "balloon" outward. The air trapped beneath prevents the wound channel from closing, and the arrow shaft is never touched. "It's like launching a hypodermic needle at an animal," Brown said. Brown and Brodie reported that the Annihilator causes quick lethality and that their customer reviews back that up. The broadhead is also sharp on the back edges so that if you don't end up with a pass-through shot, the broadhead will cut itself out on the way back. It can be easily removed from broadhead targets.
______________________________________________
Need more gear updates? Check out our Top 10 Gear List for Fall.